Yummy Fresh Cranberry Salsa
Get this recipe for yummy fresh cranberry salsa if you want to be the one to bring the simplest and most delicious dish to the next holiday party!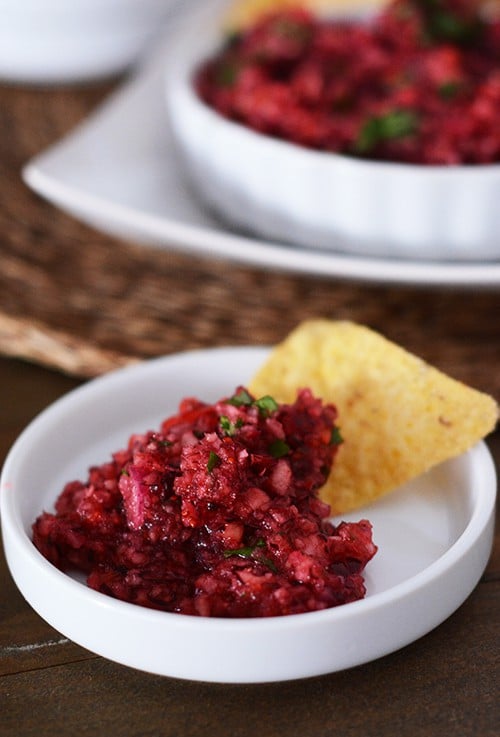 This cranberry salsa will make you feel like a celebrity. At least it did for Brian.
He brought it to several events last week and every time, he returned with accounts of people mobbing him for the recipe, weeping at the fear he wouldn't share it and kissing his feet when he did (accounts may have been ever so slightly dramatized).
It is probably the yummiest, simplest thing you can make this holiday season eliciting the same type of reaction that might happen if you made a life sized Santa caricature out of cheesecake and chocolate (can we all commit to each other just not to go there, ever?).
People go crazy over this stuff. And it couldn't be easier: toss everything in a blender or food processor and chop choppity chop.
You could also get wild and crazy and serve it at Thanksgiving instead of a more traditional cranberry sauce.
Don't let the fresh cranberry season get away from you without making this. I won't tell if you decide to make it and keep it all to yourself.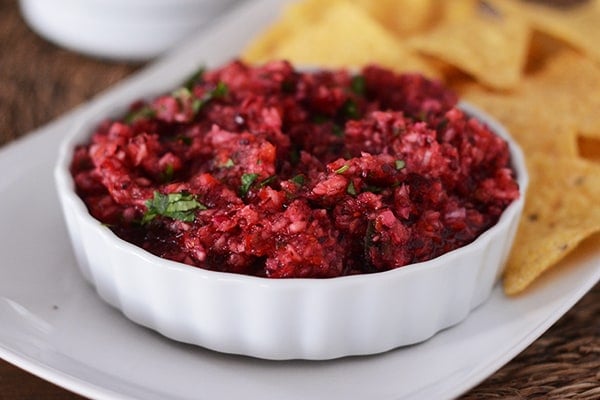 One Year Ago: Apple Dapple Cake with Warm Vanilla Cream Sauce
Two Years Ago: Brownie Batter Truffles
Three Years Ago: Top 10 Recipes for Turkey Leftovers!
Yummy Fresh Cranberry Salsa
Yield: about 4 cups of salsa

Prep Time: 15 minutes

Total Time: 15 minutes
Ingredients
1 12-ounce package fresh cranberries
1 granny smith apple, peeled, cored and chopped
1/4 medium red onion, peeled and roughly chopped
1/2 large red pepper, roughly chopped
3/4 cup granulated sugar
1/3 cup no-sugar added applesauce
1 tablespoon fresh lime juice
1/4 cup fresh cilantro
1 jalapeno, seeded and diced (use the seeds if you want more heat)
1/2 teaspoon salt
1/2 teaspoon black pepper
Instructions
Combine all the ingredients in a food processor or blender and pulse until combined (and it is the texture you want).
Refrigerate for at least 2 hours to give the flavors a chance to meld. It can be made and refrigerated for up to a week or longer.
Serve with tortilla chips.
Notes
Chopping: if your blender or food processor is on the small side and doesn't chop up large batches of ingredients very well, consider chopping the ingredients separately or in batches and then combining in a bowl.
Recommended Products
As an Amazon Associate and member of other affiliate programs, I earn from qualifying purchases.

Recipe Source: adapted slightly (and recipes combined) from a recipe my Aunt Marilyn sent me as well as one sent to me by Kristin R. several years ago
Disclaimer: I am a participant in the Amazon Services LLC Associates Program, an affiliate advertising program designed to provide a means for me to earn fees by linking to Amazon.com and affiliated sites. As an Amazon Associate I earn from qualifying purchases.