Fresh Cranberry Apple Relish
A perfect balance of sweet and tart, this fresh cranberry apple relish is delicious and it only takes a few minutes to put together! Dig in with a spoon for a snack or serve it alongside a meal!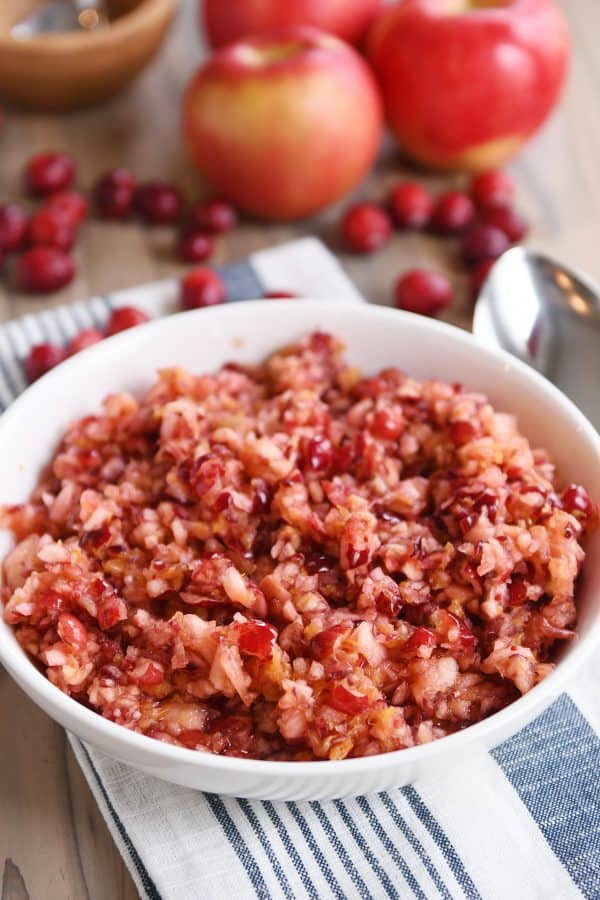 What is in this bowl of beautiful, festive deliciousness, you ask?
Well, let me tell you. It is my new favorite way to eat and enjoy and love fresh cranberries. And it is soooooo good. So good.
The ingredient list is minimal but fierce in flavor (especially if you observe cardinal rule #1 below). Sweet crisp apples. Tart tangy cranberries. Juicy fresh orange and zest. And a little sugar to offset the zing of the cranberries.
And even though it looks like the appropriate thing to be making, eating and posting in November, let me assure you that this sweet-tart fresh cranberry apple relish is not meant for the Thanksgiving table alone. It makes a perfect snack (kind of like a super charged and chopped fruit salad) or side dish alongside many a meal.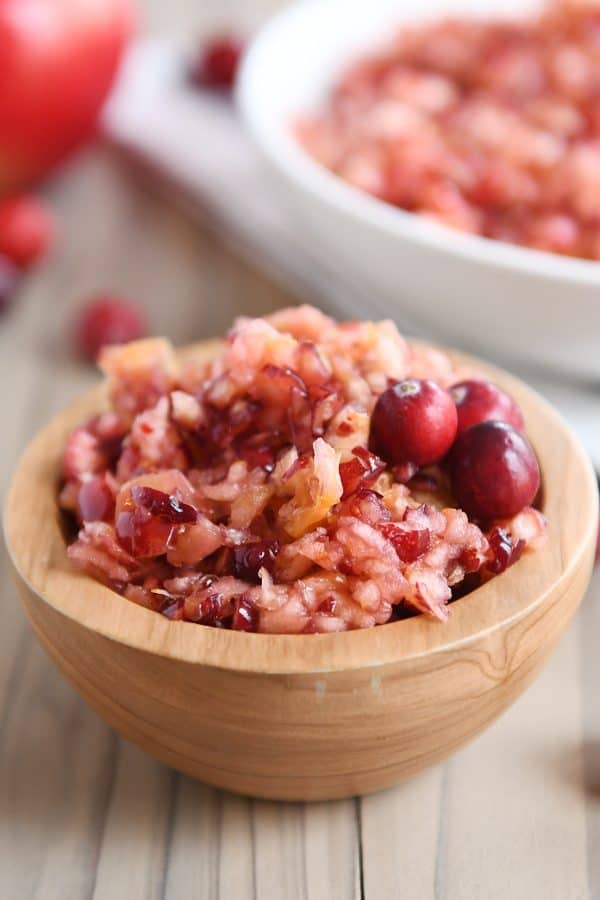 I didn't fully realize how much I would love this cran-apple relish when I first read the recipe (sent to me by an awesome MKC reader – thanks, Katelyn!). But despite its simplicity, it is a true testament to the old adage that the whole is greater than the sum of its parts.
Actually, that philosophical statement (about as deep as I'll get to today) is ONLY true if you observe the accompanying rule: DO NOT EAT THIS RIGHT AWAY.
No, no. Please, for all that is good and right, let this little fresh cranberry apple relish number hang out in the refrigerator for a while. Like, at least two hours, but honestly, I'd suggest a full 24 to really reap the benefits of flavor explosion.
Of course, I didn't observe this rule. I actually dug right in after making it. I know, I know. Who else is going to be able to establish the rules and bear testimony of their necessity if not the one who breaks them first?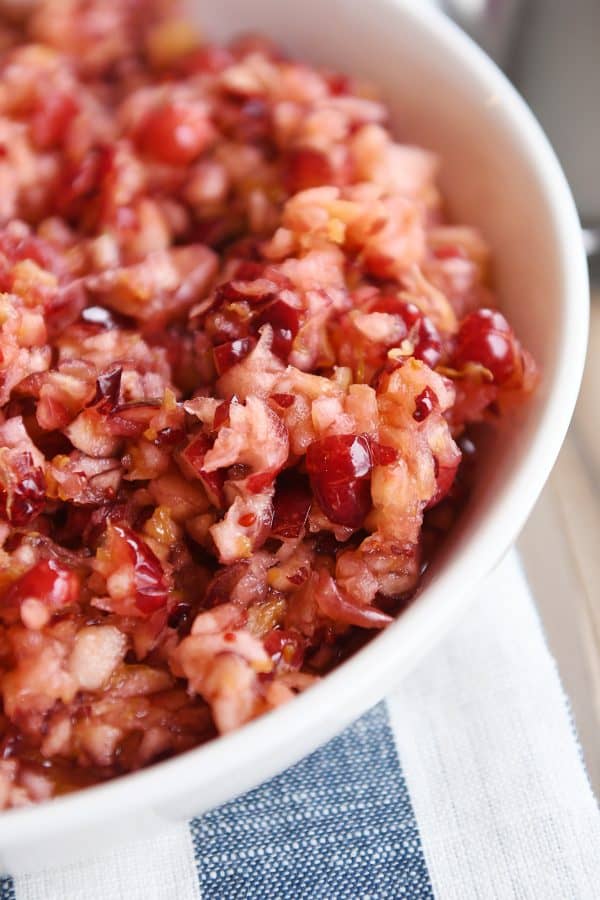 And when I first tasted a spoonful, I was totally underwhelmed. So I shoved the bowl to the back of the refrigerator and forgot about it (which isn't a surprise if you've seen the inside of my fridge lately – it's a little bit scary and a lot crowded). When I discovered it again two days later, I almost dismissed it, but in the name of no leftovers left behind, I gave it another taste, and holy-moly-angels-singing was it amazing.
I should have minimized my reaction a little, because, well, you can guess what my screeching from the kitchen caused to happen. Yes, the masses came running to see what all the commotion was about (I'm surprised they are even phased by my exclamations anymore), and it was too late to hide the bowl in the depths of the fridge chaos again.
Thanks to this forced sharing situation, we all dug in, and every single person except Brian, who still hasn't recovered his sense of taste post-surgery, poor guy, declared it a two thumbs up blog-worthy success.
We've made several batches now. It's a favorite after school snack and side dish for dinner. And all I'm saying is, you're going to want to capitalize on fresh cranberries while they are in season, because this fresh cranberry apple relish is a winner. I'm definitely making it for our Thanksgiving feast, too!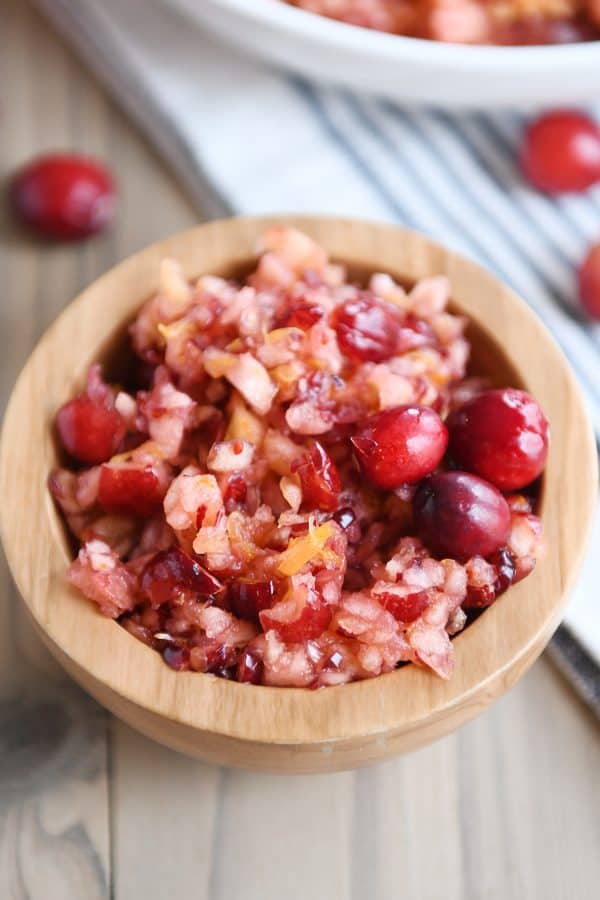 One Year Ago: Simple Roasted Thanksgiving Turkey {Oven Bag Method}
Two Years Ago: Quick and Delicious Chicken Noodle Soup
Three Years Ago: Slow Cooker Roasted Garlic Beef Sandwiches
Four Years Ago: Chocolate Caramel Pecan Pie
Five Years Ago: Black Bean Pizza with Whole Wheat Crust
Fresh Cranberry Apple Relish
Yield: 6 servings (or more)

Prep Time: 20 minutes

Additional Time: 2 hours

Total Time: 2 hours 20 minutes
Ingredients
12 ounces fresh cranberries (about 3 cups)
2 medium crisp, sweet apples (about 14-16 ounces), cored and quartered (peeling is optional)
1 large orange, zested (reserve the zest!), peeled, and separated into segments (see note)
Zest of one orange, about a tablespoon
1/4 to 1/3 cup granulated sugar
Instructions
Pulse the cranberries in a food processor or blender until coarsely chopped. Scrape into a medium bowl. Repeat the processing/chopping with the apples and orange (I process these two ingredients together but you can chop them separately) until they are coarsely chopped. Add to the bowl with the cranberries.
Stir in the orange zest and sugar and mix until the ingredients are well combined. Refrigerate for at least two hours (although it's best made a day or two ahead - it only gets better with time!)
Notes
If you find that the oranges aren't "chopping" well and staying in stringy pieces because of the membrane and pithy parts, you can use a sharp knife to peel off those areas of the orange (called "segmenting" an orange) before chopping it with the apples.

If you don't have a food processor or blender, you can try your hand (and knife skills) and chop everything up on a cutting board. Whether you do it by hand or with a machine, the final texture, how coarse or fine everything is chopped, is up to you.

Recipe Source: from a recipe sent to me by a reader, Katelyn G. (thanks, Katelyn!)