Fresh Strawberry Lemonade
This fresh strawberry lemonade is tart and sweet and absolutely fantastic. If strawberries aren't your thing, try swapping berries!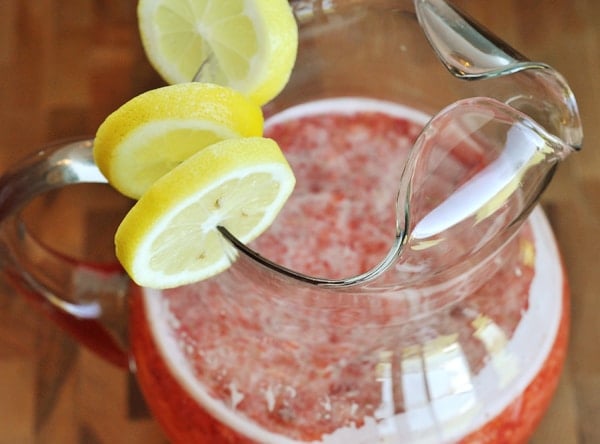 If you can still find sweet, ripe strawberries, it isn't too late to make this delicious fresh strawberry lemonade! And let me tell you, it's still so hot and muggy in my neck of the woods, I would gladly enjoy this any day during the next week or beyond, I'm sure.
A friend I knew briefly a few years ago sent me this recipe last week and it sounded so refreshing and tasty that I had to make it immediately. Needless to say, my kids went crazy for this. It was tart and sweet and absolutely fantastic. Thanks, Tara!
By the way, I think you could use many a berry-swap for this recipe: raspberry lemonade, blueberry lemonade…the options seem endless!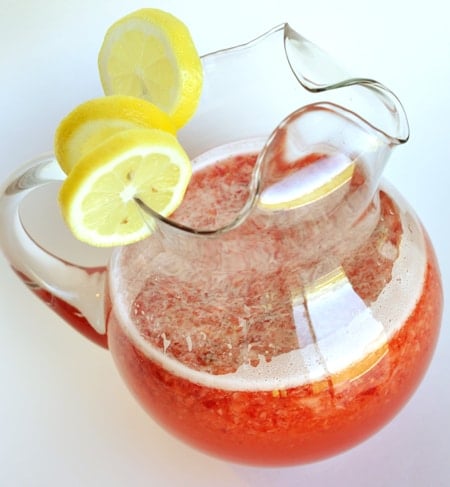 One Year Ago: Old-Fashioned Coconut Cream Pie
Two Years Ago: Fusilli alla Caprese
Fresh Strawberry Lemonade
Yield: 8 cups of juice

Prep Time: 10 minutes

Total Time: 10 minutes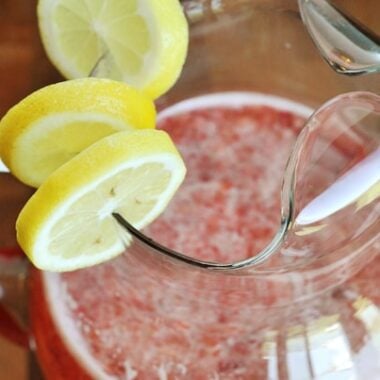 Ingredients
1 cup freshly squeezed lemon juice (from about 5-8 lemons)
1 cup sugar
2 cups sliced, fresh strawberries
Instructions
Combine the lemon juice and sugar in a blender and blend for about 30 seconds to combine. Add the strawberries and puree or pulse until the strawberries are at the desired chunkiness. I liked the strawberries slightly chunky but my husband preferred it to be more smooth – blend to your own preference!
Pour the lemon/strawberry mixture into a pitcher and add 4 cups of cold water. Mix well and serve chilled.
Recommended Products
As an Amazon Associate and member of other affiliate programs, I earn from qualifying purchases.

Recipe Source: from Tara S.
Disclaimer: I am a participant in the Amazon Services LLC Associates Program, an affiliate advertising program designed to provide a means for me to earn fees by linking to Amazon.com and affiliated sites. As an Amazon Associate I earn from qualifying purchases.