Simple Homemade Lemonade
The easiest and best homemade lemonade ever…and it doesn't require cooking a simple syrup. It is quick, delicious, and perfect!
I'm firmly convinced of two things in my life:
1) chocolate chips are not meant for cookies alone (and their higher calling in life may or may not be direct therapy as they are eaten plain, by the handful)…
…and, 2) everyone should make homemade lemonade from scratch at least once in their life.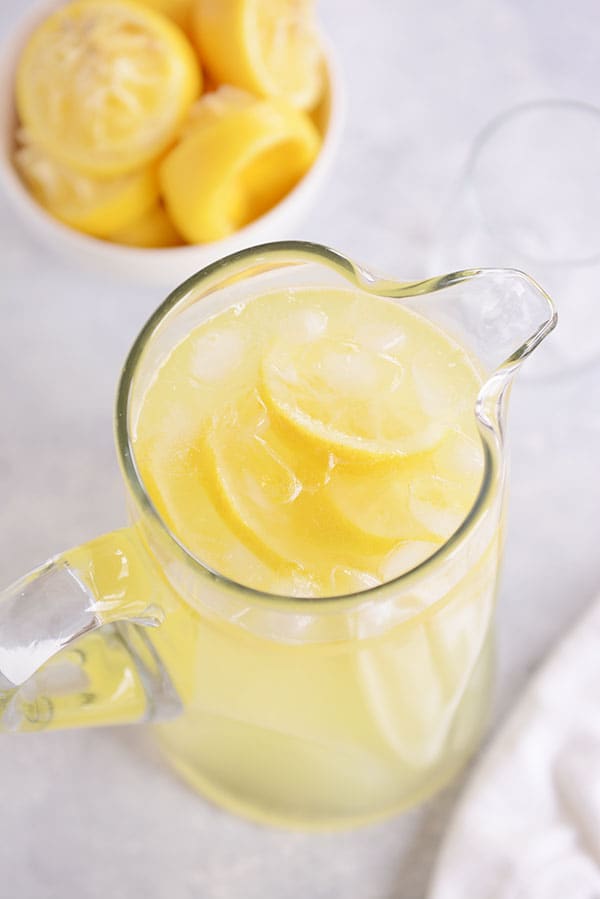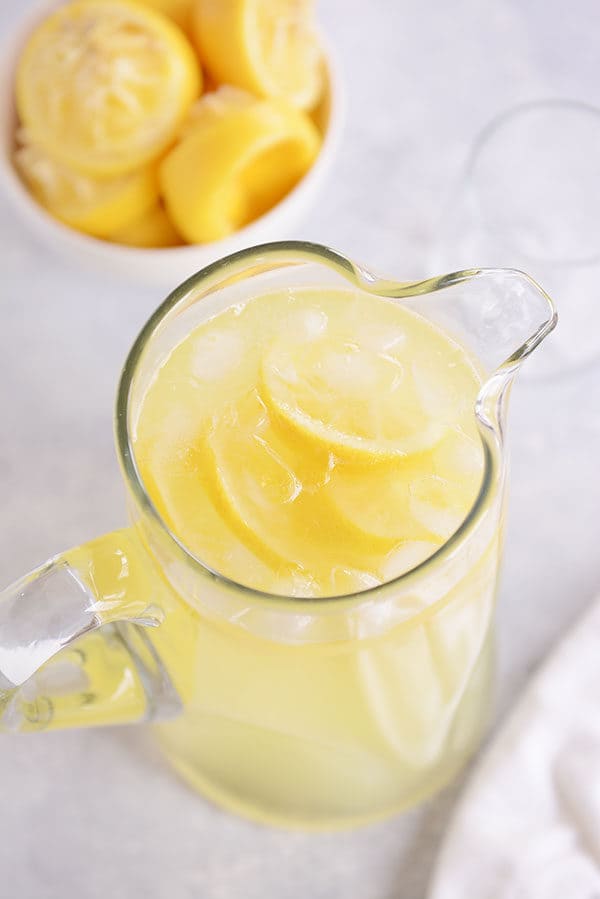 I'd say those are two fairly simple sentiments, but I stand by them.
I'm the poster child for over-consumption of chocolate chips whilst hiding in the pantry (the world's smallest pantry, in case you care, which doesn't bother me a bit as I cram my whole momma self in there and enjoy a little quiet sitting on top of the flour bin).
And I'm also a serious lover of homemade lemonade.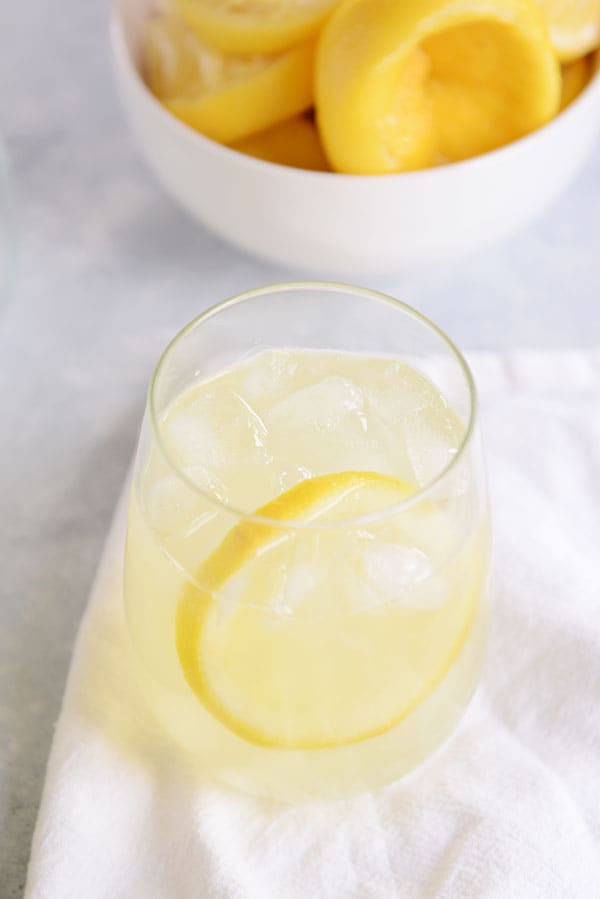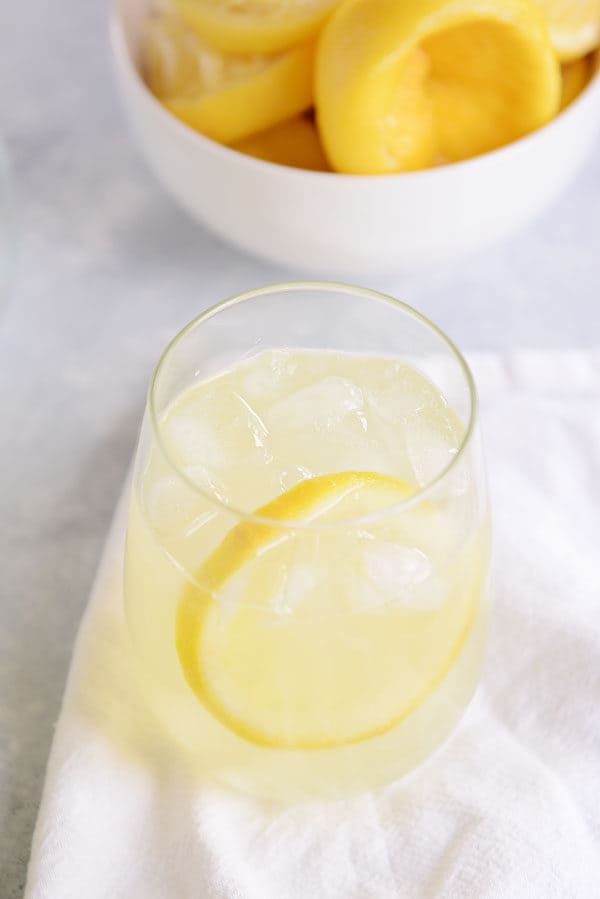 There's just something about it that screams lazy days of summer, which is a funny statement since I'm not exactly the most relaxed person in the world.
My kids would laugh (or cry??) if they heard that some people actually get to participate in the lazy days of summer.
Our summer days look more like chores, projects, to-do lists, reading, typing lessons, more jobs…and then usually swimming at the community pool.
But still, homemade lemonade is always a good reminder that summer is here and meant to be enjoyed.
Many lemonade recipes call for simmering a simple syrup (sugar + water) on the stove. I don't mind doing that every once in a while, but I was after a homemade lemonade recipe that didn't require any cooking or cooling or mandatory chilling.
And this is the one.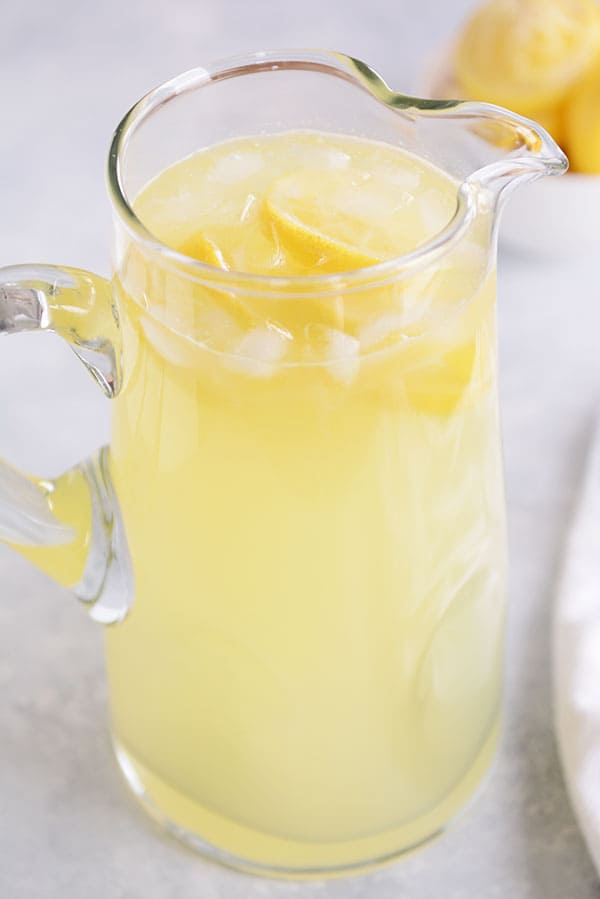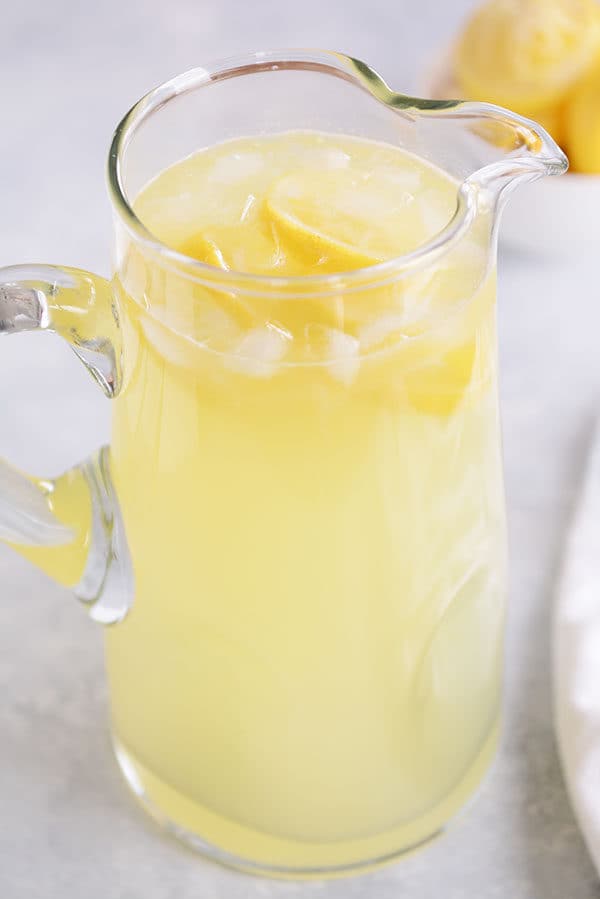 Instead of making a sugar syrup, lemon slices and sugar are mashed together (great project for the kiddos!), then mixed with some fresh-squeezed lemon juice (this little inexpensive electric citrus juicer is indispensable for tasks like this!), and water.
I then strain the mixture through a fine mesh strainer in order to leave pulp and seeds behind.
And voila!
Homemade lemonade.
Do not forget an excessive amount of ice. Warm homemade lemonade is no bueno.
But cold, icy homemade lemonade? That's the stuff dreams are made of.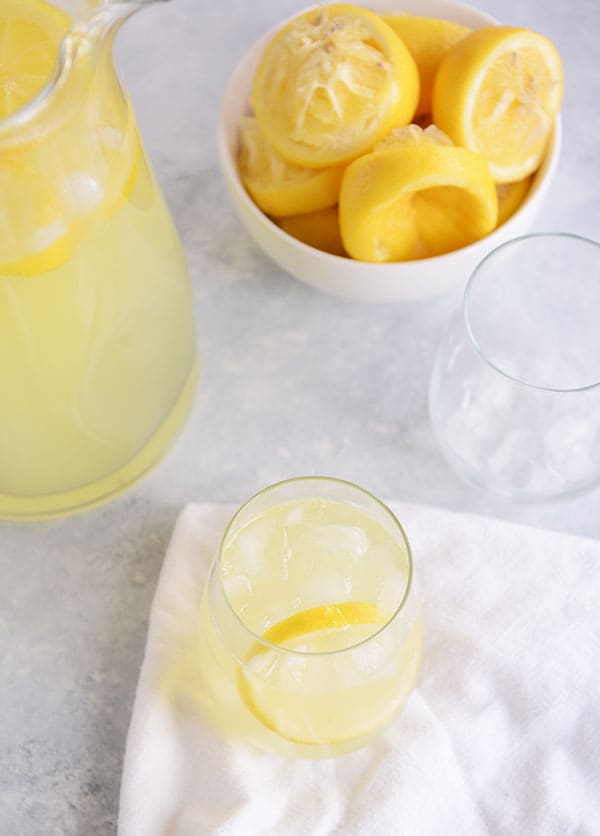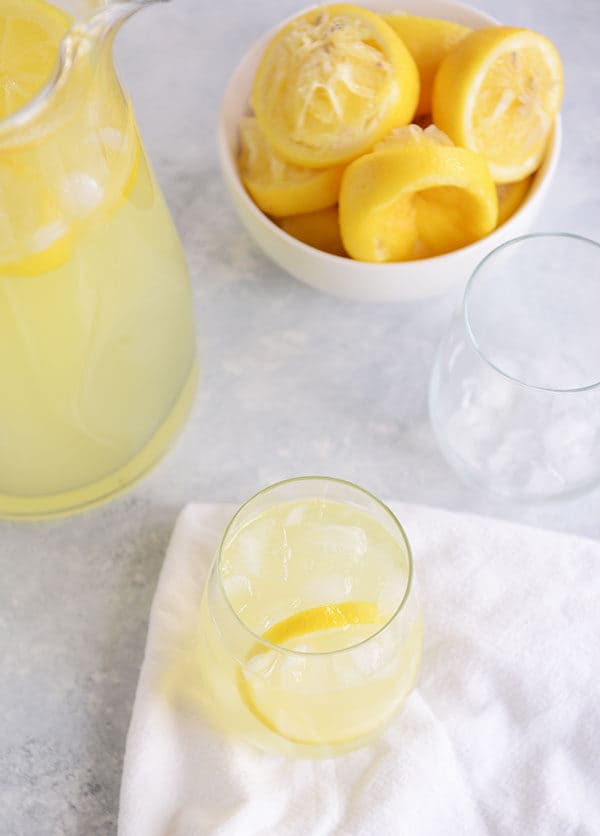 This lemonade recipe is simple enough to make with only a few minutes notice and still wow family, friends, guests, friends of your children, and random mail delivery people.
Honestly, I've never met anyone that isn't a little happier to have a glass of icy cold homemade lemonade shoved at them.
In case you are about to ask, I have NOT made this with limes for limeade, but I don't see why it couldn't be done!
I'm so devoted to this Brazilian lemonade recipe (which is actually made with limes, not lemons, and if you are thoroughly confused, that's ok – just know that a) it should be retitled Brazilian limeade and 2) it is amazing) that I haven't made another kind of homemade limeade in a long time, so if you try it, report back!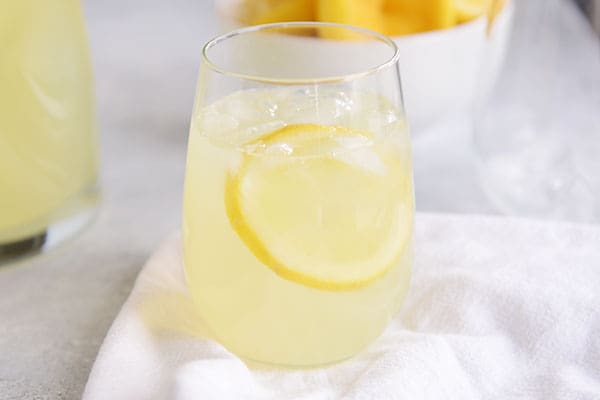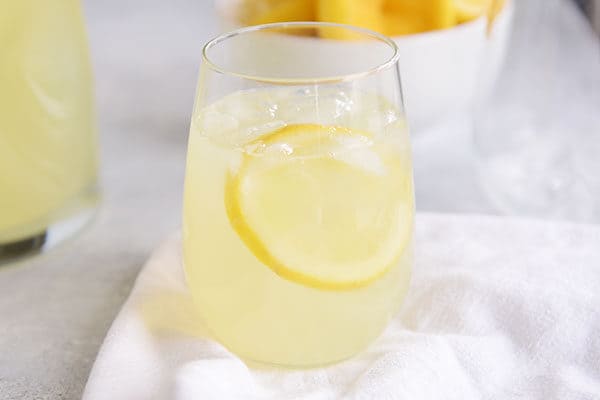 Below the recipe, I've linked to my most favorite glass pitcher (the one in these pictures).
I love it so much that I have two (it's fairly inexpensive, less than $13). It's got a little quirkiness to it with the random indentations; it makes me feel at home with my own quirks.
Please promise me you'll add to your summer bucket list right this minute: MAKE HOMEMADE LEMONADE! I can't promise it won't be the highlight of your whole summer.
One Year Ago: Double Chocolate Oatmeal Chocolate Chip Cookies
Two Years Ago: Whole Grain Pumpkin Blueberry Muffins
Three Years Ago: Grilled Honey & Ginger Marinated Flank Steak
Homemade Lemonade
Ingredients
1 ½

cups

granulated sugar

10

lemons

,

for 2 cups freshly squeezed lemon juice; use more lemons if needed to get to that amount

8

cups

water

Extra lemon slices for garnish

,

if desired
Instructions
Slice two of the lemons into thin slices (try to remove all the seeds and discard).

In a large bowl, using a potato masher, mash the sugar and the lemon slices until the sugar is completely wet, about 1 minute.

Juice the remaining 8 lemons (for 2 cups lemon juice; use more lemons, if needed, to get to that amount).

Add the water and lemon juice to the bowl with the lemon slices and sugar, and stir everything together until the sugar is completely dissolved, 1-2 minutes.

Strain the mixture through a fine mesh strainer set over a pitcher or large bowl, pressing on the lemon slices a bit to get as much juice as possible; discard solids.

Chill the lemonade until ready to serve (or serve immediately). Garnish with extra lemon slices, if desired.
Notes
Sweetness: as written, this lemonade has the perfect amount of sweetness for me, but it goes without saying that you could adjust the sugar to taste (or try using part honey or other sweetener). 
Serving:
1
Serving
,
Calories:
184
kcal
,
Carbohydrates:
50
g
,
Protein:
1
g
,
Fat:
1
g
,
Saturated Fat:
1
g
,
Sodium:
15
mg
,
Fiber:
4
g
,
Sugar:
41
g
Recommended Products
Follow @MelsKitchenCafe on Instagram and show me the recipes you are making from my blog using the hashtag #melskitchencafe. I love seeing all the goodness you are whipping up in your kitchens!
Recipe Source: adapted slightly from Cook's Country Aug/Sept 2016
Disclaimer: I am a participant in the Amazon Services LLC Associates Program, an affiliate advertising program designed to provide a means for me to earn fees by linking to Amazon.com and affiliated sites. As an Amazon Associate I earn from qualifying purchases.