Garlic Tuna Pasta with Asparagus
This garlic tuna pasta with asparagus is perfect for a light spring dinner. It comes together in no time, and tastes fantastic.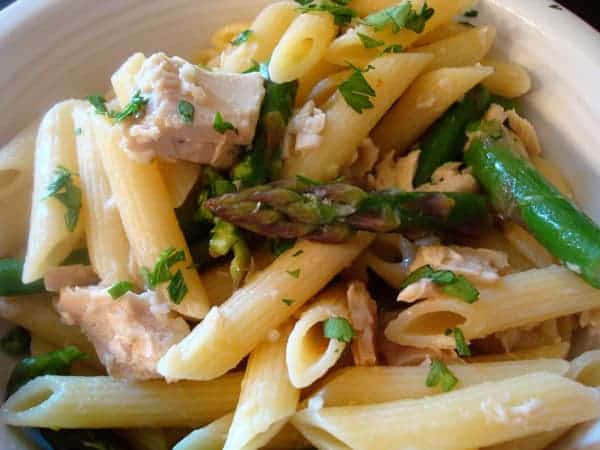 I happen to love tuna. Now, I know not everyone is a tuna lover, but me? I could eat it every day.
However, the same old tuna sandwich gets kinda old so in an attempt to be creative and throw a meal together without a recipe (gasp! this is brave ground for me), I made this dish the other night and…it…was…awesome.
The garlic was subtle but essential and the combination of asparagus, tuna and pasta was perfect for a light, spring dinner.
The sauce, not overly saucy by any means, lightly coats the pasta with a delicious garlic taste.
My kids actually ate this really well (albeit a few gags on the asparagus) and have now declared, "Mom, we like tuna, too…just not on bread." Sigh…I'll take what I can get.

Saltine Crackers
A simple green salad (or for something more fancy this Gourmet Green Salad)
Fresh, seasonal fruit
Garlic Tuna Pasta with Asparagus
Yield: 6-8 servings

Prep Time: 10 minutes

Cook Time: 13 minutes

Total Time: 23 minutes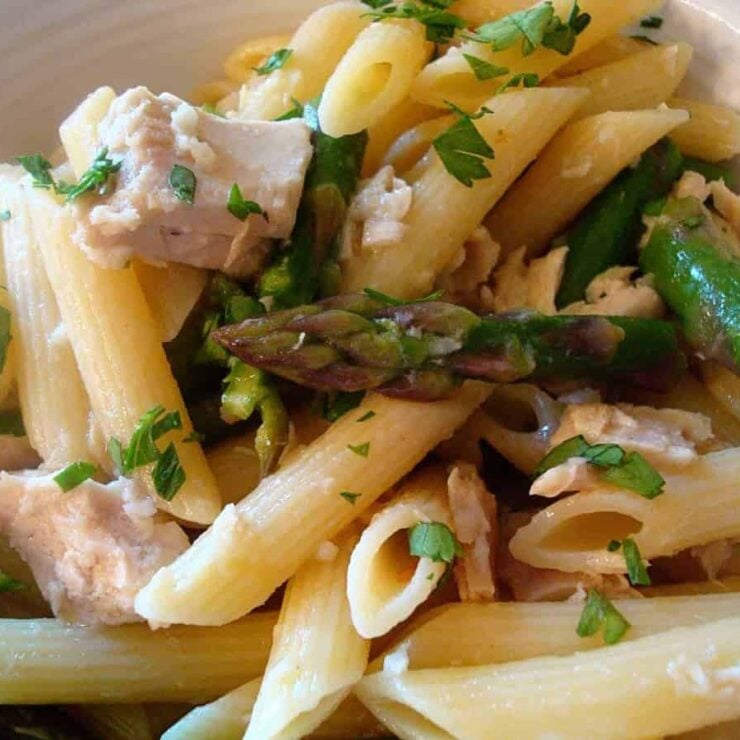 Ingredients
2 tablespoons olive oil
6 medium cloves garlic , minced
1/2 teaspoon red pepper flakes (this doesn't add spice – just a nice enhancement of flavor)
3/4 cup chicken stock or broth
2 (6-ounce) cans solid white tuna in water (2 cans), drained well
1 teaspoon salt
1/4 cup chopped fresh parsley leaves
1 tablespoon butter, cut into fourths
1 bunch asparagus (or substitute broccoli, peas, etc.), tough ends trimmed and stalks cut into thirds, lightly steamed (I steamed mine for 3-4 minutes until just barely crisp tender)
1 pound penne pasta or other similar tube pasta
Instructions
Cook pasta according to package directions (or however you like it).
Meanwhile, in a 12-inch non-stick skillet, heat oil, garlic, and red pepper flakes over medium heat, stirring frequently, until fragrant (but not browned!), about 1 to 2 minutes. Add chicken stock and bring to a simmer. Add tuna, slightly breaking up chunks with your fingers, and salt and cook, stirring frequently, until tuna is heated through, about 1 minute.
Toss tuna mixture, parsley, butter, asparagus (or other vegetable), and cooked pasta together in the skillet. Salt and pepper to taste and serve immediately.
Recommended Products
As an Amazon Associate and member of other affiliate programs, I earn from qualifying purchases.

Recipe Source: My Kitchen Cafe
Disclaimer: I am a participant in the Amazon Services LLC Associates Program, an affiliate advertising program designed to provide a means for me to earn fees by linking to Amazon.com and affiliated sites. As an Amazon Associate I earn from qualifying purchases.