Glazed Poppyseed Bundt Cake
This glazed poppyseed bundt cake is a perfect summery dessert; it would also be great for a ladies luncheon or baby or bridal shower!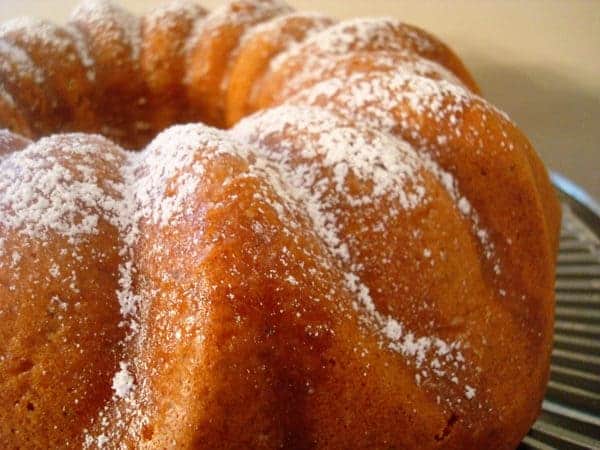 When I saw this recipe on The Sister's Cafe, I knew I had to try it. It was so delicious. I loved it, loved it.
The cake was moist (thanks to the same method as the Perfect Lemon Cake and the Super Moist Fudge Bundt Cake) and lightly flavored with citrus.
The butter glaze, while decadent, is essential in my book. I mean, you are eating cake, why not glaze it with butter and sugar right?
The glaze soaks into the cake giving it a delicious, light (but not light, if you know what I mean) buttery texture and taste. This is a perfect summery dessert and would also be great for a ladies luncheon or baby or bridal shower.
I dusted the top of my cake lightly with powdered sugar to give it a little oomph in the way of looks.
.
Glazed Poppyseed Bundt Cake
Ingredients
Cake:
1 yellow cake mix
1 (3.5 oz) box of instant vanilla pudding
1 tablespoon poppyseeds
1/2 cup pinapple or orange juice (I used pineapple)
1/2 cup oil
1 cup sour cream (I use reduced fat)
4 eggs
Glaze:
1 cup sugar
1/4 cup water
1/2 cup butter (1 cube)
Instructions
For the cake, mix yellow cake mix, vanilla pudding and poppyseeds. Add juice, oil, and sour cream and mix. Add 4 eggs one at a time, mix well. Grease and flour a bundt pan. Bake at 350 degrees for 40-45 minutes (don't overbake).
When the cake is about 10 minutes from being done start the glaze.
For the glaze, bring ingredients to a boil and keep bubbling until ready to pour over cake. You can either pour the glaze over the cake while it is in the pan or turn the cake out onto a cooling rack and pour the glaze over the cake that way. It is really like syrup that soaks in. (Some commenters have said that glazing the cake in the pan makes it hard to remove because the glaze gets sticky. I glazed it out of the pan and it worked great.) Give it a few minutes to soak in and then turn it out onto a cake plate. Optional: dust top of cake with powdered sugar.
Recommended Products
As an Amazon Associate and member of other affiliate programs, I earn from qualifying purchases.
Recipe Source: adapted from The Sister's Cafe