My Trip to Ghana: An Update One Year Later + What YOU Have Done + A Video Recap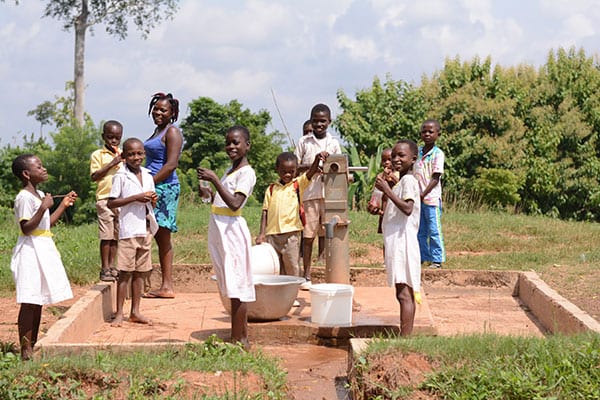 It's hard to believe that it has been a year since Brian and I traveled on that life-changing trip to Ghana, Africa.
I still think about the people we met almost every single day. Their stories and experiences continue to impact me over 12 months later.
If you missed the details last year, you can read more about why we went to Ghana HERE.
Last fall, I had the chance to trek down to Utah and share some of my thoughts regarding the experience as the keynote speaker at the annual Mentors gala. (To say I was humbled and crazy nervous is an understatement!)
Because the short speech at the gala sums up a lot of the tender emotion of the trip and gives a great synopsis, I thought I'd share it with you here.
Just don't pay too close attention to my voice, which decided to leave me a few days before the speech (if you attended my presentation at BYU last fall, this was the day after; huge improvement from the BYU schpeel, huh??).
You Can Watch the Video Below!
As incredibly impactful as the trip was for both Brian and I, it's what happened after that has completely humbled both of us (and many others, as you'll find out).
You see, when I told you all about Mentors, International, the non-profit organization that made this experience possible, you reacted in a big way.
BIG!
I asked if you and I could find a way to donate $10,000 to Mentors, International, so that 100 new microloans could be given out to men and women in Ghana.
I was nervous to even suggest such an amount! What if it didn't happen? I know as well as anyone the financial demands that come blazing in from a hundred different directions. I didn't want anyone to feel pressure.
And it made me a little scared to throw that goal out there.
But guess what? Not only did you raise $10,000, you more than quadrupled that number!
!!!
Between the direct donations and the sale of the eCookbook I launched almost exactly one year ago (100% of the proceeds going to Mentors), you, my loyal, wonderful, generous, kind-hearted readers, raised $53,941.70.
$53,941.70!
Can you even believe it? And that number continues to rise every time an eCookbook is purchased or someone donates to Mentors, International via this link.
Today, I wanted to take a minute to sincerely thank you for what you have done.
I'm not being facetious or exaggerating or making it more dramatic when I say your generosity has brought me to tears so often over the last year as I've contemplated the good that you have set into motion for these amazing Ghanaian men and women wanting to extricate themselves from extreme poverty.
Thank you.
Thank you, thank you, thank you.
What does that $50K+ number mean to Mentors? Well, let me tell you.
Because of you, Mentors has been able to provide 431 additional loans resulting in 2,373 individuals being positively affected, and additionally, over 75 jobs have been created (as these men and women have started businesses and hired friends/family/community members).
This is absolutely remarkable! I cannot even fathom the domino affect this will have as these dollars are repaid and loaned back over and over and over.
We're talking an effect that will impact generations of families. That is hard to comprehend, don't you think? Thousands of lives will be changed for the better because of you and your support of Mentors, International!
You can access the FULL REPORT of the monumental influence Mel's Kitchen Cafe readers have had over the last year by clicking the image below (this includes some heartwarming and incredible updates from a few of the clients I met in Ghana).
I have received dozens of emails from the leadership at Mentors thanking me and thanking you for the overwhelming generosity.
Mentors as a non-profit organization has gone through a lot of changes over the last year.
Mark Peterson, the beloved CEO (who was instrumental in orchestrating my trip to Ghana as we tagged along with DoTerra's executives) passed away a few months ago from a hard fought battle with melanoma. He was an amazing man, and he led Mentors for many years, growing the organization and expanding to many third world countries. He will be dearly missed.
A new CEO, Ron Dunford, was recently appointed, and the organization has a lot to look forward to in the upcoming weeks, months, and years. Brian and I actually know Ron personally outside of the Mentors connection; we can't think of a better person to continue the legacy that Mark put in place.
Mostly, I'm so grateful (and again, so humbled) to have been able to share with you my experience in Ghana last year and how the Mentors microloan program not only is changing lives in Ghana and across the globe, but how it has changed my life for the better.
One Quick Update!
If you remember, I told you about Naomi in last year's post. How she, a crippled single mother, was denied financing over and over but through the blessings of the Mentors microloan program started a business in her tiny village in order to take care of her children and rise above her homeless situation.
I recently received an update about how Naomi is doing (with some recent pictures!), and I wept while reading it.
Naomi is doing incredibly well (look at her smile)! She is currently working to pay back her fourth loan (she's paid back all three previous loans in full).
When I met Naomi last year she wanted to open a mobile banking kiosk in her village but it wasn't possible for her then.
Guess what? She was able to do it! And it has become one of the most highly profitable ventures in her area.
Naomi's monthly income used to be right around $17 a month, and now, she is earning $100 a month!
She employs her daughter and two other people from her village. Over the last year, using profits and loans from Mentors, she's been able to double the amount of inventory in her village store allowing her profits to triple.
Naomi recently told her loan officer in response to the question of what she would like those who have donated to Mentors to know about her: "I was once rejected, but Mentors accepted me. I was once a nobody, but Mentors made me somebody. God richly bless you all!"
To read other updates (like Gladys, one of the strongest, most inspirational people we met there!), be sure to take a glance through the full report here – filled with stories and details and facts that make me want to do everything I can to continue supporting this organization and the wonderful people benefitting from the loans.
If you've made it this far through this lengthy post – a million cookies for you!!
Thank you for your support. Seriously. There are days I doubt the goodness and humanity in the world. Storms of hatred and violence and malevolence run rampant everywhere.
And yet you've proven to me and shown me in tangible ways through your generosity that there is still a lot of goodness in this world.
The type of goodness that is right now helping hundreds of people rise above their poverty-stricken circumstances. The type of goodness that didn't have to be shared – but it was. And it was given freely and in abundance.
This humbles me to the core. Thank you for inspiring me to do more. To be more. To give more. To focus less on trivial things and remember my blessings day in and day out.
Thank you.
To learn more about Mentors and how you can get involved, click HERE.
To donate to Mentors and contribute to the efforts to eradicate extreme poverty, click HERE.
To purchase my eCookbook (100% of the proceeds goes to Mentors), click HERE.
Disclaimer: I am a participant in the Amazon Services LLC Associates Program, an affiliate advertising program designed to provide a means for me to earn fees by linking to Amazon.com and affiliated sites. As an Amazon Associate I earn from qualifying purchases.