Ginger Crinkle Cookies
These ginger crinkle cookies carry the delicious, spicy warmth of a ginger cookie and are made a bit healthier by using whole wheat flour!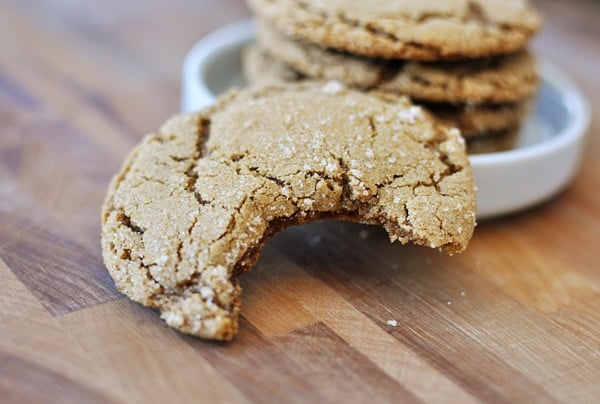 No, no, you aren't seeing things. These are not the cookies I posted about a month ago, although they do look frighteningly similar.
The cookies you see here, instead of being a simple brown sugar cookie, carry the delicious, spicy warmth of a chewy, crinkly, ginger cookie.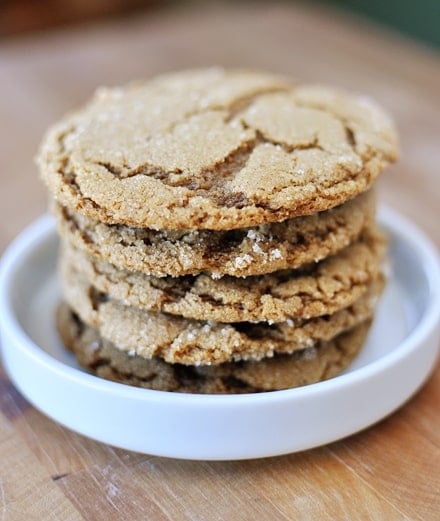 In another lifetime, I helped out at the Wellness department of the University where I was finishing up my BS in Public Health. One of the main perks of the job/internship was gaining access to the ginger crinkle cookie recipe they would serve by the boxfuls at nearly every wellness event.
I loved these babies and figured it a perk of my lowly undergraduate position to eat at least half a dozen each time they were available. Because they were a "health and wellness" cookie, they were developed to be lower in fat and cholesterol (thanks to egg whites) and made a bit heartier by using part whole wheat flour.
Don't be fooled – they are still a cookie and taste great because of it, but they are definitely a bit healthier than other decadent cookie recipes.
It's been over 10 years since I've tasted the original, and over that time, I've adapted the recipe slightly to suit my own tastes. Perfect with a glass of cold, cold milk, these thin and chewy ginger crinkles are some of the most comforting, delicious cookies to enjoy.
So go on now…make a batch and enjoy some in my honor!
One Year Ago: Jackson's Wacky Cake
Two Years Ago: Coconut Tres Leches Cake
Three Years Ago: Cheesy Broccoli and Rice Casserole
Additional Time:
30 minutes
Ingredients
8 tablespoons (1 stick) butter, softened
1 cup packed light brown sugar
2 egg whites
1/4 cup molasses
1 cup whole wheat flour
1 cup all-purpose flour
1/2 teaspoon salt
2 teaspoons baking soda
1 teaspoon cinnamon
1/4 teaspoon ground ginger
1/8 teaspoon cloves
1/3 cup granulated sugar, for rolling
Instructions
In a large bowl, with a handheld electric mixer or using an electric stand mixer, beat together the butter, brown sugar, egg whites and molasses. The mixture will look curdled - no worries, it's ok!. In a medium bowl, stir together the flours, salt, baking soda, cinnamon, ginger and cloves. Add the dry ingredients to the molasses mixture and mix until combined.
Cover and chill the dough for at least 30 minutes.
Preheat the oven to 375 degrees F. Place the granulated sugar in a shallow dish. Form the dough into 1 1/2-tablespoon sized balls and roll each one in the sugar. Place 2 inches apart on lightly greased or lined baking sheets (lined with parchment paper or silpat liners). Bake for 8-10 minutes until the tops are crackly and the edges are set. Don't overbake or they will lose their chewy texture. Remove the cookies to a wire rack to cool completely.
Recommended Products
As an Amazon Associate and member of other affiliate programs, I earn from qualifying purchases.
Recipe source: adapted from BYU Dining Services
Disclaimer: I am a participant in the Amazon Services LLC Associates Program, an affiliate advertising program designed to provide a means for me to earn fees by linking to Amazon.com and affiliated sites. As an Amazon Associate I earn from qualifying purchases.