Grilled Rosemary Buttermilk Chicken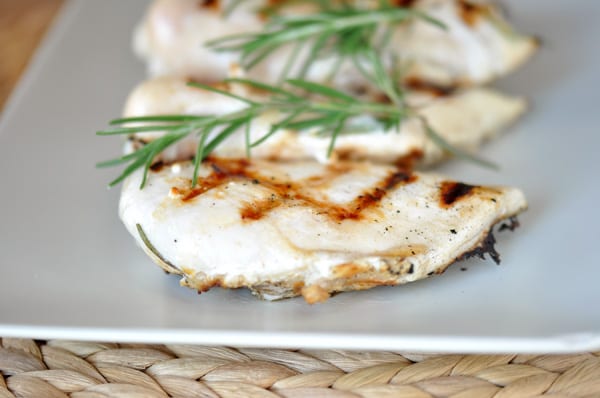 One of my favorite ways to prepare and grill chicken, this three-ingredient recipe provides unbelievable flavor and delicious tenderness to every day boneless, skinless chicken breasts.
My Aunt Marilyn sent me the recipe eons ago and I've been thankful ever since. And lazy, too. I mean, what's a girl to do when dinner only requires three ingredients? Sit around and eat bon-bons, that's what. Oh. Right. Except that girl must live somewhere else and not be the blessed mother of four rugrats who refuse to let their mother sit and eat bon-bons. Even if dinner only requires three ingredients.

Seriously, this chicken is a no-brainer. I have served it with everything from these sweet potato skewers (also grilled) and corn on the cob, to this Zucchini Mozzarella Medley (be still, my zucchini-smothered-in-cheese-loving heart), to this Black Bean and Corn Quinoa Salad, to this stuffed zucchini, to…well, you get the picture. Basically, by making this chicken and serving it with deliciously wonderful summer side dishes, I am inwardly screaming, "Summer, Don't Leave Me!" I love me some summer food.
Make it. And eat some bon-bons in my honor, while you are at it.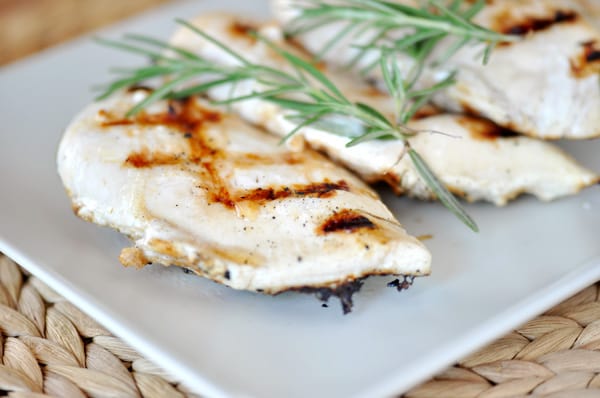 One Year Ago: BBQ Pulled Pork Sandwiches
Two Years Ago: Apple Cider Pudding Cake
Grilled Rosemary Buttermilk Chicken
Yield: 4 servings

Prep Time: 5 minutes

Cook Time: 12 minutes

Additional Time: 7 hours 58 minutes

Total Time: 8 hours 15 minutes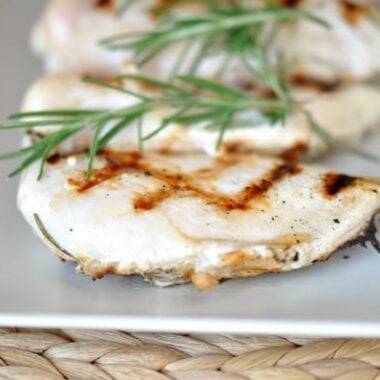 Ingredients
4 boneless, skinless chicken breasts
1 quart buttermilk (here is a guide for making your own buttermilk)
5-6 sprigs fresh rosemary
Instructions
Place the chicken breasts in a large ziploc plastic bag. Pour in the buttermilk to cover the chicken. Add the rosemary sprigs. Seal the bag and refrigerate overnight, about 8-10 hours.
Preheat a grill to medium-high heat. With tongs, take out each chicken breast one by one, shaking off excess buttermilk and removing the rosemary sprigs. Grill for 4-6 minutes per side, until the chicken is cooked through but still moist. Tent with foil for about 5-10 minutes before slicing and serving.
Notes
Quantity: this recipe is so flexible and easy you can double and triple to your heart's delight. The idea is basic – just add enough buttermilk to cover the chicken and throw in as much rosemary as your soul can take. I like a lot of rosemary flavor. Use what you like.
Recommended Products
As an Amazon Associate and member of other affiliate programs, I earn from qualifying purchases.

Recipe Source: from my Aunt Marilyn