Buttermilk Lime Shortbread Bars
These buttermilk lime shortbread bars are light and refreshing, with a combination of creamy filling and melt-in-your-mouth shortbread.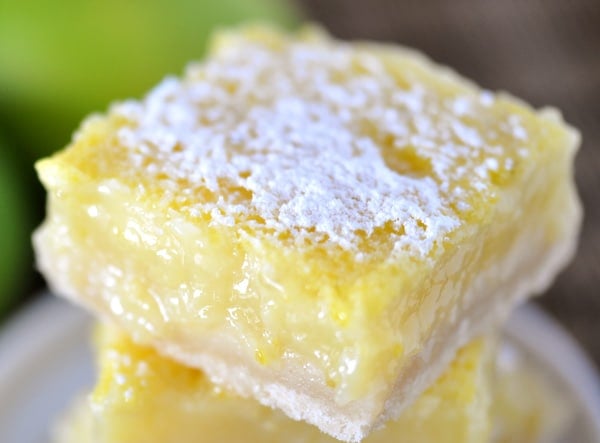 I love lemon bars. Like, really love them. In fact, I love them so much, I'm kind of embarrassed I don't have a recipe up for them on my site (not like it's that hard to find a recipe for them around since they are quite popular, but still).
When I was growing up, my mom made lemon bars all the time and they were hands down my favorite treat to see sitting on the counter after walking in from school or for after a Sunday dinner. I shall not confess how many I would eat at one sitting – sufficeth to say, I love the little beauties.
A few weeks ago, on a whim, I tried this recipe for lime bars. Not altogether very different than the classic lemon bars, these lime bars have the delicious addition of buttermilk in the lime filling, which lends a wonderful creamy tanginess to the bars, perfectly complimenting the fresh lime juice and buttery, shortbread base.
When the bars first came out of the oven, I thought for sure they were a bust. They were ugly. Sorry, but they were. However, after chilling in the refrigerator and having a liberal dusting of powdered sugar applied, these bars have skyrocketed to my newest favorite indulgence.
Light, refreshing, with that ethereal combination of cool, creamy filling and melt-in-your-mouth buttery shortbread, I have to admit, I'm loving on these lime bars nearly as much as my old lemon bar favorites.
One Year Ago: Grasshopper Ice Cream Pie
Two Years Ago: Caramel Crunch Bars
Three Years Ago: Fusilli alla Caprese
Buttermilk Lime Shortbread Bars
Yield: 16-24 bars

Prep Time: 15 minutes

Cook Time: 40 minutes

Total Time: 55 minutes
Ingredients
Crust:
1 1/2 cups all-purpose flour
1/3 cup granulated sugar
1/4 teaspoon salt
1 teaspoon vanilla extract
1/2 cup (8 tablespoons) butter, cold, cut into 8 pieces
Filling:
4 large eggs
1 1/3 cups granulated sugar
1/2 cup buttermilk (here is a guide for making your own buttermilk)
1/2 cup lime juice, freshly squeezed
1 tablespoon lime zest
1 teaspoon vanilla extract
Powdered sugar for dusting
Instructions
Preheat the oven to 350 degrees F.
For the crust, in a medium bowl, combine the flour, sugar, salt and vanilla extract. Sprinkle the butter pieces over the top of the dry mixture and using a pastry blender, two knives or your fingers, cut the butter into the dry mixture until it resembles coarse crumbs. Pour the mixture into the bottom of a 9X9-inch pan and press the crust firmly to form an even layer. Bake the crust for 16-17 minutes, until lightly browned around the edges.
While the crust is baking, prepare the filling by whisking together all of the filling ingredients in a large bowl until evenly combined. Pour the filling mixture over the hot crust when it comes out of the oven and return it to the oven to bake for 18-20 more minutes, until the filling is set (it will not jiggle if the pan is shaken slightly).
Cool the bars in the pan completely before dusting with powdered sugar, slicing and serving. These bars also taste excellent after they have been chilled.
Recommended Products
As an Amazon Associate and member of other affiliate programs, I earn from qualifying purchases.

Recipe Source: from Baking Bites
Disclaimer: I am a participant in the Amazon Services LLC Associates Program, an affiliate advertising program designed to provide a means for me to earn fees by linking to Amazon.com and affiliated sites. As an Amazon Associate I earn from qualifying purchases.