Grilled Teriyaki Chicken
Incredibly simple, this juicy, teriyaki chicken is the result of a day-long marinade (with every day ingredients!), and grilled to perfection.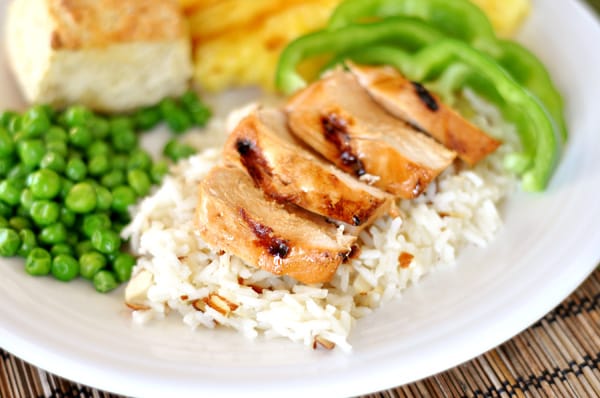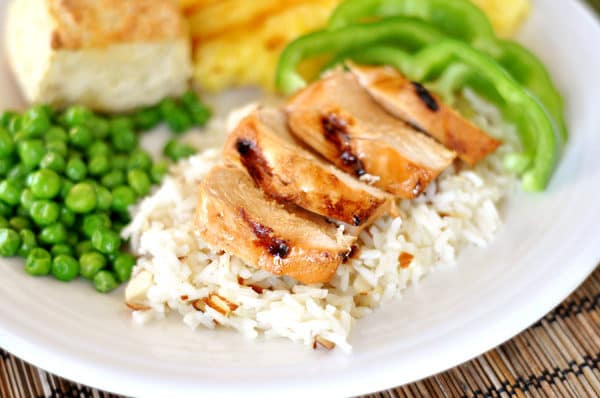 Incredibly simple, this juicy, teriyaki chicken is the result of a day-long marinade in a combination of every day ingredients that come together to make a fantastic teriyaki flavor.

This wonder-of-a-meal has been gracing our table for many years now. Our favorite way to serve it? Alongside this baked brown rice (with toasted almonds and green onions stirred in after baking) and with fresh, grilled pineapple, biscuits and sliced green peppers (you could grill these babies, too).
Easy to prepare. Easy to not mess up. And definitely easy on the ol' taste buds, this meal is refreshing and extremely delicious.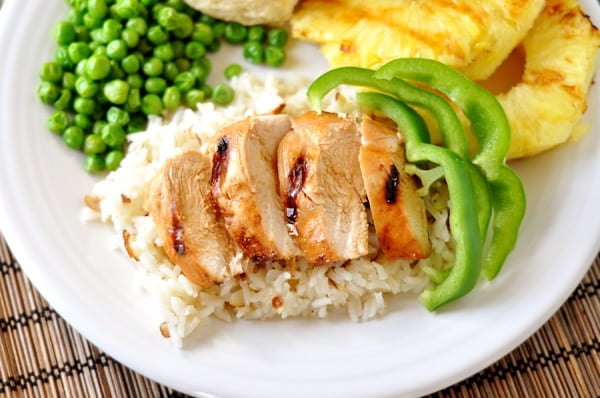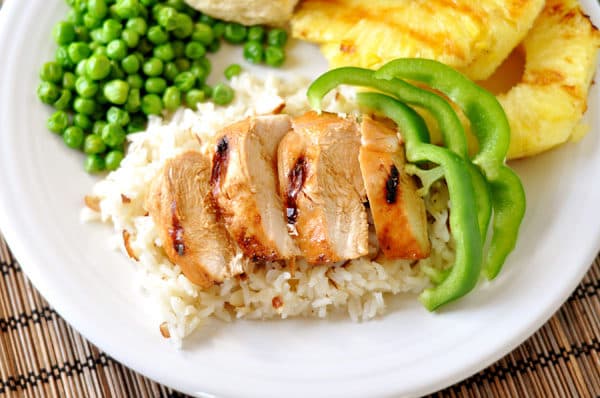 One Year Ago: Homemade Yellow Cake Mix
Two Years Ago: Chocolate Chip Toffee Bars
Three Years Ago: Oatmeal Chocolate Chunk Bars
Yield: 6 servings

Prep Time: 10 minutes

Cook Time: 10 minutes

Additional Time: 5 hours 58 minutes

Total Time: 6 hours 18 minutes
Ingredients
6 boneless, skinless chicken breasts
6 ounces (3/4 cup) pineapple juice
1/2 cup reduced-sodium soy sauce
1 tablespoon molasses
2 tablespoons brown sugar
1/4 cup canola or olive oil
3 tablespoons cider vinegar
1 teaspoon garlic powder
Fresh pineapple, for grilling
Hot rice, for serving
Instructions
In a small bowl, combine the pineapple juice, soy sauce, molasses, brown sugar, oil, vinegar and garlic powder. Whisk to combine. Add the chicken breasts to a large ziploc bag and pour the marinade over the chicken. Seal the bag and let the chicken marinate in the refrigerator for 6 to 8 hours.
Drain the liquid. Grill the chicken over medium-high heat for 6-7 minutes on each side, until the chicken is cooked through. When the chicken has about 4-5 minutes left to cook, add the rings of fresh pineapple and grill for 2 minutes per side. Transfer the chicken to a plate or cutting board, cover with foil and let rest for 5 minutes. Slice the chicken into strips. Serve over hot, cooked rice with grilled pineapple.
Notes
Pineapple: if you don't have fresh pineapple or choose not to use it, you can use a large can of pineapple chunks, draining and reserving the liquid for the marinade, and serving the pineapple chunks alongside the grilled chicken.

Rice: I like to serve this teriyaki chicken with baked brown rice (cooked with chicken broth – and after baking, I stir in toasted almonds and sliced green onions).
Recommended Products
As an Amazon Associate and member of other affiliate programs, I earn from qualifying purchases.

Recipe Source: adapted from Lion House Entertaining
Disclaimer: I am a participant in the Amazon Services LLC Associates Program, an affiliate advertising program designed to provide a means for me to earn fees by linking to Amazon.com and affiliated sites. As an Amazon Associate I earn from qualifying purchases.