Healthy Banana Blueberry Muffins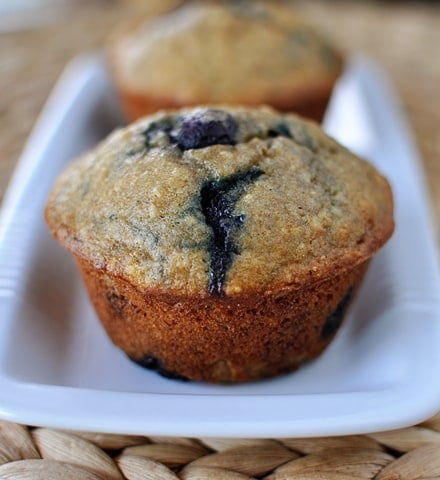 While I know many of you have been in the new school year for weeks now (crazy!), my three oldest charges started today.
It's a big day. Not only is it the 1st day of school, but it's the 1st day of school in a new school and in a new town. They were so nervous, bless their hearts, which made me nervous, which made their dad give me the stink eye silently saying: "if you start crying, it's only going to make it worse for the boys so for all that is functional and therapeutic, paste a happy smile on your face and keep it together, for goodness' sake!"
I kept it together. But just barely. And let me tell you, these new kids at this new school better be nice to my little precious boys. If there is any, and I mean any, lunch-stealing going on (or is that like, so, Anne of Green Gable-esque, perhaps kids don't steal lunches anymore), you better believe the wrath of this mother bear knows no bounds (although I do have to admit, the kids have a pretty killer cold lunch packed for the first day today and I can't blame someone for wanting to swipe it).
If we weren't living out of a hotel right now, I'd have these healthy and delicious muffins waiting for them as an after-school snack (we'll have to settle for string cheese and crackers this go-round!).
There are some recipes I seem to go back to and make over and over no matter that I have a zillion recipes waiting in the wings to try. These banana blueberry muffins are one of them. After snagging them from cute Janssen's blog, I have made them no less than a dozen times.
They are healthy and so simple and even though they use 100% whole wheat, they are as moist as can be. They really are some of the most perfectly delicious muffins around.
Definitely a staple around our house (they keep great in the freezer!) and although I hate to make such blatant statements, I think if you pinned me down on it, these would be one of my all-time favorite muffins.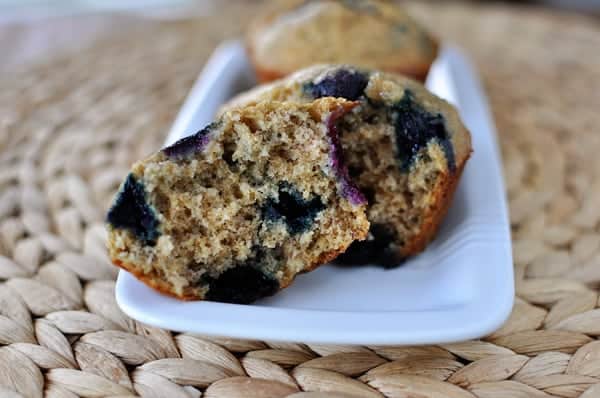 One Year Ago: Andes Mint Cupcakes
Two Years Ago: Lasagna Primavera
Three Years Ago: Chocolate Toffee Cookies
Healthy Banana Blueberry Muffins
Yield: 12 muffins

Prep Time: 18 minutes

Cook Time: 22 minutes

Total Time: 40 minutes
Ingredients
1/4 cup (4 tablespoons) butter, room temperature
1/4 cup plain yogurt
1/3 cup granulated sugar
1/3 cup packed light brown sugar
2 large eggs
1 3/4 cups whole wheat flour
1/4 cups quick or regular oats
1 teaspoon baking soda
1/2 teaspoon salt
2 ripe bananas, lightly mashed
1/3 cup milk
1 teaspoon vanilla extract
1 cup frozen blueberries
2 teaspoons flour
Instructions
Preheat the oven to 375 degrees F. Lightly grease a 12-cup muffin tin with cooking spray. Set aside.
In a large bowl (or the bowl of an electric stand mixer), beat together the butter, yogurt and sugars until the mixture is light and fluffy. Add the eggs and beat well. In a blender or food processor, process the oats until they are finely ground. Add the wheat flour, baking soda and salt and pulse one or two times until the dry ingredients are lightly combined. Pour the dry mixture into the wet mixture and mix until just combined. Mix in the lightly mashed bananas. Stir in the milk and vanilla. Toss the blueberries with the 2 teaspoons flour and then gently fold them into the muffin batter. Divide the batter evenly among the 12 muffin cups.
Bake for 20-22 minutes or until a toothpick inserted in the center comes out clean (watch the muffins carefully since each oven may vary slightly in temperature affecting exact baking time). Let the muffins rest in the pan for about 5 minutes and then turn out onto a wire rack to cool completely.
Notes
Wheat Germ: you can sub the equivalent amount of wheat germ for the oats, if you like.

Flour: also, I prefer white whole wheat to red whole wheat due to its lightness, but either kind of whole wheat flour can be used here.
Recommended Products
As an Amazon Associate and member of other affiliate programs, I earn from qualifying purchases.

Recipe Source: adapted from a recipe I spied on Janssen's blog, originally from Everyday Food