The Best Homemade Spaghetti Sauce
The rich, delicious flavor of this homemade spaghetti sauce is nothing short of amazing! Tried-and-true, this spaghetti sauce recipe really is the best.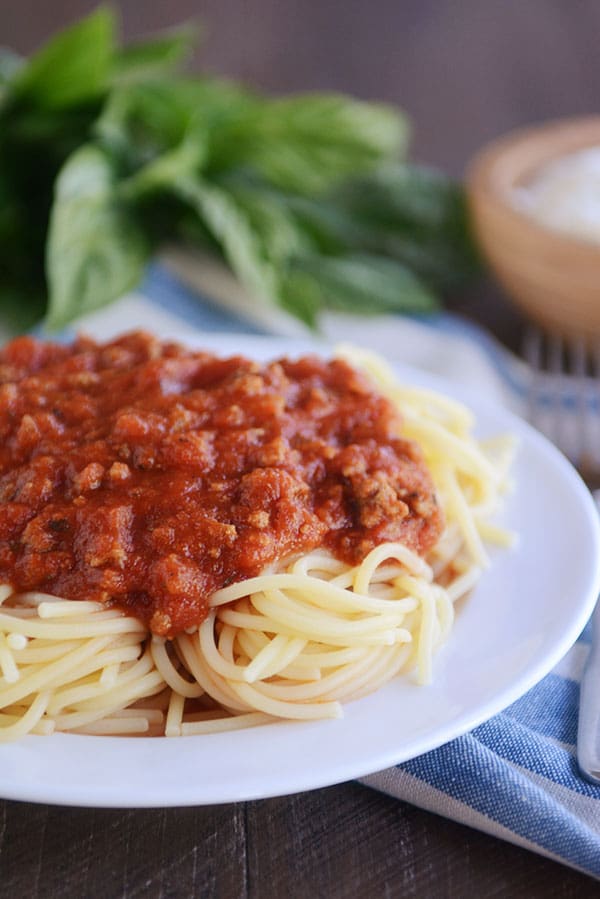 Before we dive in to all things homemade spaghetti sauce, for those of you who have emailed and commented and begged recently for my favorite spaghetti sauce recipe to can (you know, like in jars and stuff)…never fear!
I'm working on that as we speak, and if you can hang on to the last remains of summer garden tomatoes, I'll hopefully be posting my perfected method/recipe later this week or early next.
Thanks for being patient! I have some lazy tomatoes that are taking their sweet time to ripen.
I finally had to get serious and cut the water to show them who's boss.
But today.
Today, it's all about the best homemade spaghetti sauce known to man.
A quick glance through the comments below is proof that this spaghetti sauce is widely known, made and loved.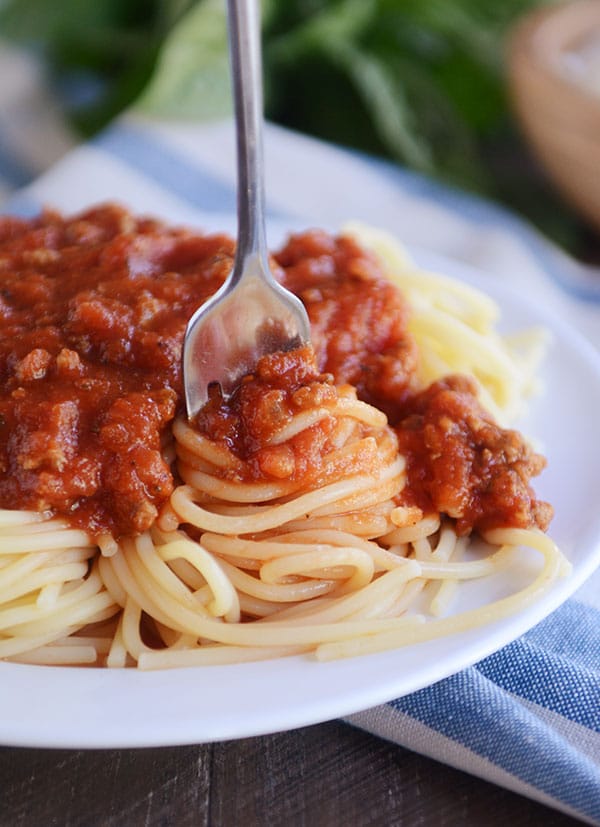 For as much as I love to make new variations of recipes (seriously, I can't be stopped with things like chocolate chip cookies and lasagna and brownies), I have not branched out and tried new spaghetti sauce recipes for nearly seven years.
Why? Because this homemade spaghetti sauce recipe is perfect.
I've added some additional notes to the recipe below to reflect some very minor changes I've made over the years.
While this sauce recipe makes a large batch (grab a big pot!), that's one of the things I love about it, because I can make it once and stick half (if not a little more) in the freezer for a super easy dinner later.
In addition, I've also included a slow cooker variation to the notes of the recipe, because many a Sunday, the aroma of rich, flavorful homemade spaghetti sauce is exactly what we want to come home to.
There may not be anything better.
This divine, homemade spaghetti sauce is comfort food at its finest!
If the internet ever explodes and my blog disappears, you better believe I'll have copies of this recipe hidden in secure, undisclosed locations so it can be passed down to future generations.

Hot, cooked spaghetti noodles
Divine breadsticks
Simple green salad (or something more fancy like this Gourmet Green Salad)
The Best Homemade Spaghetti Sauce
Yield:
16-20 servings (can halve or freeze)
Cook Time:
1 hour
10 minutes
Total Time:
1 hour
30 minutes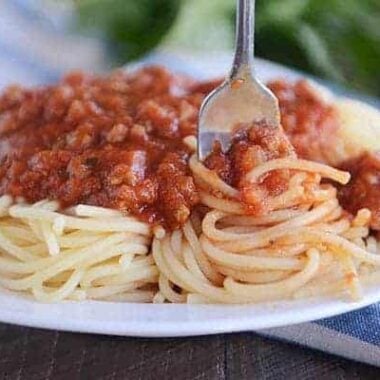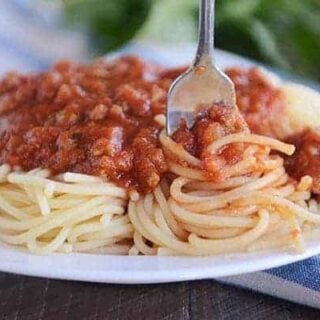 Ingredients
1 tablespoon olive oil
2 cups onion, chopped and divided
5 cloves garlic, finely minced
2 pounds lean ground beef or lean ground turkey
1 red bell pepper, seeded, cored and coarsely chopped
1 can (12-ounces) tomato paste
1 teaspoon coarse, kosher salt
1 teaspoon black pepper
3 teaspoons dried oregano
3 teaspoons dried basil
1 1/2 teaspoons dried thyme
2 cans (14-ounces each) Italian-style diced tomatoes or regular diced tomatoes
2 cans (28-ounces each) crushed tomatoes
8 ounces button or baby bella mushrooms, chopped
1 1/2 cups beef stock or beef broth
2 tablespoons brown sugar
2 bay leaves
2 tablespoons balsamic vinegar
Instructions
In a large pot, heat the olive oil over medium heat. Add 1 cup of the chopped onions, and sauté until translucent and slightly browned, 3-4 minutes. Add garlic, and cook, stirring constantly for a minute or so.
Add beef, and cook, breaking into small pieces, until it is no longer pink, 6-7 minutes. Drain excess grease.
In a blender or food processor, blend remaining 1 cup onion and the red pepper until smooth. Pour the mixture into the pot with the beef and onions.
Add the tomato paste, salt, pepper, oregano, basil and thyme, and cook for 1 minute, stirring until combined.
Add diced tomatoes, crushed tomatoes, mushrooms (if using), beef broth, and sugar. Stir until combined before adding the bay leaves.
Bring the sauce to a boil, and then reduce to low and simmer for 1 hour, stirring occasionally. Stir in the balsamic vinegar and let the sauce rest for 10-15 minutes (for the flavor to absorb) before serving.
Notes
UPDATE: 9/12/16 after many years on my site, this recipe was in dire need of new photos and some updates. I didn't change much of the original recipe except for the following: original recipe called for 3 tablespoons olive oil but over the years, I've used 1 tablespoon consistently; I often puree all the onions and pepper with good results (for those that don't want onion pieces), I hardly ever use Italian-style diced tomatoes because I don't keep them on hand so keep in mind that regular diced tomatoes work great, too (and on occasion, I've used fire-roasted diced tomatoes; delicious!).
Sauce: the sauce may seem watery at first but will reduce to perfection after simmering for an hour. It can simmer for 2-3 hours (very low heat) with good results, especially if you want a super thick, flavorful sauce.
Slow Cooker: I've also had good success making this in the slow cooker; I brown the meat ahead of time and throw everything (minus the olive oil and balsamic vinegar) in the slow cooker and cook on high for 4-6 or low for 7-9 hours. I add the balsamic vinegar 15 minutes before serving.
Halving the Recipe: this sauce halves (or even quarters) great if you don't want to make such a large batch. I have never tried canning it (but hopefully will figure out a canning recipe soon!).
Make Ahead Instructions: the sauce can be made 2-3 days in advance and stored in the refrigerator. It also freezes beautifully. My favorite way to thaw/cook the sauce is to throw the heaping frozen mass of sauce in the slow cooker and cook it on low for about 5-6 hours. It thaws and heats up wonderfully well.
Recommended Products
As an Amazon Associate and member of other affiliate programs, I earn from qualifying purchases.
Recipe Source: from Mel's Kitchen Cafe
Originally posted October 21, 2009; updated with new pictures, commentary and recipe notes.