Roasted Garlic and White Bean Chili
White bean chili is always and forever delicious; in this version, it's made even better thanks to the mild, sweet flavor of roasted garlic!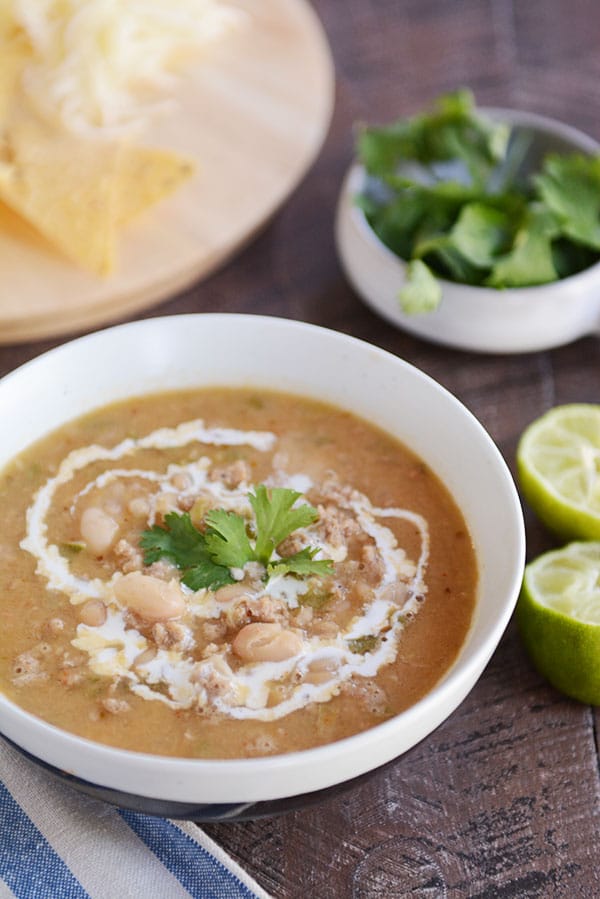 It's that time of year when even though the temps haven't really dropped, I'm craving soups and chilis and stews. This means we tend to sweat through dinner in September.
Having said that, I hope I don't sound traitorous, but I'm still kind of apathetic about pumpkin. I'm seeing pumpkin recipes all over and feel kind of blah about the idea.
What's wrong with me?
I'm sure one taste of something deliciously pumpkin will cure me, but I do have a little niggling of fear that this might be the season Mel Boycotts Pumpkin.
It's strange and very unlike me. Maybe I'm having a mid-life crisis? I always knew that a mid-life crisis would somehow evidence itself in food.
Don't hate me; I'm sure I'll recover and post pumpkin recipes all the way through next February.
The good news is that I'm fairly certain with the 5,384 pumpkin recipes already floating around this fall, you're pretty well covered.
While you relish in all the pumpkin recipes, I'm going to dive in head first to this roasted garlic and white bean chili. It's so good. Amazingly good.
I happen to be a huge fan of white chilis with their white beans. In fact, this Creamy White Chili is one of the most popular recipes on my site for good reason.
And I have a lot of other white bean versions like this slow cooker number and another delicious and unique white bean chicken chili.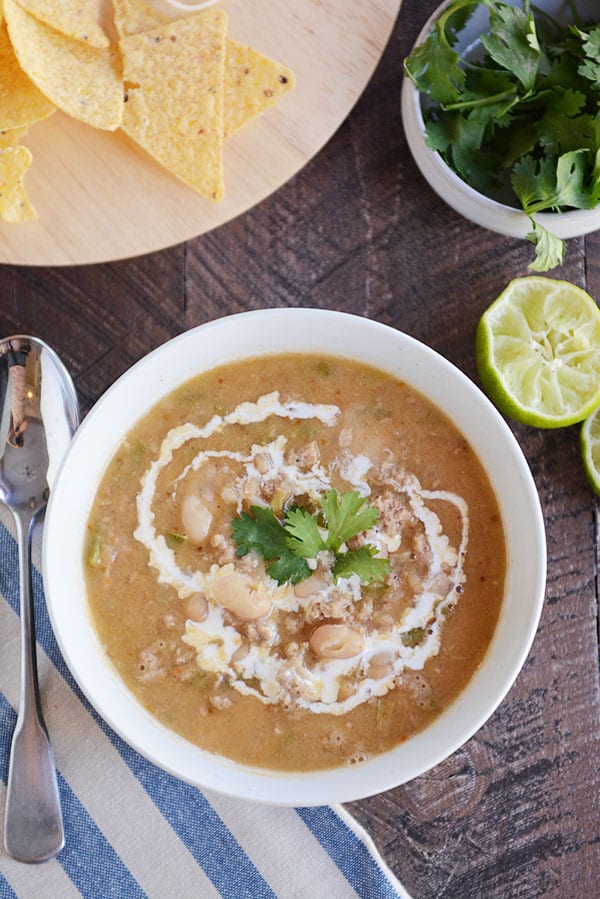 But today's white bean chili is super special because: roasted garlic.
If you haven't become one with roasted garlic yet, please do. It adds the most amazing depth of flavor to this white bean chili!
Roasting the garlic mellows the sharp, pungent flavor, leaving you with milder, sweeter cloves of garlic. And it isn't hard.
Simply trim the pointy top off the garlic, drizzle with olive oil, wrap in foil, and roast in the oven for 20 minutes or so.
Easy and so worth it (especially since you can roast it while you get the rest of the chili prepped and cooking).
On the spectrum of white chilis to love, this one is a winner.
You can pile on toppings (tortilla chips, cilantro, sour cream, cheese, salsa) or leave it plain and humble.
A little squeeze of lime juice and a bit of chopped cilantro was perfect for me, and even though I served this in the blazing temps of early September, it was totally worth sweating for.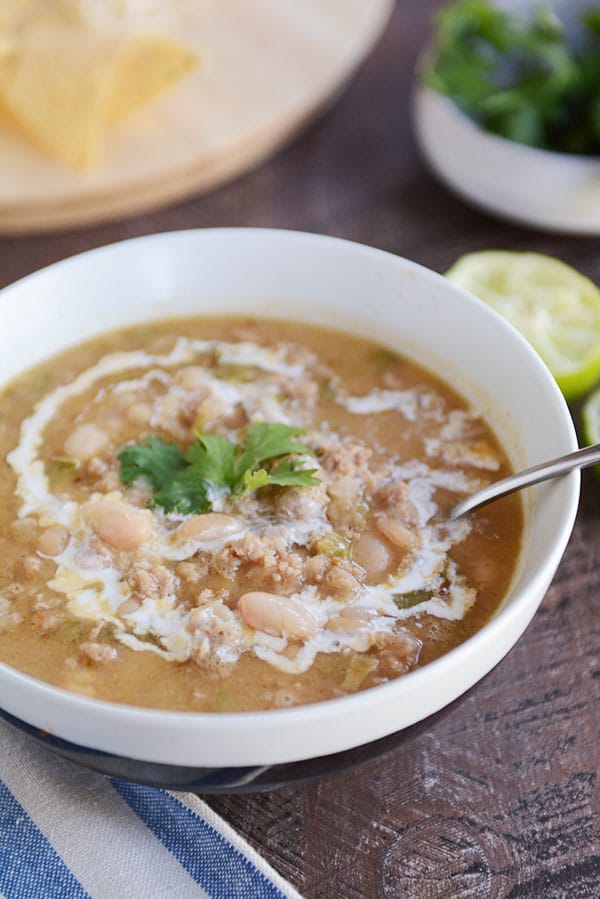 Fluffy cornbread
Tortilla chips, other chili toppings (fresh limes, yum!)
One Year Ago: Oatmeal Butterscotch Chocolate Chip Cookies
Two Years Ago: Monster Cookie Bars
Three Years Ago: No-Cream Creamy Basil Spinach Soup
Roasted Garlic and White Bean Chili
Yield: 6 servings

Prep Time: 15 minutes

Cook Time: 35 minutes

Total Time: 50 minutes
Ingredients
1 large bulb garlic
2 tablespoons olive oil, divided
1 medium yellow or white onion, chopped (about 1 cup)
2 Anaheim or Poblano peppers, halved, seeded and chopped (see note)
1/2 teaspoon salt
1/4 teaspoon black pepper
2 pounds ground turkey
2 teaspoons chili powder
2 teaspoons cumin
1 teaspoon dried oregano
1/2 teaspoon ground coriander
1/4 teaspoon cayenne pepper (plus more to taste)
1/4 cup all-purpose flour
5 cups low-sodium chicken broth
3 cans (15-ounces each) Great Northern or navy beans, rinsed and drained
1/2 cup milk
2 tablespoons fresh lime juice (from about 1-2 limes)
Chopped, fresh cilantro and additional lime wedges, for serving (optional)
Instructions
Preheat the oven to 425 degrees F. Lay out a large square of aluminum foil. Cut off the tip of the garlic bulb and place it cut-side up on the foil. Drizzle the sliced end with a tablespoon of olive oil. Bring the edges of the foil up to wrap completely. Roast in the oven for 20-30 minutes, until the cloves are very soft and golden (add time as needed).
While the garlic roasts, in a 4-quart saucepan, heat the remaining tablespoon olive oil over medium heat. Add the onion, peppers, salt and pepper. Reduce the heat to low or medium-low and cook for 1-2 minutes. Add 1-2 tablespoons water and cover the pot. Let the vegetables sweat and cook for 8-10 minutes, until very soft. Stir occasionally to prevent sticking (add a teaspoon of water at a time if the pot seems dry).
Increase the heat to medium and add the ground turkey. Cook, breaking the meat into small pieces, until no longer pink, 6-7 minutes. Drain any excess grease if needed.
Stir in the chili powder, cumin, oregano, coriander, cayenne, and flour. Cook, stirring constantly, for 1 minute.
Add 4 cups of the broth (reserve 1 cup for the next step!) and stir to combine.
When the garlic is done roasting, carefully peel back the foil and squeeze the softened, roasted garlic cloves out of the skins and into a blender (if it's very hot, let it cool slightly or grab it with a paper towel). Add the remaining 1 cup broth to the blender along with 1/2 of the beans. Puree the mixture.
Pour the garlic/bean mixture into the pot and stir to combine. Bring the soup to a simmer and cook for 10 minutes, stirring occasionally.
Stir in the remaining beans, milk and lime juice and cook until heated through. Add additional salt and pepper to taste.
Serve with additional lime wedges and chopped cilantro, if desired (tortillas chips and cheese are also never a bad idea).
Notes
Peppers: I love the fresh taste of the Anaheim or Poblano (which is my way of saying I haven't made this with canned green chilis), and both are pretty widely available (I can usually find Poblanos a little easier but Anaheim are my favorite and at least where I buy them, tend to be less spicy than the Poblanos in my supermarket).

Spice: speaking of spice, I don't consider this chili to be spicy; it is mild enough for my whole family to enjoy, but if you think your heat tolerance might be lower, consider decreasing the Anaheim or Poblano peppers to just one.

Garlic: you can speed up the recipe by roasting the garlic earlier in the day (or a couple days in advance).
Recommended Products
As an Amazon Associate and member of other affiliate programs, I earn from qualifying purchases.

Recipe Source: inspired by a recipe in Cuisine at Home October 2016
Disclaimer: I am a participant in the Amazon Services LLC Associates Program, an affiliate advertising program designed to provide a means for me to earn fees by linking to Amazon.com and affiliated sites. As an Amazon Associate I earn from qualifying purchases.