I'm excited for you all to learn more about Jill. Just like Rachael, I don't know her in person, but man, when I read her email and watched the short YouTube video her husband made about her, I…just…wow. She's amazing and I know her journey will empower so many others. You are amazing, Jill!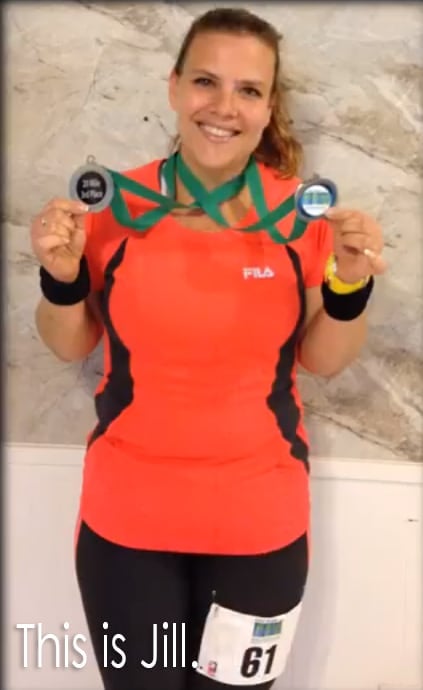 And this is her story:
My name is Jill, I am 37 years old and mother of five great kids. I started running about three years ago, at the time I had a new baby, had recently moved to a new state and weighed more that 230 lbs. (I don't actually know how much I weighed because I didn't want to know.) I met a fantastic lady who was also struggling with weight issues. She asked if I wanted to start running with her, because in her words "you never see fat runners." I really didn't want to run, but wanted to hang out with her so we started running. And let me tell ya, for the next year you could see a fat runner in my neighborhood. 😉
We ran three days a week with a program she found online called couch potato to 5k in three months. I couldn't run very long and not very far. Because of the weight my knees had problems, my back hurt, I couldn't breath, and my hip would pop in and out of joint when it got tired. Despite all that we did run a 5k I finished in just a shade under an hour, but I actually ran the full distance. Unfortunately my friend fractured her foot during that race, and we never ran together again. We both hoped that we would run together again so I kept running on my own.
Truth be told I HATED running, I just didn't want to be the one to quit. I started running every morning and was invited by other friends to run a 10k. I did and met some amazing ladies. The next day at church a respected gentleman in my congregation was talking to my husband and didn't believe my husband when he said that I had run a 10k. (I don't blame him I was huge, and he didn't mean to be rude.) I am extremely stubborn so I decided to run a half marathon just to show him that I could to it. And I did, again I didn't finish with a very fast time, but my goal has always been to finish, and finish running.
As I said before it has been three years, have run over 14 marathons, two ultra marathons, hundreds of other races, including two triathlons, and a 60 mile bike race. I have also lost over 70 lbs and become stronger both physically and mentally than I thought possible. It took me eight months to lose any weight at all and more than two years to even like running. I love it now though and can't go for longer than one day without running.
I was asked to give a little presentation to a group of ladies at my church about my running experience. I asked my wonderful husband to find me some before and after pictures that I could display. My husband made this movie for me about my journey. I didn't want to write a full novel so I hope this isn't too long winded. Thanks for inspiring others with your blog.
{Mel's Note: if the video doesn't show up below, you can view it on YouTube HERE – and trust me, it's well worth 3 minutes and 36 seconds of your day.}