Deep, Dark Chocolate Brownies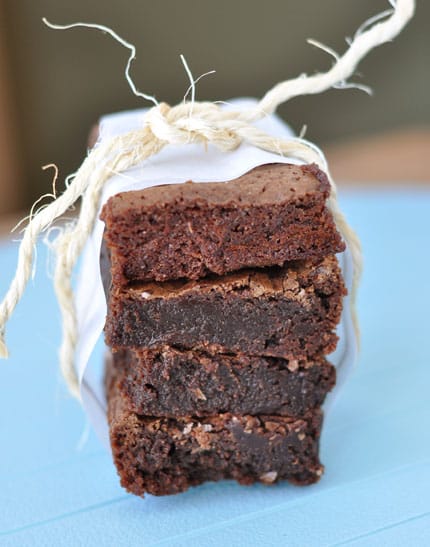 One can never have too many brownie recipes in their arsenal, or so I like to say. I have a few favorite brownie recipes but I also love trying new recipes to change up my old style of doing things.
I was not disappointed with the results of these deep, dark chocolate brownies. I loved them so much, in fact, that they have since skyrocketed to my most-oft-made brownie and definitely belong in the "best of" category (I've been making them for a couple of years now).
The brownies are intense chocolate with a fudgey texture and pure deliciousness. I love that the recipe is made for a 9X13-pan. Too many brownie recipes are written for 8X8 or 9X9 pans which just doesn't give enough yield to please my brownie-loving hips.
These brownies are delicious on their own or as a base for other brownie variations (read: topped with frosting or something equally divine).
Deep, Dark Chocolate Brownies
Ingredients
1 cup butter (2 sticks)
8 oz good-quality semisweet chocolate
2 cups sugar
1 teaspoon pure vanilla extract
5 large eggs
1/3 cup unsweetened Dutch-process cocoa powder
1/2 tsp salt
2/3 cup all-purpose flour
Directions
Preheat oven to 350 degrees F. Line a 13×9 inch metal pan with foil and spray foil with cooking spray. Alternatively, you may use parchment. These are pretty sticky at first!
Melt butter and chocolate in a 3-qt heavy saucepan over low heat, stirring, until smooth. Add 1 cup of the sugar to the hot chocolate mixture. Remove from heat and let cool to lukewarm.
Whisk in remaining 1 cup sugar and vanilla. Whisk in eggs 1 at a time until mixture is glossy and smooth. Whisk in salt and cocoa powder, then add flour and stir until it disappears (do not overbeat).
Spread in pan and bake until a pick inserted in center comes out with crumbs, 25 to 35 minutes. Cool to room temperature then chill for an hour or more. Lift from pan, place on a cutting board, cut into squares.
https://www.melskitchencafe.com/deep-dark-chocolate-brownies/
Printed from Mel\'s Kitchen Cafe (www.melskitchencafe.com)
Recipe Source: adapted from Cookie Madness