Lazy Girl's Guide to the Redwood National Forest
Check out this post for a run-down on our unforgettable trip to the Redwood National Forest- plus some tips if you ever check it out!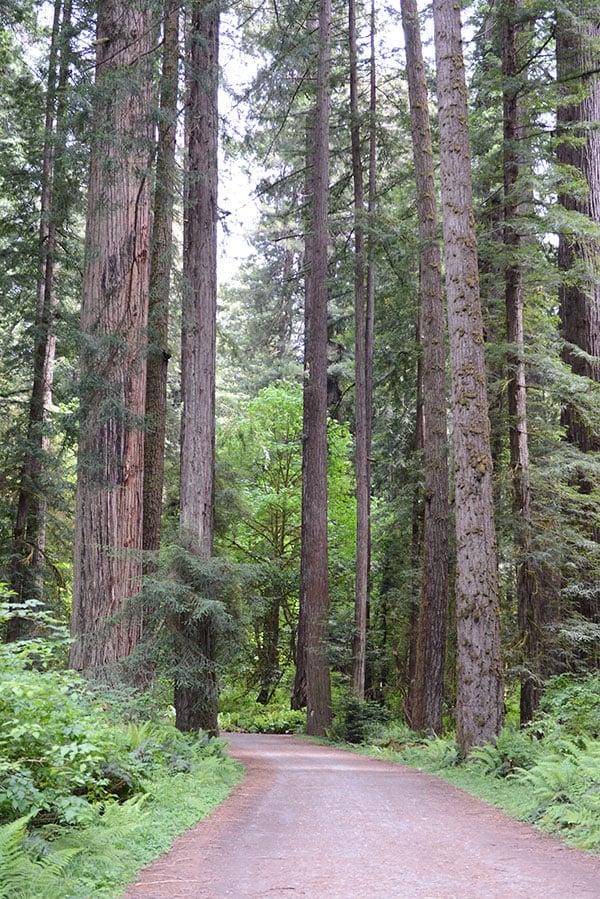 I'm not even going to begin to claim expert status on traveling around the Redwood National Forest (that place is vast!), but as you may have seen from Instagram and the last email newsletter, we got back from a 3-day vacation there a couple weeks ago, and it was definitely one of our favorite family vacations ever. Ever, ever.
I've been inundated with requests for details about where we stayed and what we did, so I'm putting together a quick and dirty guide to the Redwoods, lazy girl style.
Because our Redwood stay was on the tail end of an extended trip through Utah and California for family reunions and such, I didn't spend an exhaustive amount of time researching the whole Redwood part.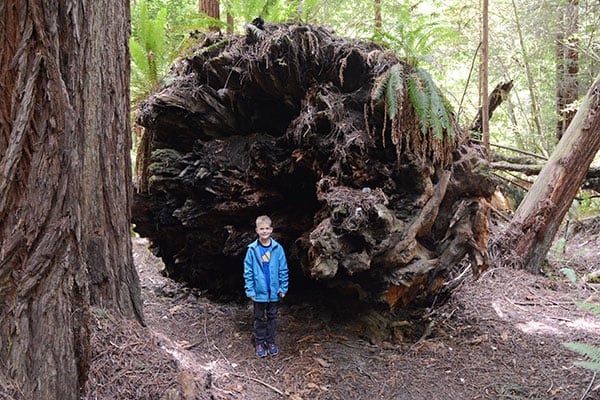 I knew we would spend most of our time on the southern end based on our driving route, and that's about it. I did a few quick google searches prior to the trip (and relied upon many of your recommendations), and called it good. Seriously, it was not a very well planned trip.
Maybe we got lucky, I don't know. But the whole trip was phenomenal. So much so that we would definitely go back (my kids said they'd rather go back to the Redwoods than Disneyland, so…).
Turns out, there are so many FREE, wonderful things to do in the Redwoods that you don't need to plan it from top to bottom (with barely any time to breathe).
Here's the lowdown on how we spent our three days.
Where We Stayed
We stayed at the Elk Meadows Cabins near Orick, CA on the south end of the Redwoods (totally unsponsored recommendation). This was a random internet find when I was doing some quick google searches, and we decided to go for it because it slept eight people.
We have 7 in our family, and my in-laws were with us for part of the trip. Plus, the cabin had a full kitchen and an outdoor grill, which meant I knew we could save some money on groceries/eating out (and packing lunches for day hikes).
When we passed through Eureka, CA, we loaded up on groceries at Winco and Costco and that saw us through the three days we were there.
I can't say enough good about these cute cabins (their FB page has a lot of great/helpful reviews as well).
Located just minutes from so many must-see places (Prairie Creek State Park, Fern Canyon, etc), I have no doubt when we make it back to the Redwoods, we'll stay here again.
It was cozy, amazingly clean, quiet, and perfect.
Plus, the place is aptly named; every day there were dozens of elk grazing in the meadows surrounding the cabins.
I was ridiculously happy with where we chose to stay. Loved it, loved it.
What We Did
Prairie Creek State Park
We spent the first day hiking around Prairie Creek State Park, most notably going on the Big Tree Loop. It was about 2.3 miles round trip, mostly flat and totally doable for all the kids (ages 13 to 5), even though Cam did end up riding piggyback on her dear momma the last quarter mile.
And wow, Big Tree is…well…big. Very much worth the walking to get there (it's almost at the halfway point of the loop).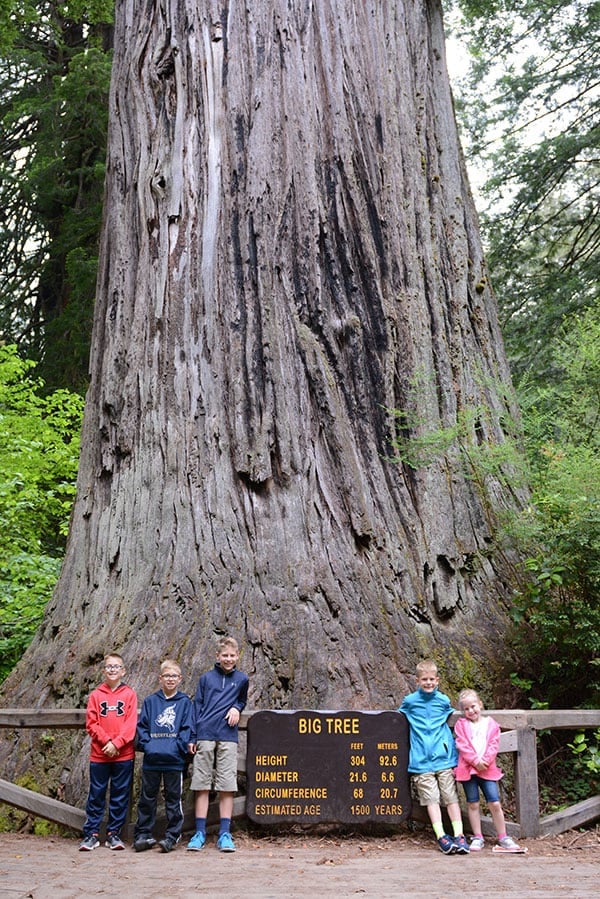 FYI: The 1st Saturday of every month the rangers close the Newton B. Drury Scenic Parkway that goes through the park so that people can bike all along the road (amazing views!), so keep that in mind if you are bringing or renting bikes (that's the parkway behind us in the picture below).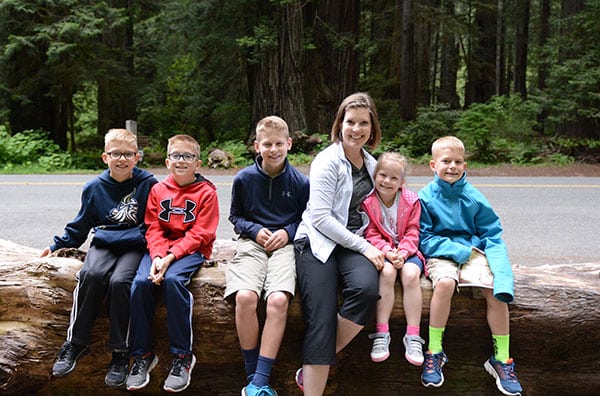 We didn't have bikes, but we saw a lot of people biking along the parkway, and it looked super fun, and I was kind of jealous. The next day we drove up the Newton B. Drury Scenic Parkway and then I was less jealous. And less sore.
Thanks to a nice park ranger that alerted me, we picked up Junior Ranger booklets for the kids at the visitor center prior to hiking. They loved this.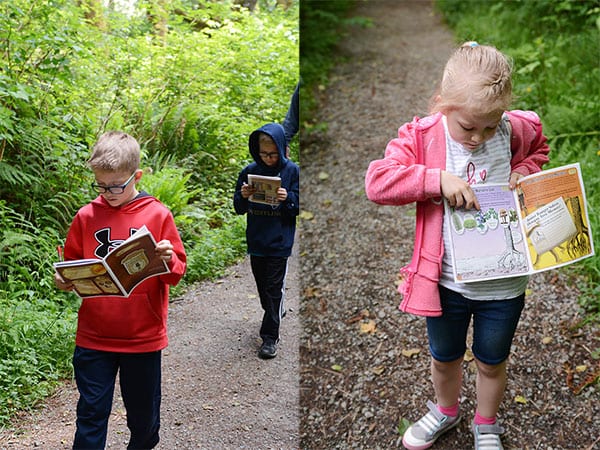 So much so, they had their noses stuck in their booklets as they tried to cross off all the requirements to earn their Junior Ranger badge. Thankfully no one had a serious injury tripping over their own feet (or trees) as they focused solely on their books.
There are many, many more hikes to explore in Prairie Creek State Park than what we accomplished – all varying levels of difficulty. We stuck with the easier walks based on the ages of our kids and took things slowly since we wanted to soak in all the new observations (and spot as many banana slugs as possible).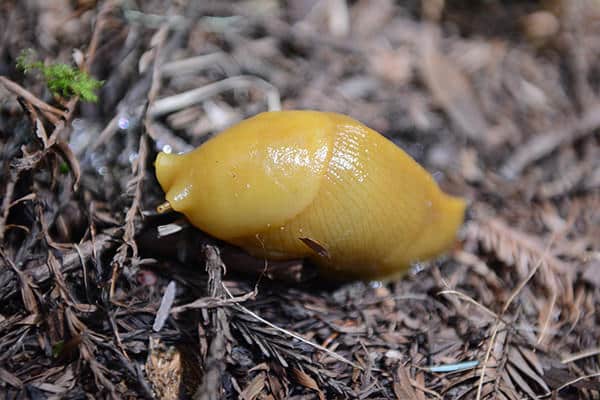 Lady Bird Johnson Grove
Lady Bird Johnson Grove is very close to the Elk Meadows cabins, so after hiking in Prairie Creek State Park and going back to the cabin for dinner, we drove up the beautiful, curvy road to the grove.
On the way, Brian's eagle eye spotted a black bear ambling off to the side of the road. We slowed down and spotted two bear cubs also (scrambling into a tree!). That alone was worth the drive up to LBJ grove. Amazing!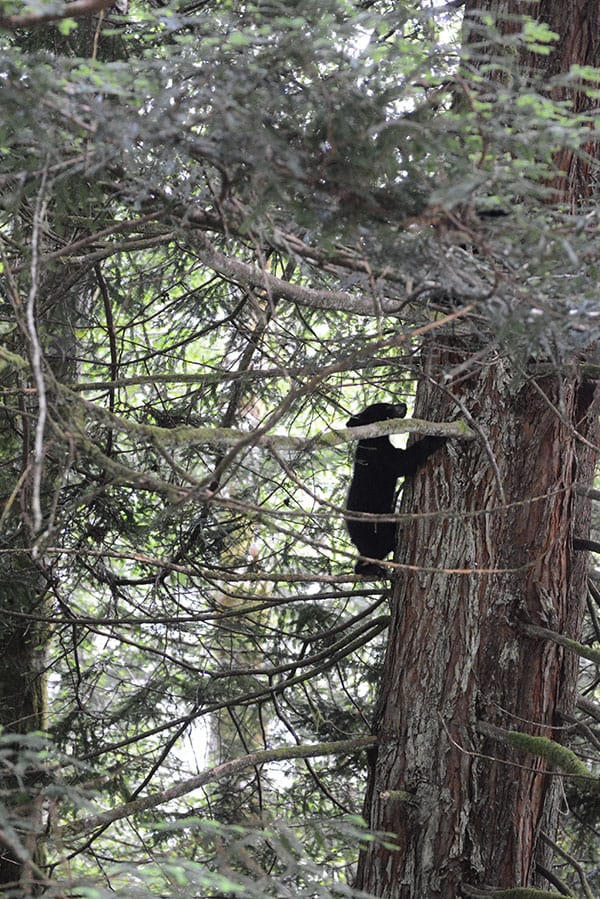 Once there, we didn't take off on any of the official hikes, but we did get some photo opps on the bridge spanning the road.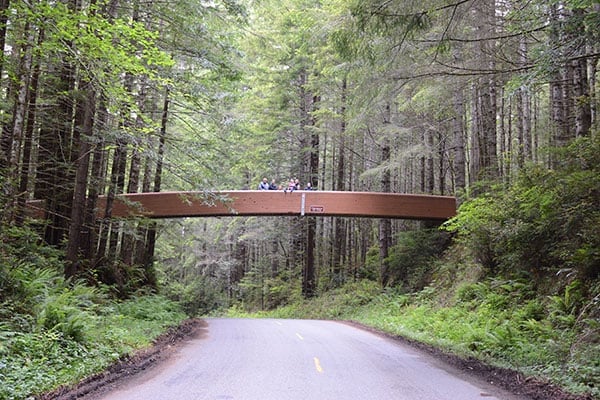 I've heard that the hikes up in this grove are spectacular (but a little more difficult than we were willing to take 5-year old Cam on; although we learned our lesson the next day that she was a lot tougher than we gave her credit for).
Tall Trees Grove
The next morning we drove down to the Tall Trees area. There's a special access code required to drive down to the trailhead – we stopped at the Kuchel Visitor's Center to grab the code from one of the park rangers.
The drive to the Tall Trees hike took about 45 minutes; well worth it in my opinion. The route was incredibly gorgeous, and along the main road, we stopped at a few roadside lookouts.
Talk about breathtaking views.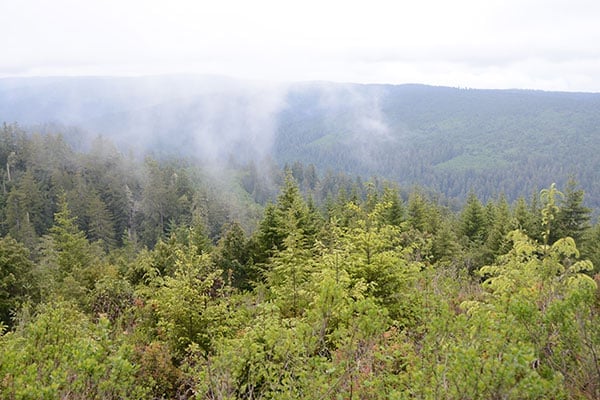 When we got to the Tall Trees hike, we knew that it was basically all downhill (about an 800-900 feet drop in elevation) and so we figured we'd only hike halfway down and then head back up to the car.
But the kids were insistent we make it all the way to the bottom. Even Cam. I was nervous, I'm not going to lie. Downhill is always the easiest and I had this dread in my belly that we'd get to the bottom and no one would want to hike up.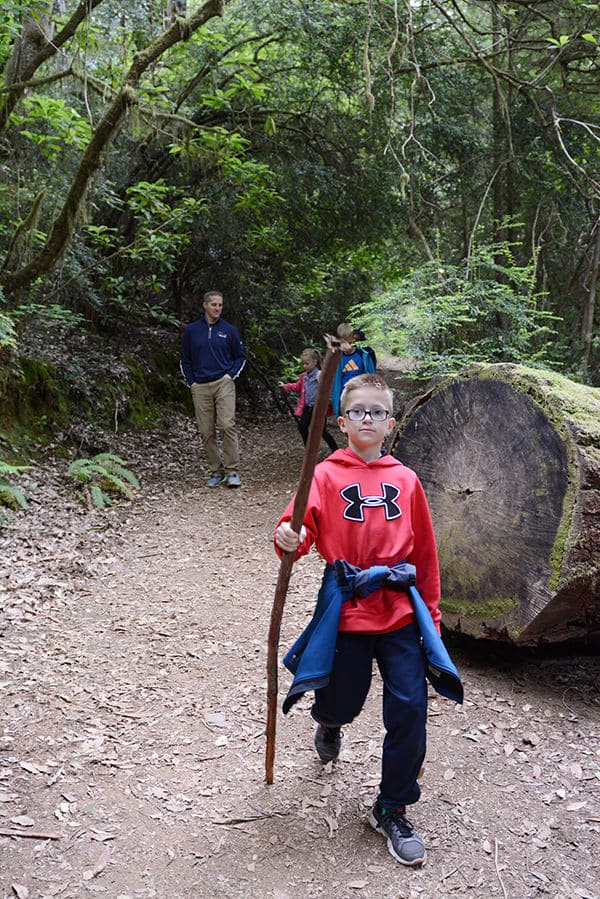 I love my kids, but there was no way I was going to promise the chair carry one-by-one up that devil hill to get them back up to the car.
The tall trees at the bottom were spectacular. And the scenery all throughout the hike was nothing to complain about. I feel like it gets old raving about the beauty of nature in the Redwoods, but it can't be helped. It is truly amazing.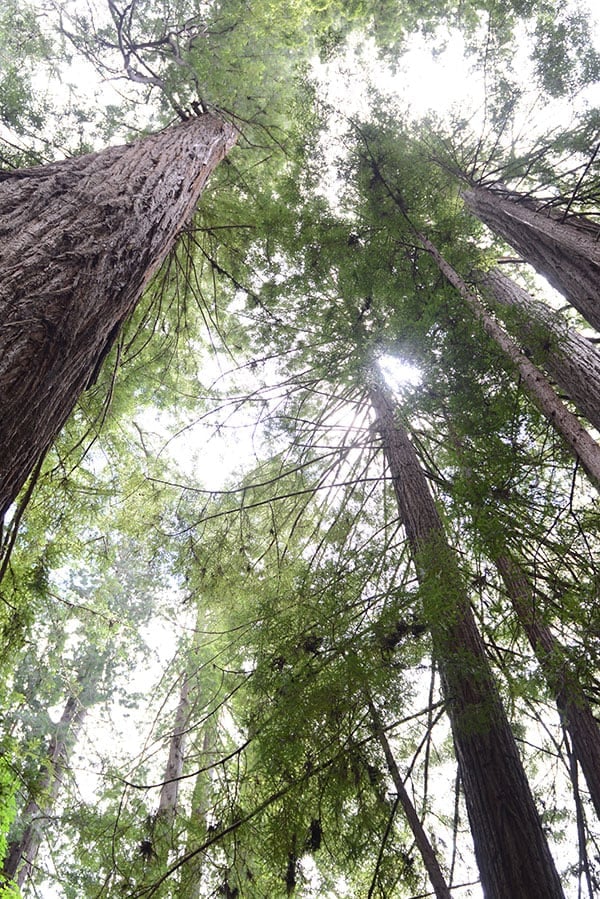 We were also surprised at the bottom by a lovely creek. With rocks. And if you've ever been around my kids, you know that if you give them a creek + rocks, they'll be happy for HOURS.
They skipped rocks (and splashed each other) for a long time before we told them it was time for the inevitable. The only way back home (or to our car and cabin, in this case) was up.
I clearly didn't give my kids enough credit because they rocked it on the way back up to the car. Seriously. Even Cam. She had her handy dandy walking stick she found on the way down, and that little dolly pants walked all the way back up the hill-slash-mountain by herself.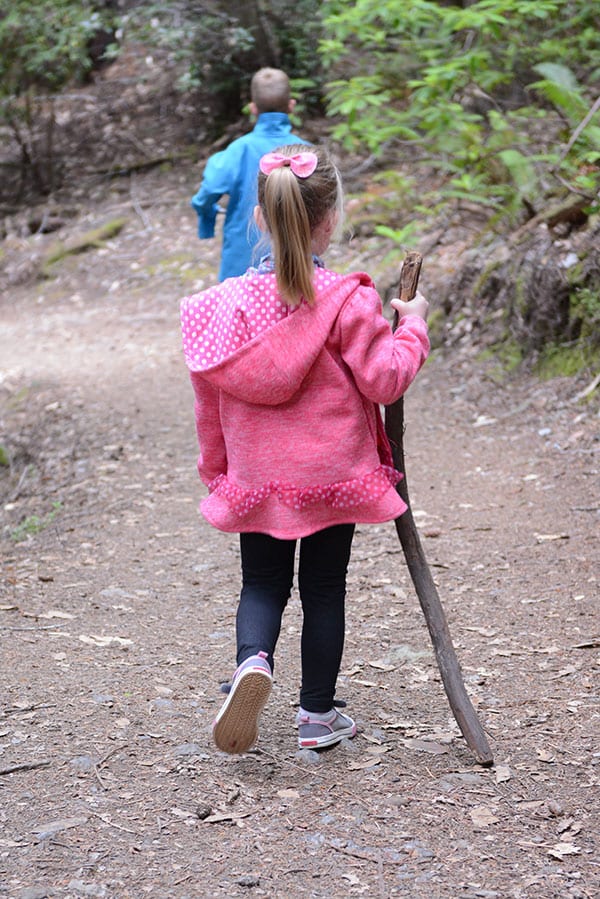 Brian and I were sweating and breathing hard, and our kids were like "eh, no big deal." Oh the endless energy of youth (wherefore art thou??). I was nearly begging them to assemble the chair carry they learned in scouts for ME!
We stopped a lot on the way back up and took full advantage of the benches along the trail, but overall, I am so glad we did this hike. Not only was it gorgeous, but our kids surprised us in all the best ways.
Fern Canyon
Ah, Fern Canyon. If you do nothing else in the Redwoods, git yerself to Fern Canyon.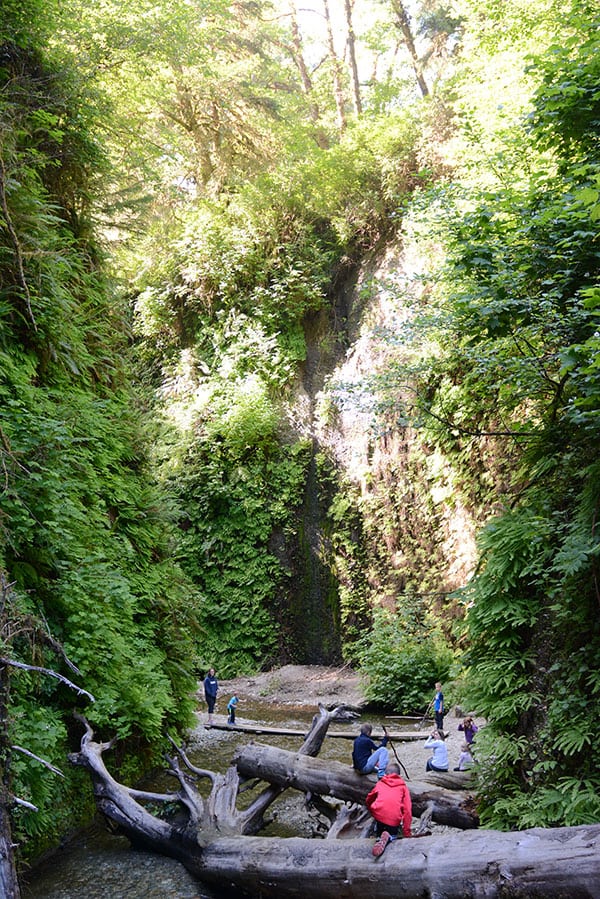 Yes, the road there is a bit sketchy (and does require an $8 day pass), but hands down, this was our family's favorite place of all our stop in the Redwoods.
Rumor has it that scenes in Jurassic Park and Star Wars (ewok parts, I think?) were filmed here. And I can see why.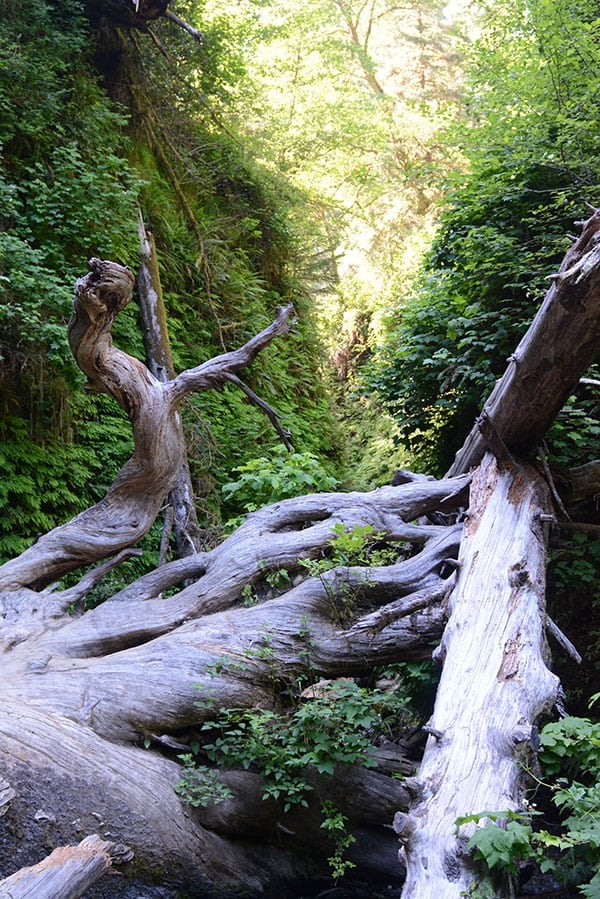 The absolutely lush beauty and intensity of the cavern walls was breathtaking.
We spent hours in here, climbing over the trees (on the trail) to get further down the canyon and crossing creeks (lots of little plank bridges for navigating).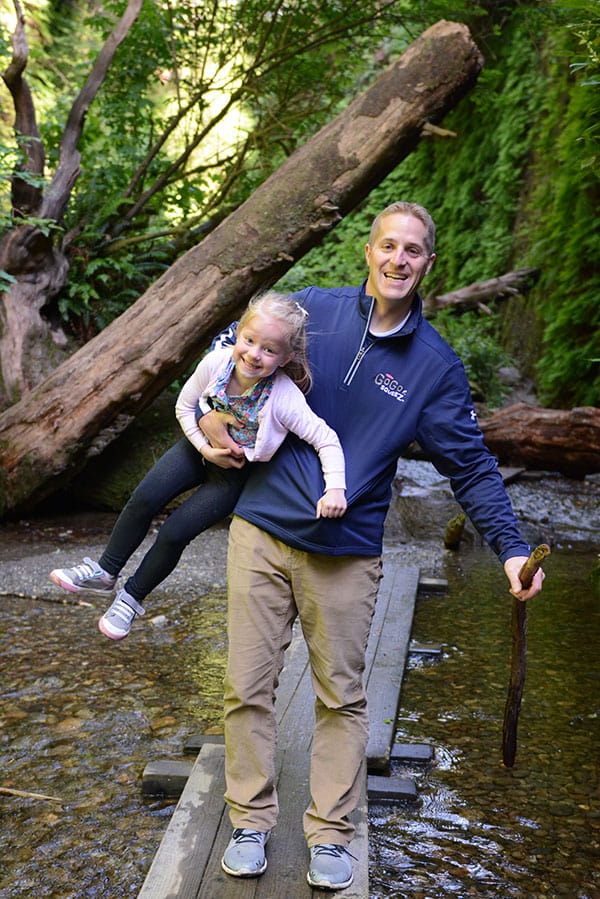 It almost makes me breathless thinking of how stunning Fern Canyon is. There were quite a few people hiking around the same time we were, but it was still peaceful and serene.
Another instance where we literally had to drag the kids out of there. Who are we kidding, Brian and I could have stayed for hours longer, too, except a certain mother, ahem, was very hungry, and when mom is hungry, there's no peace for anyone.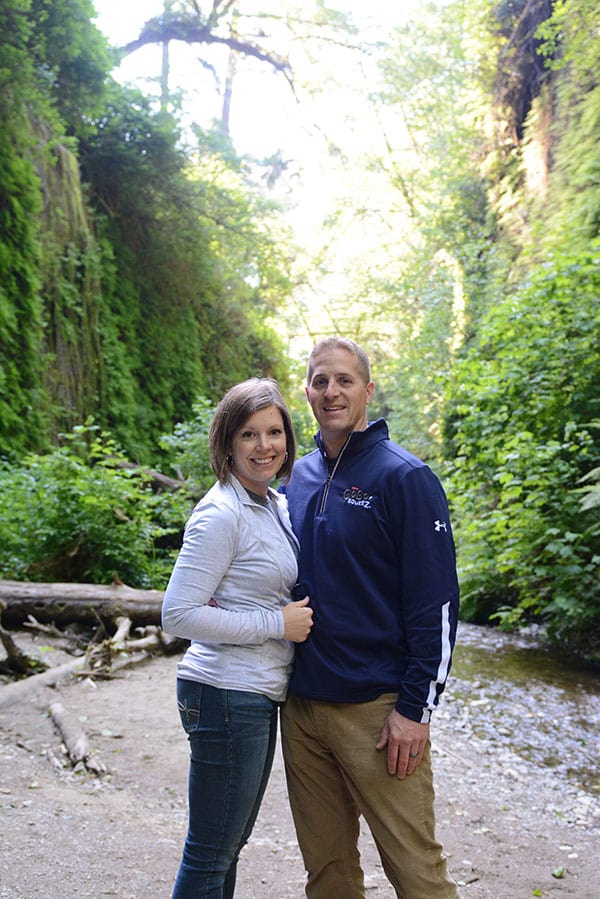 Klamath Drive Through Tree
Granted, this is definitely a little gimmicky, but I knew going into the Redwood trip that we were not leaving until we drove through a Redwood tree.
I mean, come on! You can't go all the way there and not get a picture like this!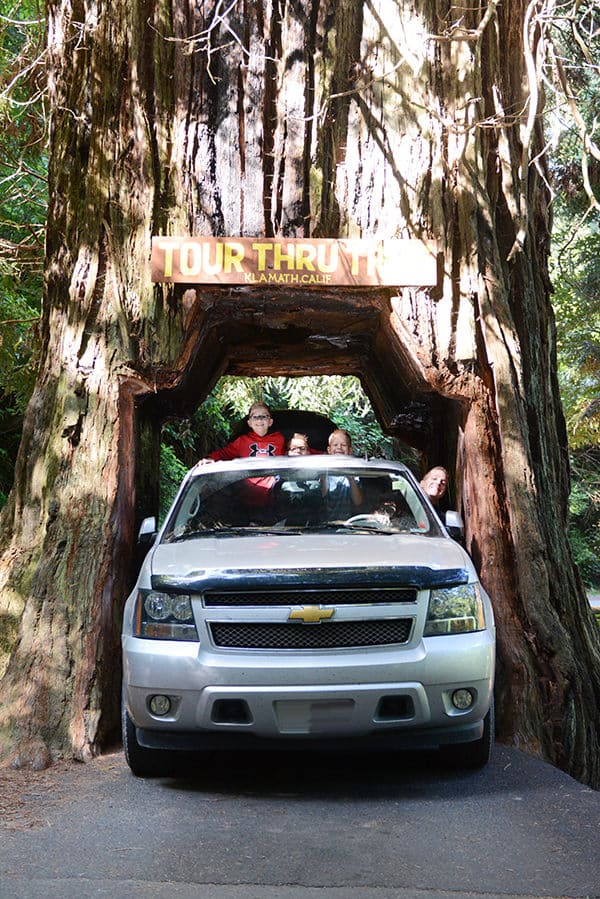 So Brian and the fam humored me, and we spent $10 to drive through a tree in Klamath. Sure, it only took about 10 minutes total, but it was totally worth it.
Coastal Drive and Lookouts
After the drive through tree experience, we spent the morning around the Klamath area.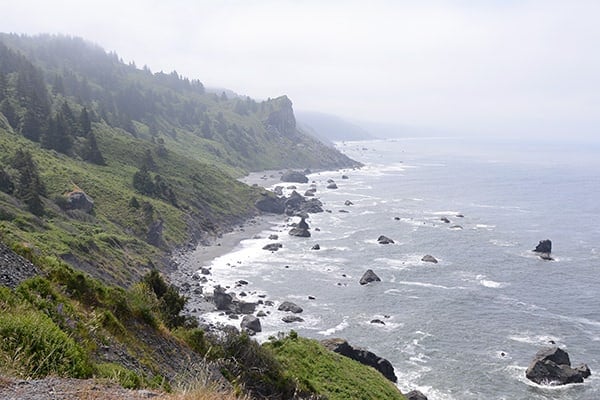 We stopped at Trees of Mystery. LOTS of people love this place. We did a little souvenir shopping here, but decided against the rather steep fees to hike the trails and ride the 7-minute gondola in favor of some free activities.
We took advantage of the many scenic drives and drove the Coastal Drive Route (and had lunch at Enderts Beach where we spent some time walking on the beach spying sand dollars).
The views from some of these lookouts are spectacular! The coastline is rocky and somewhat severe, but the beauty of the jagged coast is absolutely awe-inspiring.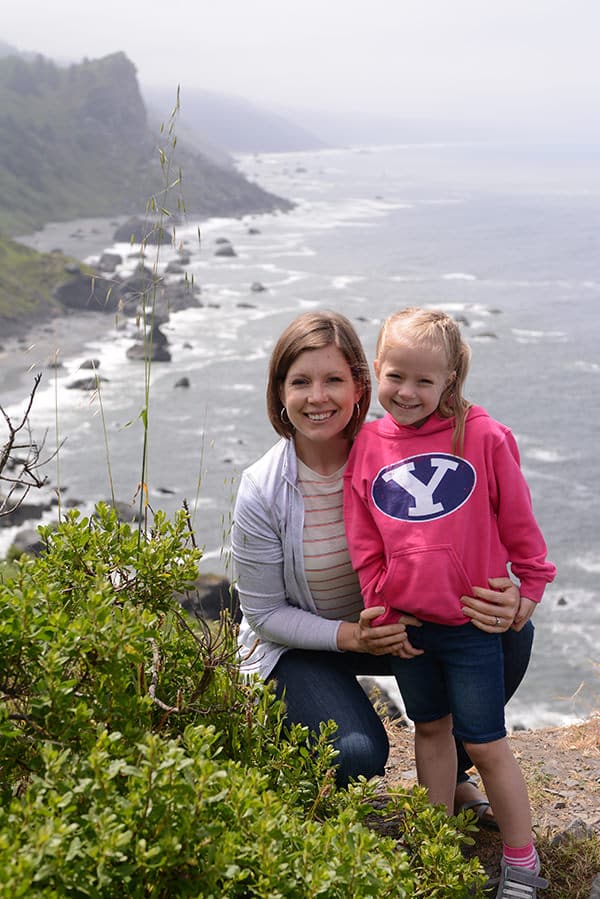 I couldn't get over the contrast of being so close to the beach while only standing a stone's throw away from the enormity of the inland Redwood trees and forests.
Stout Grove
We actually hadn't planned to explore the northern side of the Redwoods, but on a whim, after spending time near Klamath, we decided to drive up to Stout Grove in the Jedediah Smith State Park (based on several of your recommendations).
It is one of the best decisions we made the whole trip. Only a 45-minute drive from our Elk Meadows cabin (and we were already at least halfway there already), Stout Grove is exactly how it sounds. A large grove of very stout, very large, very awesome trees.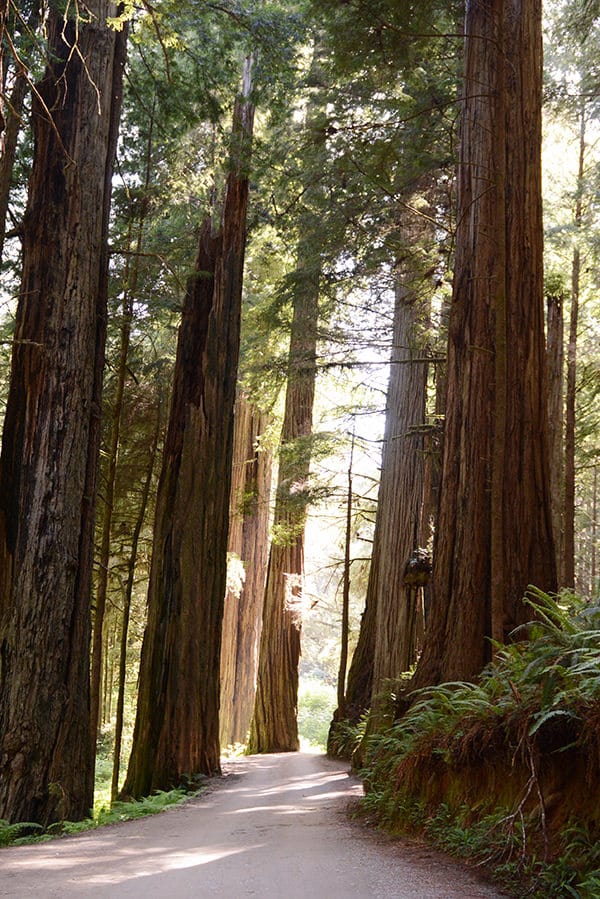 Even though we had seen A LOT OF TREES since our arrival in the Redwoods, Stout Grove felt different.
It was intensely peaceful and quiet, and the trees had a different look and feel about them. I'm sure there is a scientific explanation (or maybe not), but besides Fern Canyon, this was Brian's favorite spot.
The drive into Stout Grove is a little bumpy and longish, but the hikes and views are well worth it. Just like all the areas we visited, we could have spent a day or two just exploring Stout Grove, but we only had a couple hours.
We did a walking loop around Stout Grove and took off on a side hike over a bridge (where yes, the kids stopped to throw rocks in the creek). There were a lot of huge, fallen trees in the grove…they were unbelievably big and made me grateful we weren't around when they took their fall.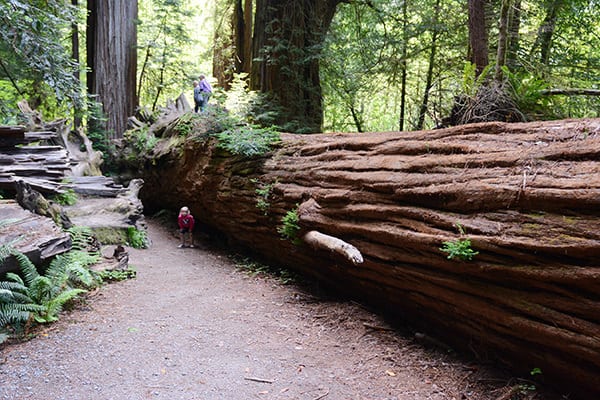 Even though it was definitely out of the way, we loved Stout Grove and definitely wished we had more time to explore Jedediah Smith State Park as a whole.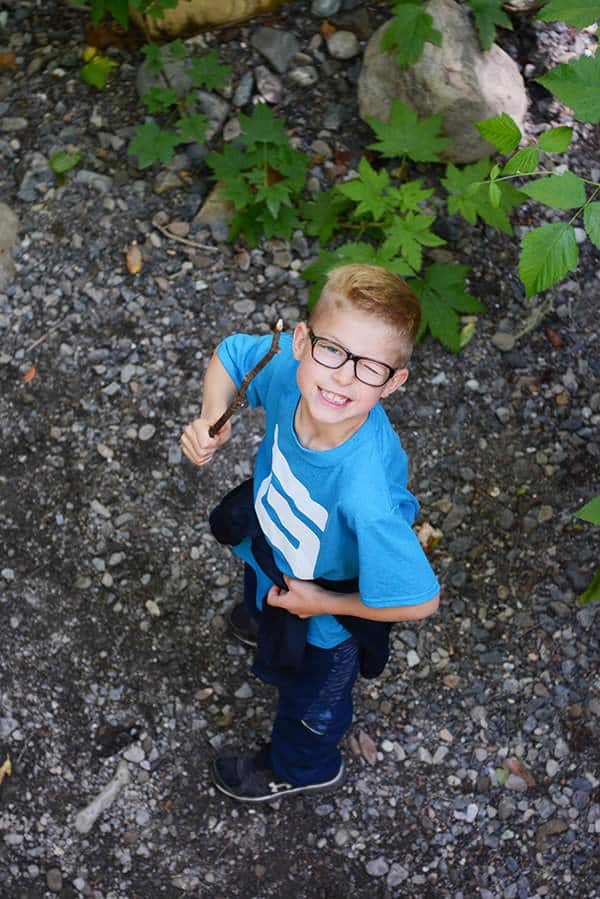 And that's about all we packed into our three days! Our feet were tired. But our spirits were so very happy (and my kids fell into bed each night more exhausted than I've ever seen them).
I can safely say that Brian, myself, and the kids were constantly in wonder at the majesty and miracle of God's creations. In prayers each night back at the cabin, the kids expressed simple gratitude for being able to feel God's love for them through the beauty of nature.
We will never forget the experiences we had in the Redwoods (thanks, in part, to the nearly 1,000 pictures I took while there – truth).
What We Wanted To Do But Didn't
There were so many things we wished we could have done (but alas, real life and real jobs were calling us back home). I've already made a list for next time.
The two items at the top of the list are to fit in the Damnation Creek Hike which starts in an area of old-growth Redwoods and goes down over 1,000 feet to the coast. Several of you recommended this hike as an amazing, don't-miss natural attraction. But sadly, we did miss it this time.
The second thing I would have liked was to explore the rocky beauty of the Smith river. We drove home this way (the northern route on our way back to Idaho with a side stop at Crater Lake), and I've never seen anything quite like the craggy, rocky, stunning beauty of that river.
—————————————————
Like I mentioned above, this is far from an exhaustive guide to the Redwoods, but speaking as a family who had one of the best trips ever, I'd highly recommend everything on our list above!
Here are a few additional websites I found helpful:
Official Website for the Redwood National and State Parks
Redwood National Park According to TripAdvisor
Let me know if you have any followup questions OR if you have Redwood recommendations of your own!
Disclaimer: I am a participant in the Amazon Services LLC Associates Program, an affiliate advertising program designed to provide a means for me to earn fees by linking to Amazon.com and affiliated sites. As an Amazon Associate I earn from qualifying purchases.