Massaged Kale and Craisin Salad with Feta Cheese
This lightly dressed massaged kale and Craisin salad with feta is a great way to enjoy kale. It's so good, you'll forget it's a super food!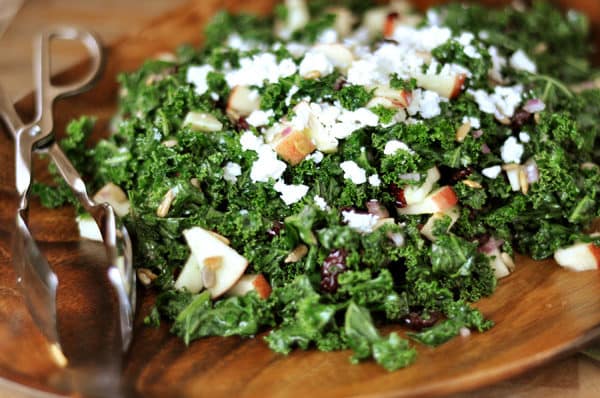 This is a first. Using the word "massage" in the title of a recipe. I'll admit it's weird. I'll admit it's a tad unorthodox. And yes, it might even make some of you slightly uncomfortable, but I implore you to get over it and try this salad.
It.Is.Amazing. I haven't experimented much with kale, besides the ever-popular kale chips that have become quite the trend, but knowing that kale is rich in nutrients, fiber and antioxidants – well, I wanted another way to enjoy it.
Clarissa, a Mel's Kitchen Cafe reader, sent me this recipe a few weeks back and I made it, much to the skepticism of my hot-dog-loving husband. He was downright jittery with nerves when he observed me massaging the salt into the kale leaves (a much-needed step to tenderize the kale). But imagine my delight when he took a bite of the salad and exclaimed (really, he exclaimed!): "This stuff is amazing, Mel!"
Yes. The stuff, kale tossed with plump dried cranberries, toasted sunflower seeds, sweet apple and tangy feta cheese, is amazing.
Lightly dressed in a simple vinegar and oil mixture, this salad is a wonderful way to enjoy kale and pretend summer will last forever. It's so good, in fact, you'll forget you are even eating a super food.
Massaged Kale and Craisin Salad with Feta Cheese
Yield: 6 servings

Prep Time: 20 minutes

Total Time: 20 minutes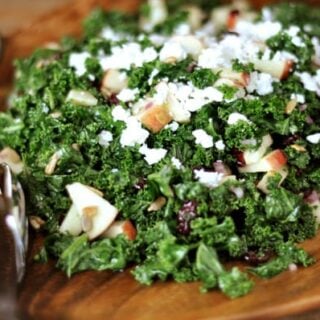 Ingredients
1 bunch kale
3/4 teaspoon coarse kosher salt or sea salt
1/4 cup finely diced red onion
1/2 cup dried cranberries/craisins
3/4 cup small-diced apple
1/3 cup toasted sunflower seeds
1/4 cup olive oil
2 tablespoons red wine vinegar
1/2 teaspoon sugar
1/3 cup crumbled Feta cheese
Instructions
Wash the kale and pat it dry. Slice off the stiff stems below the leaves and continue slicing the stem away from the leaf until you have cut a thin v-shape into the kale leaf and removed the tough stem all the way up. Stack the kale leaves two or three at a time, roll them up, and slice the leaves into thin ribbons.
Place the kale ribbons in a large mixing bowl. Add the salt and massage it into the kale with your hands for two minutes. You'll notice the kale start to turn a darker green and the texture of the kale will begin to soften a bit.
Toss in the red onions, craisins, apples, and sunflower seeds. In a small bowl, whisk together the oil, vinegar and sugar. Pour over the salad and toss. Sprinkle feta cheese over the top and serve. The salad can be refrigerated for up to a day before serving (if doing this, I would suggest refrigerating the salted kale separately from the other ingredients and tossing the salad together an hour or two before serving).
Recommended Products
As an Amazon Associate and member of other affiliate programs, I earn from qualifying purchases.

Recipe Source: adapted from a recipe sent to me by Clarissa M., a reader
Disclaimer: I am a participant in the Amazon Services LLC Associates Program, an affiliate advertising program designed to provide a means for me to earn fees by linking to Amazon.com and affiliated sites. As an Amazon Associate I earn from qualifying purchases.