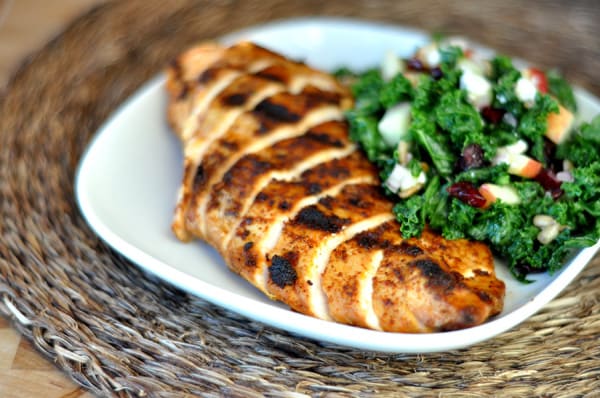 Well, I'm pretty sure that it is almost nearly official that this is our last real day of summer. It is 84 blissful degrees today. Tomorrow, the high is only 64. Still delightful, but not warm and balmy like I like it.
In honor of summer coming to a close, I'll be sharing the last and greatest of my summer recipe finds this week. Lots of recipes. Lots of love. Lots of calories and lots of yumminess.
First up is this simple and flavorful spice rub to use for grilled chicken (I'm guessing you could use it for pork and other meats but chicken is how we've loved it lately). I've made this 3 or 4 times over the summer and it is quickly becoming a staple in our home. Instead of a liquid marinade, the chicken basks in the flavorful pastiness of spices mixed with a tad bit of olive oil. Left to chill out and rubinade (is that the alternative to marinade? good enough for me…) for a while, the grilled chicken retains incredible tenderness and flavor and the combination of spices is an absolute knock out.

We've eaten this simply as a main dish with a corn salad and fresh fruit and vegetables on the side. We've also sliced it up and devoured it fajita-style: smothered with sour cream, cheese, and guacamole inside of a soft flour tortilla, and seriously, I think I died and went to heaven during that round.
Delicious any way you look at it, this spice rub will make you look like a rock star without hardly any effort at all. Love that.
One Year Ago: Breaded Garlic Chicken in Lemon-Butter Sauce
Two Years Ago: Cheese Rolls with Buttery Parmesan Crust
Three Years Ago: Zuchhini Mozzarella Medley
Note: This chicken is served delicious grilled with sides of your choice and is also delicious cut into strips and served in soft tortillas with taco/fajita garnishes.
Ingredients
2 tablespoons chili powder
2 tablespoons cumin
1 tablespoon paprika
1/4 teaspoon salt
1/4 teaspoon pepper
1 tablespoon packed light or dark brown sugar
2 tablespoons extra virgin olive oil
4-6 boneless skinless chicken breasts
Directions
In a small bowl, combine all the spices and brown sugar. Stir in the olive oil and mix until a crumbly, moist paste forms.
Place the chicken in a single layer in a 9X13-inch or similar size baking pan. Rub the chicken generously with the spice mixture on all sides. Cover the baking dish with plastic wrap and refrigerate for at least 2 hours or up to 10 hours.
Grill the chicken over medium heat until cooked through, about 6-7 minutes per side, depending on the size and thickness of the chicken breasts. Let the chicken rest for 5 minutes. Cut into strips and serve. This chicken is delicious served as-is and is also wonderful served in soft tortillas with taco garnishes.
https://www.melskitchencafe.com/santa-fe-spice-rub-for-grilled-chicken/
Printed from Mel\'s Kitchen Cafe (www.melskitchencafe.com)
Recipe Source: adapted slightly from All You Magazine, June 17, 2011