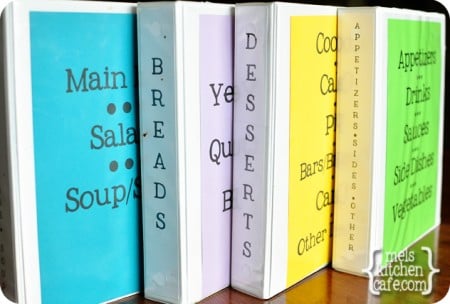 I get asked frequently how I organize the recipes in my life and thought I'd touch upon that today, as well as give you a few of my favorite recipe resources. In this day and age of recipe prevalence online/electronically, my method is twofold: 1) Electronic Organization and 2) Hard Copy Organization.
Basically, here's how it goes down:
Most of the recipes I find that I want to try are online (on blogs and websites) or are sent to me via email. Because of that, my first line of defense is to save recipes in folders on my computer. I have a folder called RECIPES. Clever title, I know. Inside this folder are two subfolders: Recipes to Try and Tried and True.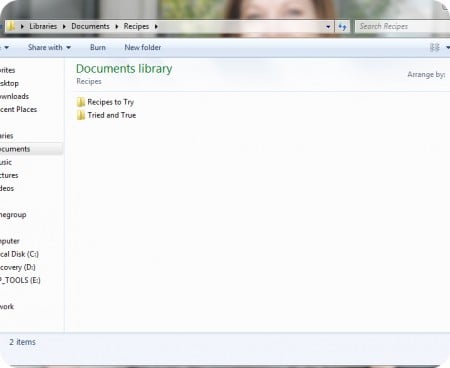 Within each of these folders are my preferred recipe categories: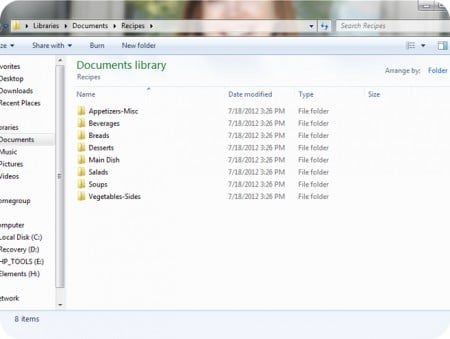 I save recipes I want to try in these folders. Mostly, the recipes I save here come via email and the recipes are already in a convenient Word (or similar) document. I download them from email and save them into one of the nifty categories in the RECIPES TO TRY folder. I also keep recipes here that I've copied or typed up from library cookbooks I've checked out and read like a novel (I have NERD tattooed on my forehead, I know, I get it). When I go to plan my menu or search for a recipe I want to make, I check these folders first. I print out the recipes I want to try (or drag my laptop into the kitchen, which can be dangerous to those who want to keep a spiffy, clean keyboard) and if the recipe is a success, then voila! I move the recipe from the RECIPES TO TRY folder into the TRIED AND TRUE folder on my computer. (If the recipe is a failure, the recipe is sent straight to the recycle bin, sorry failed recipe!)
There are many recipes found on internet sites that aren't in an easy format to save to these folders and I don't want to print out every recipe just because I want to eventually try it – my home is not big enough to house such a stack of paper. Behold the smash hit that is Pinterest! Pinterest has revolutionized the way I organize recipes found via the web. I have a board on Pinterest titled Recipes I Gotta Try

And another board titled Made It…Loved It, similar versions of the folders on my computer.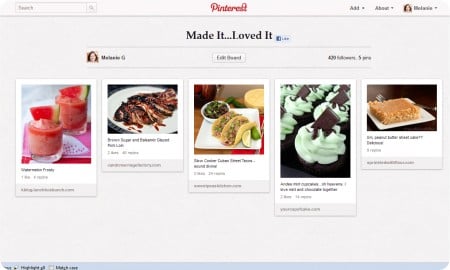 Any recipe I find online that I want to save to try later gets pinned to my Gotta Try folder. When I've made it and loved it, it goes…well, to the obvious Made It…Loved It Board. Some of the recipes on this board may at some point in time make their way onto this blog (probably revised in some way, shape or form because I find it impossible to make a recipe exactly as written) and some may not, but either way, at least I know I loved the recipe, right?
A quick note that you can create as many subset boards as you like in Pinterest (a board for Main Dish, Appetizers, etc.) – I only have one board because I don't pin hundreds of recipes. I'm pretty selective about what I pin (am I the only one that's noticed that 1,487 repins does not make a winning recipe? I've learned the hard way on that one…some pretty nasty casseroles have entered our kitchen thanks to Pinterest). Create and do what works for you.
In my house, if a recipe has been tested and devoured with love, not only does it change residence on the computer (moving to the coveted TRIED AND TRUE folder or moving boards on Pinterest) but I also print the recipe for a hard copy, if I haven't done so already, which brings me to my beloved recipe binders.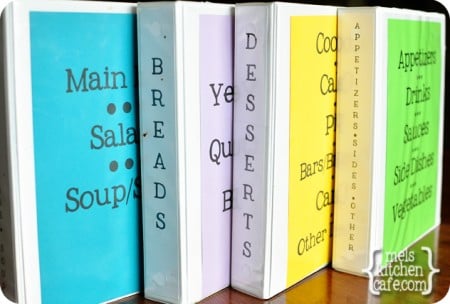 These recipe binders have been around much longer than Pinterest and much longer than this blog. My famed Aunt Marilyn gave me a HUGE recipe binder full of extended family favorite recipes when I first got married ten years ago. As I started cooking and baking more, I quickly realized I needed more than one binder to hold all my favorite recipes and so I created a system of binders. I love systems. And I love binders.
I have four 2-inch binders full of sheet protectors and dividers with pockets (the pockets are essential and I'll tell you why in a minute). When I have a recipe that has made it into the tried and true category (meaning, I want to make it at least 100 more times), the hard copy gets put in the appropriate binder. We have to really love and adore the recipe and consider it an immediate family favorite in order for it to make it into the binders. Not just any recipe makes it in. These are elitist binders, my friends. Here's the breakdown:

Binder 1: Main Dish, Salad, Soup/Stew
Binder 2: Cookies, Cakes, Pies, Bars/Brownies, Candy, Other Desserts
Binder 3: Yeast Breads, Quick Breads, Breakfast
Binder 4: Appetizers, Drinks, Side Dishes, Sauces, Vegetables

DISCLAIMER: These binders could be broken out into a variety of different categories or organized in a myriad of ways. This is how I keep them but I'm sure your imagination and mad organizational skills could think of 100 different combinations to make you smile.
Let's take a peek into the Desserts binder for a closer look.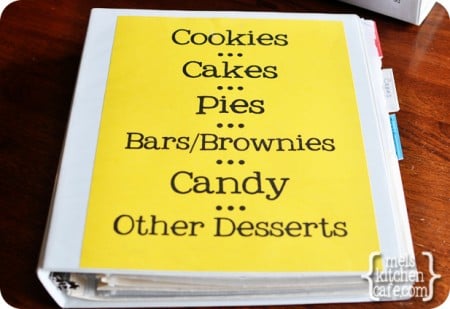 I have dividers with pockets outlining each category subset (i.e. Cookies, Pies, etc.)

The pocket on the divider serves a very important purpose. Even in this day and age of finding recipes nearly exclusively online, what about those recipes I spy in a magazine that I need to store and refer to when planning my menu? Well, I pop them right into these pockets in the appropriate category. If they haven't made it into a sheet protector, I know they haven't been tried and tested yet. Take for instance this Strawberry Shortcake cookie recipe I snagged from an impulsive Martha Stewart Living purchase years ago. It's waiting here for me to make it.

When I make it, if I love it, I'll slide it into a sheet protector behind the divider to live amongst the other tried and true recipes. Some of my tried and true favorites are handwritten:

And others are typed up all fancy-like (most likely printed from one of the electronic folders that houses recipes I want to try).

You can also store other nifty things in the pocket dividers, like this detailed diagram on how to cut a circle cake into every plausible number of slices.

I stack these binders next to the very few cookbooks I own (seriously, I probably only own 5-6 cookbooks). They are monumentally indispensable for when I need a favorite recipe at a moment's notice. And someday when I have all the time in the world, I'll type up all the recipes into a beautiful format so I can bestow them onto my children when they grow up and leave me (although, by then, I'm not entirely sure paper will even exist anymore).
Here is a PDF of the files I use for the covers and spines of the binders, just in case you want to copy my exact method. The document can't be edited, so if you have an entirely different vision for recipe binders, go ahead and create your own categories and covers. Otherwise, feel free to use what I've created.
Basically, when I start planning my menu, I start by looking at the recipes I want to try: 1) computer folders, 2) Pinterest, 3) magazine or handwritten recipes in the pockets of my recipe binders. Then I fill in the menu gaps with the tried and true recipes my family is pining away for me to make again and are conveniently stored in the sheet protectors in my recipe binders. I am old school enough to still love having a hard copy versions of my favorite recipes at my beck and call.
I hope this not-so-brief overview gives you some ideas on organizing recipes. I've been using this system for years and years and it works very well for me!
And just to end, in case there are inquiring minds, I thought I'd list the cookbooks I have in my possession that I refer to all the time (again, I don't have hundreds, just a handful), the few cooking magazines I subscribe to, and a handful of my favorite cooking blogs. We can all use a little recipe inspiration now and then!
My Favorite Cookbooks:
The Joy of Cooking
Cook's Illustrated Cookbook
America's Test Kitchen Best 30-Minute Recipe
America's Test Kitchen Best Skillet Suppers
Cook's Country Cookbook
Cooking Magazines I Subscribe To:
*The list ain't long, people, but I love both of these magazines for the fact that the recipes are tested, tested, tested and I have rarely made a recipe from either resource that wasn't a hit*
Cook's Country
Cuisine at Home
Recipe Blogs I Love:
*I have more blogs than I can count in my Google Reader and I love each of them for different reasons. Below are several of the blogs that have great recipes, plain and simple – I'll share more of my favorites in the upcoming weeks but for now, here's a start*
Favorite Family Recipes
Our Best Bites
The Sisters Cafe
Simply Recipes
Smitten Kitchen
Baked Bree
Annie's Eats
Jamie Cooks It Up!
The Girl Who Ate Everything
Taste and Tell