Menu Planning Solution: Side Dish Planner!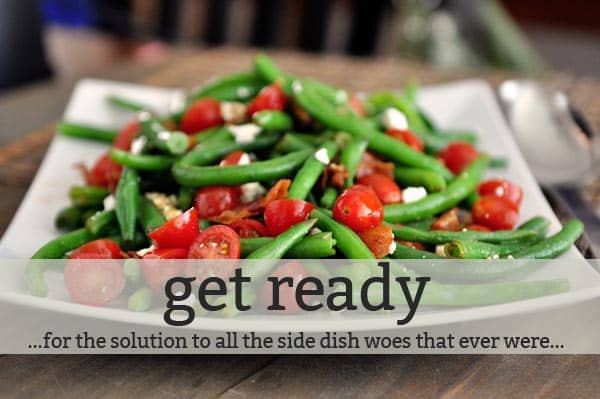 A couple weeks ago when I issued the call for menu planning questions, I had no idea that over 400 of you would respond. The menu planning nerd in me was doing cartwheels. I can't wait to help you! All the questions, to date, have been compiled, and while there are a lot of questions/concerns/requests that I'll address in coming weeks, the very large majority of questions center around the almighty side dish. So today, I'm going to help you troubleshoot your side dish conundrums. According to my calculations:
You want multiple side dish options in your menus.
You want side dishes that require minimal prep.
You want to know what side dishes pair well with different main dish recipes.
You want side dishes that can be prepped beforehand.
You want some serious side dish help, basically.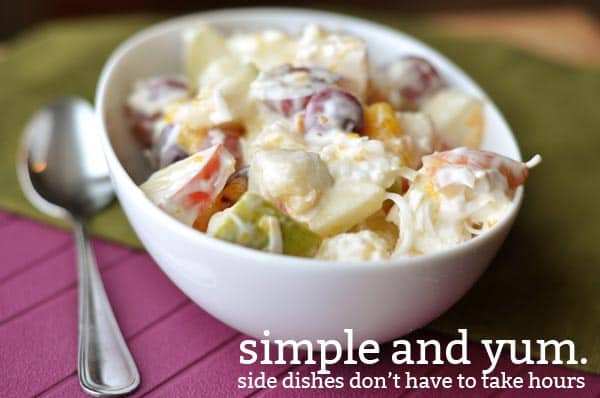 I have something really, really cool to share with you that will revolutionize the way you plan the side dishes for your menus. But first! A few quick notes so you understand where I'm coming from with side dishes:
I plan my menus around the main dishes. Side dishes, while complimenting dinner and providing options for different palates, are not what I spend the majority of my cooking time on. Keep in mind that I have five young-ish children and while I love to cook, dinner prep is definitely my most unfavorite time of the day. It's all about getting dinner on the table while still maintaining sanity.
So having said that, for family weeknight dinners, I keep our side dishes extremely simple. Usually a lot of fresh fruit, fresh or steamed vegetables, cottage cheese, etc. I like the pull-out-of-the-refrigerator options that require minimal, if any, additional cooking.
But because I also believe that offering a variety of foods helps my kids develop good palates, I try to make side dishes really count (i.e. actually using a recipe) a couple of times during the week, especially for Sunday dinners (our family's nicest meal of the week, usually) and if company is coming over. The large majority of side dishes I use can be prepped ahead of time or are fast to put together.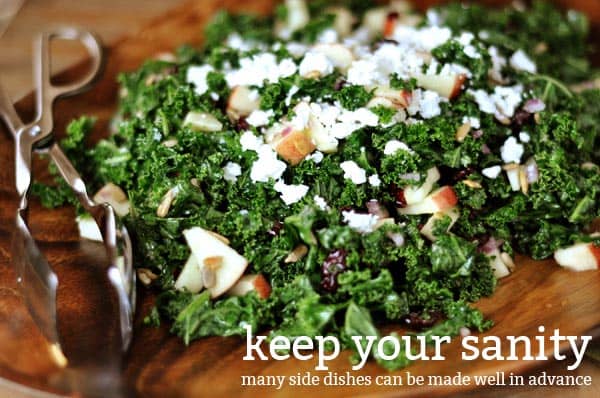 In order to help YOU figure out what side dishes to prepare, I've developed a matrix for you to use when planning your menus. This downloadable PDF document is basically the answer to "If I Make This…" I can "Choose One or More of These Side Dishes…" Consider it a mix-and-match menu planner. Sometimes half the battle of side dishes is figuring out what pairs well with a main dish.
Additionally, in the spreadsheet (by now, you should know I love me some spreadsheets), there are little notes to indicate which side dishes can be made ahead of time and which ones require minimal to no prep.

If side dishes stress you out, keep in mind that simplifying is the way to go! I rarely spend more than 10 minutes on a side dish for a weeknight dinner and yet our meals are well-rounded and robust in flavor and ingredients.
For some added help, in the next few weeks, I'll also be pumping up the free, downloadable menu plans to incorporate more side dish options and I'll be giving suggestions for future main dish posts on what side dishes would work well for that new recipe.
In the coming weeks, I'll be posting some menu planning solutions focused on the other popular questions you submitted:
Gluten-Free and other Dietary Restricted Menus
Dinner for One or Two
After Work Dinner Solutions
Alternate Menus for When Dinner Won't Work Out As Planned (or You Want to Gag at the Thought of What You Had Planned)
Cooking on a Tight(er) Budget
Repurposing Leftovers
Lunch and Breakfast Menus/Ideas
How to Cope with the Crazy Dinner Hour (i.e. Get Dinner On the Table With Young Kids)
FAQ Post
Menu planning made simple – that's the goal!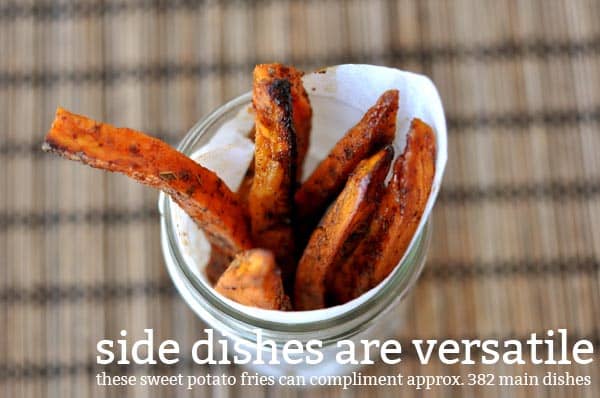 Disclaimer: I am a participant in the Amazon Services LLC Associates Program, an affiliate advertising program designed to provide a means for me to earn fees by linking to Amazon.com and affiliated sites. As an Amazon Associate I earn from qualifying purchases.