Mexican Rice
This simple and flavorful Mexican rice comes together in no time, tastes fantastic, and pairs with countless Mexican dishes.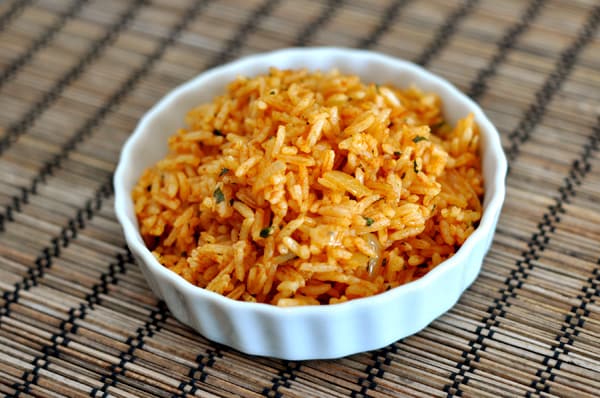 Seemingly simple, I've been on the search for a quick and easy Mexican rice dish to serve with fajitas, tacos, and other zesty Mexican-inspired dishes for a long time.
This is the one. It comes together in no time which makes me thrilled since I can't bring myself to spend hours on a side dish. And it tastes fantastic – subtle tomato and garlic flavor with the warm spices of cumin and the fresh bite of cilantro and lime.
Since stumbling upon this recipe, I've served it several times to rave reviews. Paired with cornbread and these fajitas or these fantastic chipotle chicken tacos, it makes a completely perfect meal.
Mexican rice – I'm so glad I found you.
I'll be making you for forever.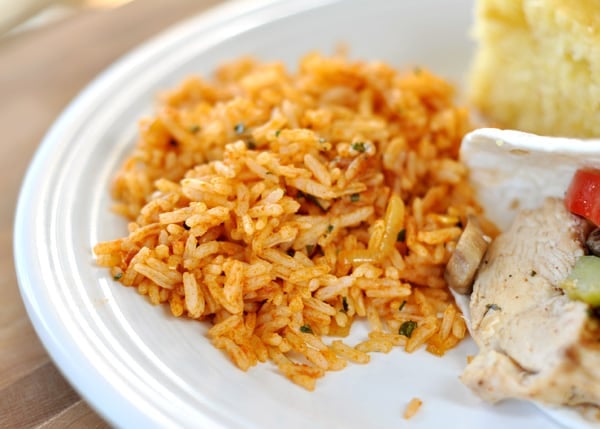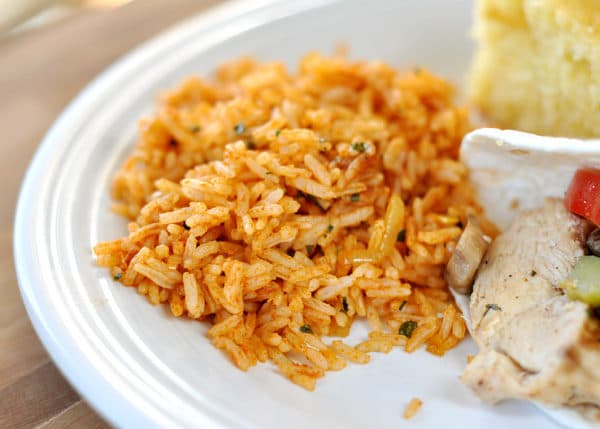 Yield: 4-6 servings

Prep Time: 10 minutes

Cook Time: 35 minutes

Total Time: 45 minutes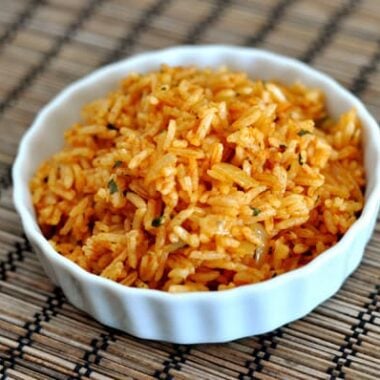 Ingredients
1 cup of long grain white rice
2 cups of low-sodium chicken broth
1 tablespoon of olive oil
1 small yellow onion, diced
4 cloves of garlic, finely minced
1/4 cup of tomato paste
1 tablespoon of lime juice, from about 1 lime
1/2 cup of freshly chopped cilantro
2 teaspoons cumin
Salt to taste
Instructions
In a medium-sized pot, add rice and chicken broth. Bring to a boil over high heat. Stir. Cover the pot, lower the heat to low and simmer for 17-20 minutes. Remove from heat and keep the pot covered for 5 more minutes.
While the rice is cooking, heat the olive oil in a large nonstick skillet over medium heat. Cook the onions in the hot oil for 10 minutes, until translucent and starting to brown. Add the garlic to the skillet and cook for one minute, stirring constantly. Stir in the tomato paste and cumin and cook for another minute or two. Mix in hot, cooked rice, lime juice and cilantro. Mix until well combined. Season to taste with salt. Serve immediately.
Recommended Products
As an Amazon Associate and member of other affiliate programs, I earn from qualifying purchases.

Recipe Source: adapted slightly from Homesick Texan
Disclaimer: I am a participant in the Amazon Services LLC Associates Program, an affiliate advertising program designed to provide a means for me to earn fees by linking to Amazon.com and affiliated sites. As an Amazon Associate I earn from qualifying purchases.