Oatmeal Chocolate Caramel Bars
Who doesn't love a perfectly sweet and salty dessert? These simple yet decadent oatmeal chocolate caramel bars are just that and more.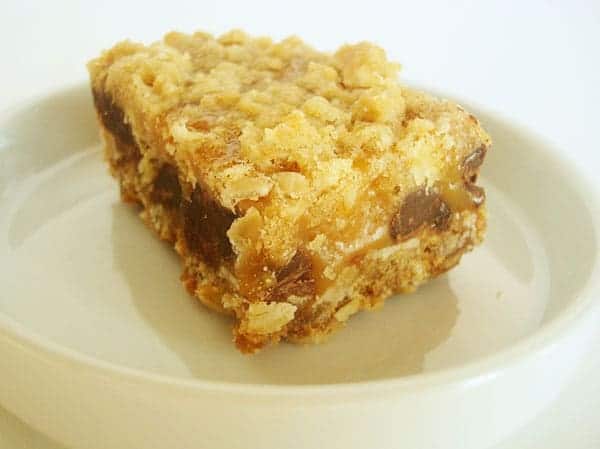 Sweet.
Chewy.
Slightly salty.
Covered in buttery oats.
So yummy I could eat the whole pan.
Studded with chocolate.
Texturely perfect.
Decadent.
Simple.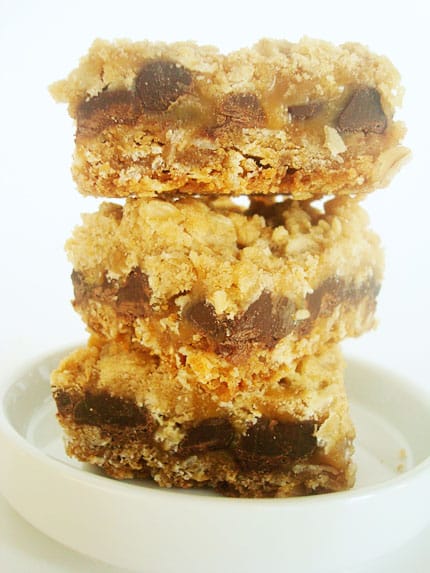 One Year Ago: Lemon Cream Pasta with Chicken
Two Years Ago: Cinnamon Swirl Bread
Oatmeal Chocolate Caramel Bars
Ingredients
1 1/2 cups flour
1 1/2 cups old-fashioned oats
1/4 teaspoon salt
1/2 teaspoon baking soda
1 1/2 cups brown sugar
1 cup melted butter
14 ounce bag of caramels
1/2 cup whipping cream or milk
1 12-ounce package semisweet chocolate chips
Instructions
Preheat the oven to 350 degree. Mix the first six ingredients together and sprinkle half on the bottom of a 9X13-inch baking pan. Bake 10 to 15 minutes, until lightly browned.
Meanwhile, melt the caramels and whipping cream or milk in a saucepan over low heat or in the microwave at 50% power, stirring often, until the mixture is smooth. When the bars have been removed from the oven, sprinkle the chocolate chips over the crust and pour the melted caramel over the top. Sprinkle the rest of the crust over the top and bake in the oven for an additional 10-12 minutes, until the caramel is bubbling and edges are lightly browned. Cool the bars completely before serving so they can set up properly.
Recommended Products
As an Amazon Associate and member of other affiliate programs, I earn from qualifying purchases.
Recipe Source: adapted slightly from my friend Judy C.