Classic Potato Salad
Easy and delicious, this is really the best potato salad ever. No complicated or fussy ingredients – it is simple and ALWAYS a crowd-pleaser.
This potato salad really is perfect and is the only recipe I've made for at least the last year or so. (Update 7/2013: And it still continues to be my favorite! Along with this loaded version.)
I've adjusted the seasonings along the way over the years and have updated the recipe according to my preferences, but really, the dreamy thing about this recipe is that it can be tailored (with lesser or more amounts of any ingredient) to your taste buds.
My husband, Brian, abhors pickles which is why they don't appear in this version but I lay awake dreaming about potato salad with pickles in it – so throw them in and think of me, would ya?
Thanks to my sweet friend, Tori, who gave me this recipe in the first place! It really is the best potato salad ever. In the world. Honest.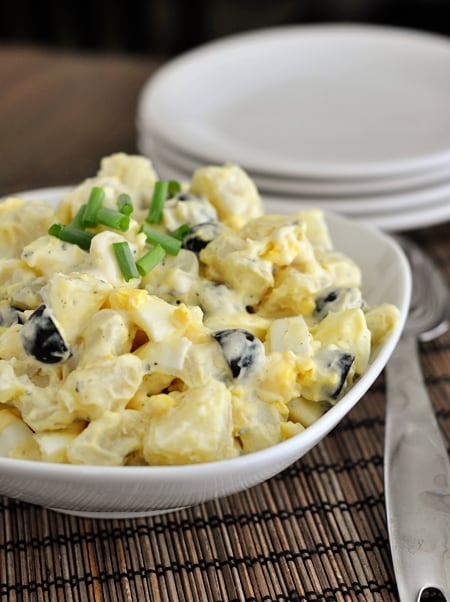 One Year Ago: Buttermilk Cloverleaf Rolls
Yield: 6-8 servings

Prep Time: 15 minutes

Cook Time: 10 minutes

Total Time: 25 minutes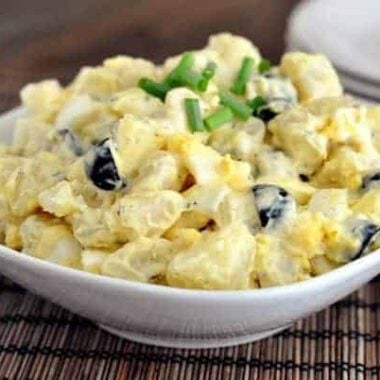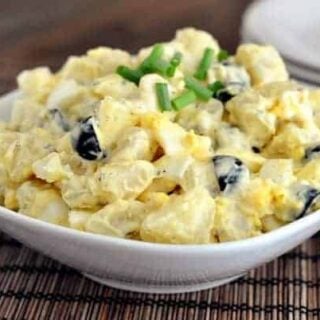 Ingredients
2 cups mayonnaise (I use Best Foods/Hellmans Light Mayo with great results)
2/3 cup buttermilk
1 1/2 teaspoons dried parsley
1 to 1 1/2 teaspoons salt (adjust according to taste - you may want to sue the greater amount if your potatoes were boiled without salt)
1 1/2 teaspoons minced dried onions or 1 teaspoon onion powder
1 teaspoon garlic powder
1 teaspoon seasoned salt
1 teaspoon ground black pepper
2 tablespoons yellow mustard
5 pounds potatoes (I prefer to use red potatoes or yukon gold potatoes because I like their firm non-grainy texture but russet potatoes work, too)
1 15-ounce can olives, cut in half
10 hard-boiled eggs, diced (see note for perfect hard-boiled eggs)
Instructions
For the dressing, the easiest way to make this is to add all the ingredients to the mayo jar and shake like your life depends on it until everything is combined. Of course, this requires that the mayo jar is half empty (with only 2 cups of mayo in it). If this is not the case, simply combine all the ingredients in a blender and give it a whirl until all ingredients are combined.
For the salad, peel, dice, and boil potatoes until tender but not mushy (I cut my potatoes into bite-size pieces and boil for about 8-10 minutes). Drain potatoes well and pour into a large bowl.
Add sliced olives and hard-boiled eggs. Pour dressing over warm potatoes until desired "dressing-level" is reached. I usually make this salad the night before and I pour a thin coating of dressing over the potatoes, olives and eggs while they rest in the fridge overnight.
Before serving the next day, I add the rest of the dressing and mix until it looks just right. Most importantly be sure and taste so you can add extra salt and pepper to taste!
Notes
Salt: the salt amounts in this recipe may vary if you boil your potatoes with salt so make sure you taste along the way so the salad isn't too salty (or under salted)!

Eggs: for perfect, easy-peel hard-boiled eggs, check out this post (even works for fresh eggs!).
Recommended Products
As an Amazon Associate and member of other affiliate programs, I earn from qualifying purchases.

Recipe Source: adapted slightly from my friend, Tori
Other Potato Salad Recipes:
Disclaimer: I am a participant in the Amazon Services LLC Associates Program, an affiliate advertising program designed to provide a means for me to earn fees by linking to Amazon.com and affiliated sites. As an Amazon Associate I earn from qualifying purchases.