Pesto Pasta Salad with Peas and Parmesan
This pesto pasta salad with peas and parmesan is a delicious nontraditional side dish. And it's so simple to put together.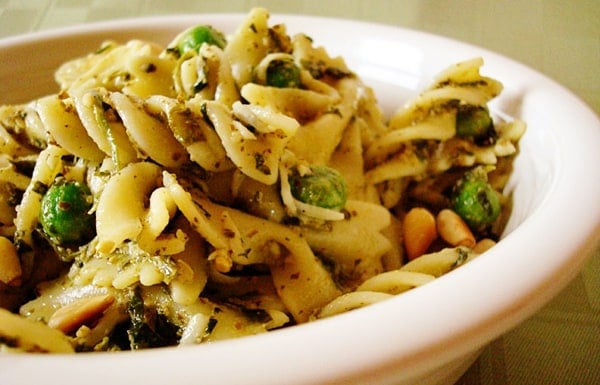 Looking for a nontraditional side for your Easter menu?
As I mentioned yesterday, I love changing things up when it comes to traditional menus and this springy pesto pasta salad is just the thing to brighten up any table spread full of good food.
Sent to me by a friend, Liz K., this recipe is apparently an Ina Garten classic and it is far and away one of the best pasta salads I've had.
The pesto is lightened up to a delicious creamy consistency and blended with hearty spinach.
Brightened with the zing of fresh lemon juice, the entire mixture is tossed with the toothsome pasta and topped with tender peas, crunchy pine nuts and salty Parmesan.
Simple to put together, this pasta salad should go on your to-make list immediately.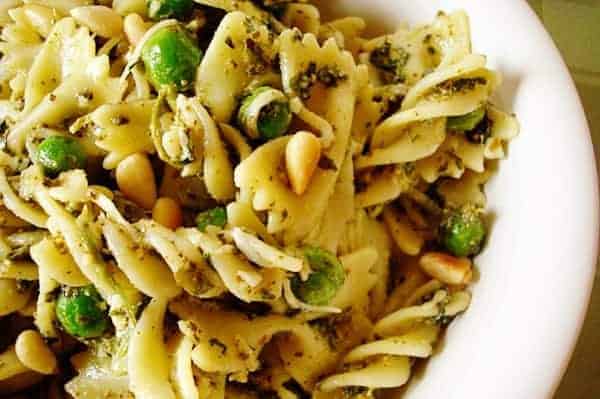 Two Years Ago: Croque Monsieur Made Simple
Pesto Pasta Salad with Peas and Parmesan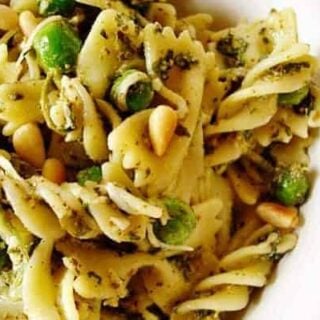 Ingredients
3/4 pound fusilli pasta
3/4 pound bow tie pasta
1/4 cup extra virgin olive oil
1 1/2 cups pesto (jarred or from your own favorite recipe)
1 (10-ounce) package frozen chopped spinach, defrosted and squeezed dry
3 tablespoons freshly squeezed lemon juice
1 1/4 cups mayonnaise (I used light mayo with great results)
1/2 cup freshly grated Parmesan cheese
1 1/2 cups frozen peas, defrosted
1/3 cup pine nuts
3/4 teaspoon kosher salt
3/4 teaspoon freshly ground black pepper
Instructions
Cook the fusilli and bow ties separately in a large pot of boiling salted water for 10 to 12 minutes until each pasta is cooked to your liking. Drain and toss into a bowl with the olive oil. Cool to room temperature, tossing every once in a while to prevent the noodles from sticking to each other as they cool.
In a food processor or blender, puree the pesto, spinach, and lemon juice. Add the mayonnaise and puree. Add the pesto mixture to the cooled pasta and then add the Parmesan, peas, pine nuts, salt, and pepper. Mix well, season to taste, and serve at room temperature.
Recommended Products
As an Amazon Associate and member of other affiliate programs, I earn from qualifying purchases.
Recipe Source: my friend Liz K. and Ina Garten
Other Pasta Salad Recipes:
Disclaimer: I am a participant in the Amazon Services LLC Associates Program, an affiliate advertising program designed to provide a means for me to earn fees by linking to Amazon.com and affiliated sites. As an Amazon Associate I earn from qualifying purchases.