Lasagna Soup
Lasagna soup. All the flavors of classic and delicious lasagna rolled into soup form – and it tastes just like…well, lasagna! Soup!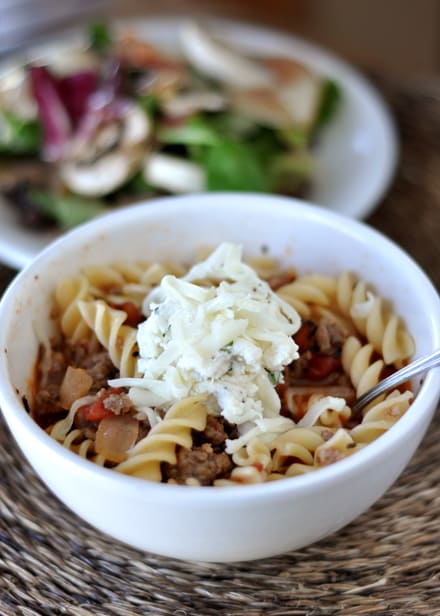 As I was simmering this soup on the stove, my husband walked in the door and before he could enter the kitchen, I heard him smugly say, "Mmmm, smells like my favorite lasagna cookin'!" To which I smugly replied, "Uh, not quite."
Lasagna soup. All the flavors of classic and delicious lasagna rolled into soup form – and it tastes just like…well, lasagna! Soup! I know, get out.
Tender fusilli noodles are placed in the bottom of a bowl and topped with the flavorful tomato-lasagna soup and dolloped with a heaping spoonful of the creamy, rich ricotta and Parmesan mixture.
Of course it isn't complete without a hearty sprinkling of mozzarella cheese. Stirred together into completely blissful warm, cheesy, melty lasagna goodness, this soup is one for the record books.
I hoarded the leftovers for days and savored each and every bite. One of my favorite meals this fall. No question about it.

I served it with our favorite Gourmet Green Salad and breadsticks and just thinking about the blissful meal has me voraciously hungry.
P.S. I know the soup in the pictures looks less like soup and more like a pasta dish but that is because I went a little overboard with the noodles in the picture. Trust me, it really is soup. And a delicious one at that.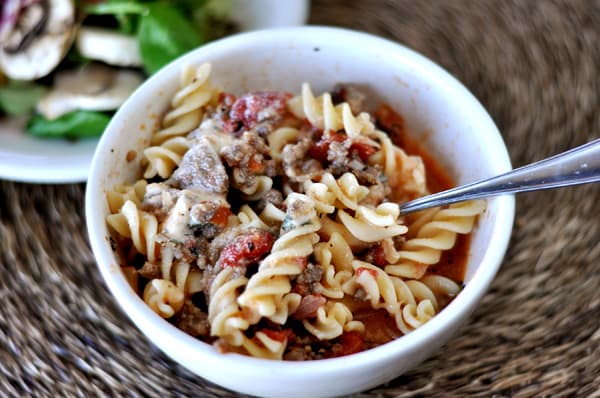 One Year Ago: Chili Verde
Two Years Ago: Thanksgiving Dinner 101: The Turkey
Three Years Ago: My Favorite Bread Bowls
Ingredients
Soup:
1 1/2 pounds Italian sausage
1 medium yellow onion, chopped
4 cloves garlic, finely minced or pressed through a garlic press
2 teaspoons dried oregano
1/2 teaspoon dried crushed red pepper
3 tablespoons tomato paste
1 (28-ounce) can fire roasted diced tomatoes, undrained
2 bay leaves
6 cups low-sodium chicken broth
1/2 cup chopped fresh basil or 2 tablespoons dried basil
Salt and pepper to taste
1/2 pound fusilli noodles, cooked and drained
Cheese topping:
1 cup ricotta cheese
1/2 cup grated Parmesan cheese
1/4 teaspoon salt
1/8 teaspoon black pepper
1 Tablespoon chopped fresh basil or 1 1/2 teaspoon dried basil
2 cups shredded mozzarella cheese, for sprinkling
Instructions
In a large 4-quart pot, add the Italian sausage and cook over medium heat, breaking the pieces up with a wooden spoon or spatula while it cooks. I prefer the sausage in fairly small pieces. After about 3-4 minutes, add the onion. Cook the sausage and onion together, stirring occasionally, until the sausage is cooked through and the onions are soft,a bout 5-7 minutes. Drain any excess grease, if desired. Stir in the garlic, oregano, red pepper flakes and tomato paste. Cook for 1-2 minutes, stirring constantly. Add the diced tomatoes with their juices, bay leaves and chicken broth. Add the basil, if using dried (if using fresh basil, add it in the next step).
Bring the soup to a boil then reduce the heat and simmer for 20-30 minutes. Season the soup with salt and pepper to taste and the fresh basil, if using.
For the cheese mixture, in a small bowl, combine the ricotta cheese, Parmesan cheese, salt, pepper and basil. Set aside.
To serve the soup, add a scoop of cooked pasta noodles to a bowl. Top with a ladle or two of soup and dollop with a generous spoonful of the cheese mixture. Sprinkle with mozzarella cheese. Serve immediately.
Recommended Products
As an Amazon Associate and member of other affiliate programs, I earn from qualifying purchases.
Recipe Source: adapted slightly from Baked Bree
Disclaimer: I am a participant in the Amazon Services LLC Associates Program, an affiliate advertising program designed to provide a means for me to earn fees by linking to Amazon.com and affiliated sites. As an Amazon Associate I earn from qualifying purchases.