Pumpkin Cream Cheese Muffins
My cousin Camille has great taste in food and when she sends me a recipe to try, I usually try it the very day I get it.
This is one of those. She sent me this recipe and told me I had to try it. And I'm telling you, if you aren't sick of pumpkin yet,
you
must
make
these.
They are a phenomenally moist pumpkin muffin (sweet enough to really be classified as a cupcake, in my book) with a buttery, cinnamon streusel topping. And if that isn't enough, they have a pocket of creamy, soft sweetened cream cheese that it is indeed a beautiful surprise when you bite into these delicious morsels.
I have some fabulous other pumpkin muffins that I love (like these and these) and I'm excited to add this recipe to the same category.
It looks like "pumpkin season" will be extended for a few months in our house just so I can keep making these. Delicious!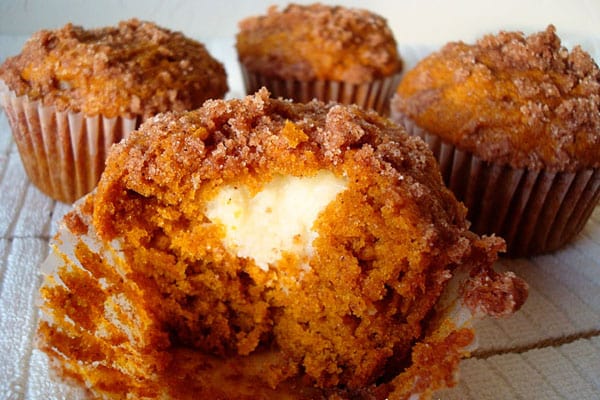 Pumpkin Cream Cheese Muffins
Ingredients:
For the muffins:
3 cups flour
1 teaspoon cinnamon
1 teaspoon nutmeg
1 teaspoon ground cloves
1 tablespoon pumpkin pie spice (see note)
1 teaspoon salt
1 teaspoon baking soda
4 eggs
1 ¼ cups vegetable oil
2 cups sugar
2 cups pumpkin puree
For the filling:
8 ounces cream cheese, softened
1 cup powdered sugar
For the streusel topping:
½ cup sugar
¼ cup flour
4 tablespoons cold butter, cubed
1 ½ teaspoons cinnamon
Directions:
To prepare the filling, combine the cream cheese and powdered sugar and whip until smooth. Form into a log on plastic wrap or greased foil, making sure that the diameter is small enough to fit into the well of a muffin pan. Wrap the log up tightly and freeze until slightly hardened, 1-2 hours.
To make the muffins, combine the flour, spices, salt and baking soda in a medium bowl. Mix well and set aside. In another large bowl combine the eggs, vegetable oil, sugar and pumpkin puree. Mix until well combined. Add in the dry ingredients and mix until just combined.
To make the streusel topping, combine all the ingredients in a small bowl. Mix together with a pastry blender or two forks until crumbly.
Preheat the oven to 350°. Line two muffin pans with paper liners. To assemble the muffins, fill each muffin well 1/3 of the way with batter. Remove the cream cheese log from the freezer and slice into 24 equal slices. Place a slice on top of the batter in each muffin well and gently press (don't press all the way to the bottom but just slightly into the batter). Divide the remaining muffin batter evenly among the muffin cups on top of the cream cheese. Sprinkle the streusel topping over the top of the batter. Bake the muffins for 18-20 minutes, until a toothpick inserted into the top of the muffin (about 1/3 of the way down) comes out with moist crumbs. Let cool completely on a wire rack before serving.
Notes:
If you don't have pumpkin pie spice, use the following combination: 1/2 teaspoon cinnamon, 1/4 teaspoon ginger and 1/8 teaspoon nutmeg and 1/8 teaspoon cloves. Mix together and you have the equivalent of 1 teaspoon pumpkin pie spice.
All images and text ©
.
Follow @melskitchencafe on Instagram and show me the recipes you are making from my blog using the hashtag #melskitchencafe. I love seeing all the goodness you are whipping up in your kitchens!
Recipe Source: adapted from Annie's Eats