Pumpkin Cream Cheese Muffins
Pumpkin and cream cheese were meant to be together…and these amazingly delicious pumpkin cream cheese muffins prove it! Light and fluffy, the pumpkin muffin is perfection, and that delightful cream cheese center is like the icing on the cake.
I'm no stranger to pumpkin muffins.
I love them. I live for them.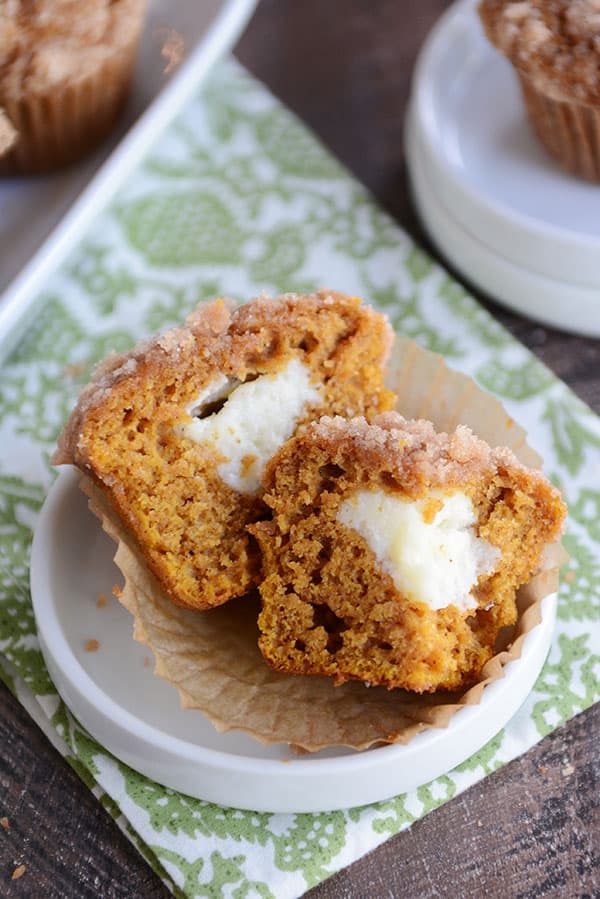 And to be quite honest, I make pumpkin muffins and other pumpkin goods year round (a rebellious but wonderful philosophy I encourage everyone to embrace).
But these pumpkin cream cheese muffins are waaaaaay up on my list of favorite pumpkin muffins. Like, waaaaaay up there.
I should probably declare them THE favorite, but I'm not willing to quite go that far yet.
Just know this: I love these pumpkin cream cheese muffins so very much. They are absolutely amazing.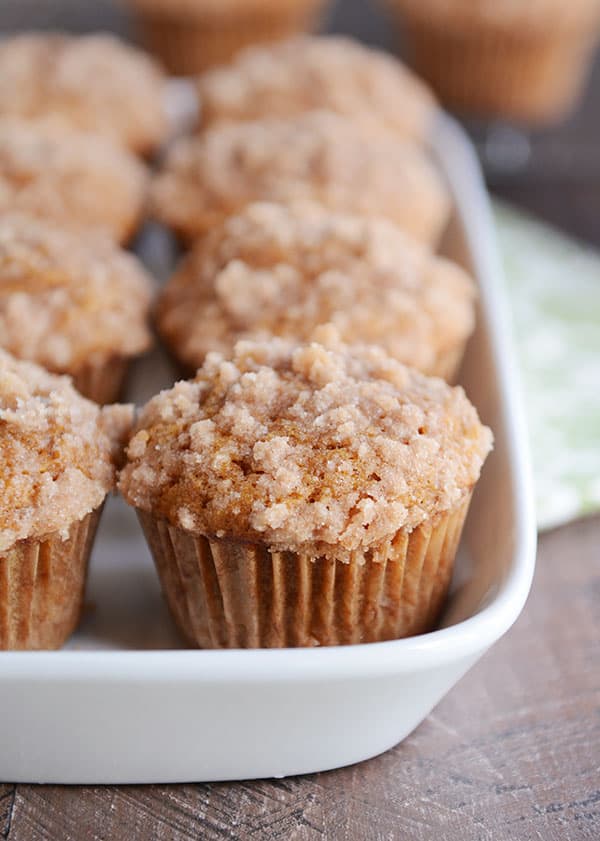 My cousin Camille sent me this recipe years and years ago and told me to make them immediately.
She has great taste in food, so when she issues me an order like that, I can't help but comply.
And I'm telling you, if you aren't sick of pumpkin yet,
you
must
make
these.
There's nothing difficult about these muffins – they are so easy!
But that phenomenally moist pumpkin muffin with a buttery, cinnamon streusel topping is to die for.
And if that isn't enough, there is a little pocket of creamy, soft, sweetened cream cheese that is the most delightful surprise when you dive into these babies.
I'm a huge fan of the whole pumpkin and cream cheese combo.
I can literally eat almost a whole pumpkin roll by myself (a little alarming, but true).
I feel as though these pumpkin cream cheese muffins give you (and me!) the best of both worlds!
That delectable flavor combo is front and center without all the fuss of rolling up a cake in a powder sugar-laden towel while praying loudly and mightily that the cake actually survives the rolling process.
It's quite stressful, really. Even though I try to tell you otherwise in this post.
If you've shed tears over failed pumpkin rolls, I encourage you to come over to the land of pumpkin cream cheese muffins instead.
Plus, I've never seen a pumpkin roll with buttery streusel, so there is that, too.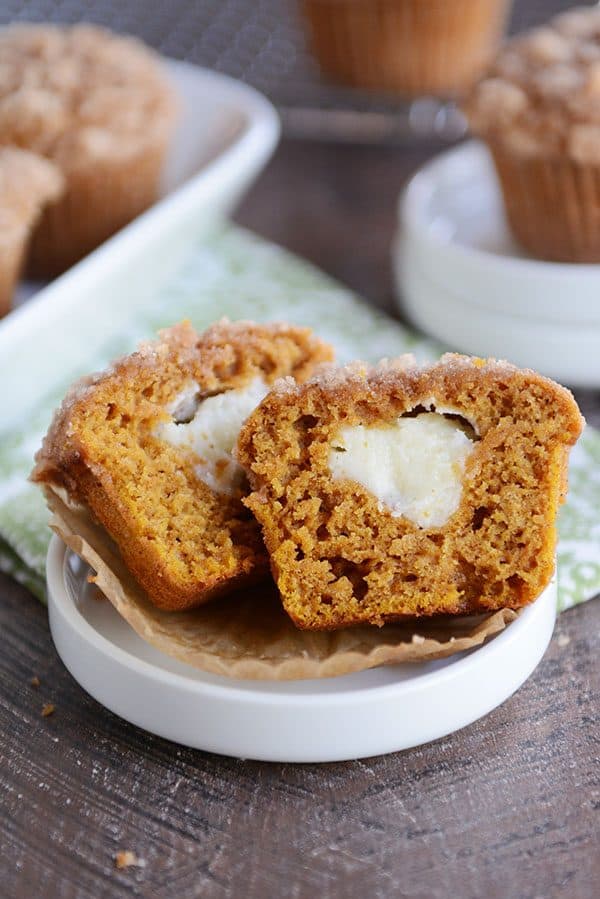 Let me say a quick word about muffin tins.
I've owned more brands of muffin tins over the last ten years than should be socially acceptable.
And I've been disappointed so.many.times in muffin tins that don't bake evenly, or are too shallow or too flimsy or rust easily.
Right now, I've basically converted over to exclusively using the USA brand, and I have a few Farberware brand tins I use as well.
I swear, there's something magical about the USA brand muffin tin (not affiliate with the company, just love this thing so much!).
Muffins and cupcakes bake so much more evenly with the most perfectly domed tops you've ever seen. It's a thing of beauty, really…don't blame me if it makes you emotional, too.
Plus, the wells are slightly deeper (same circumference) so the risk of muffin batter overflowing into the oven is extremely minimal.
So if you are in the market for new muffin tins, the USA ones are worth the investment (just reading through the reviews on Amazon may convince you).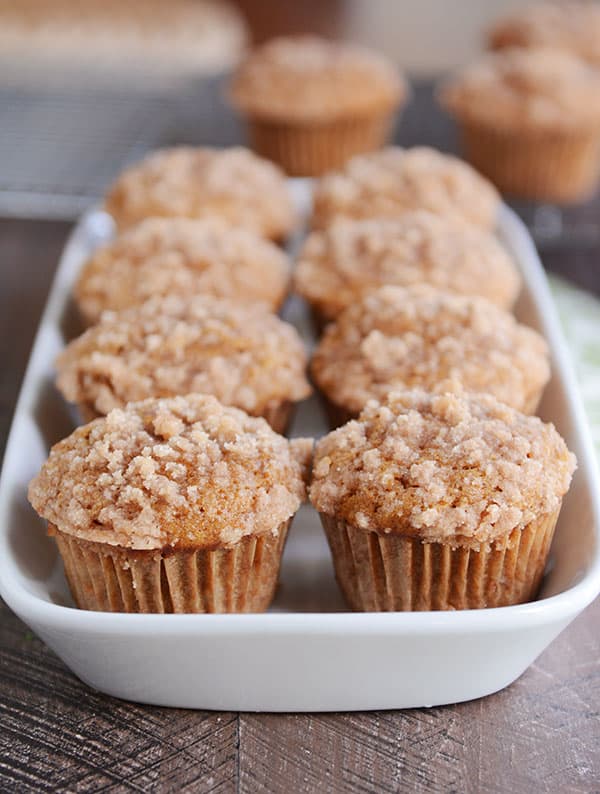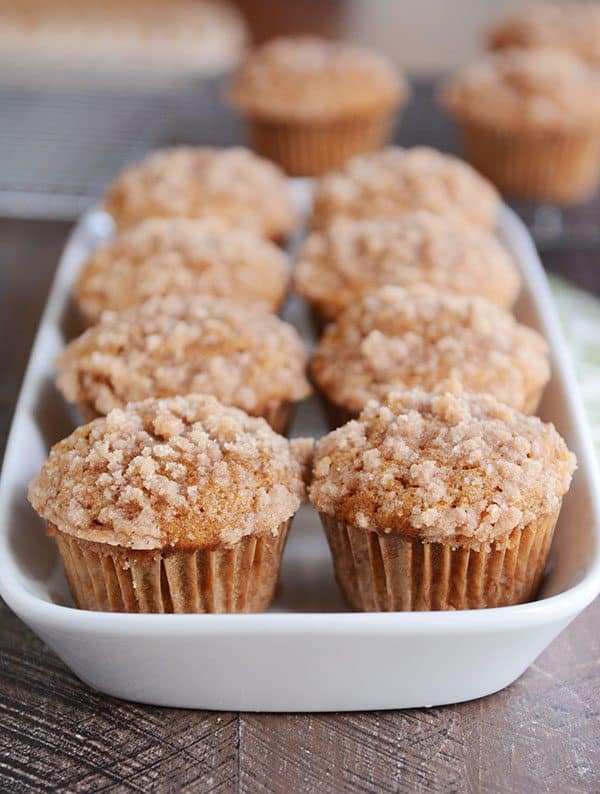 So that's that. I've now waxed poetic about pumpkin cream cheese muffins AND muffin tins (and kind of thrown the almighty pumpkin roll under the bus).
We better call it a day. Make these muffins, ok?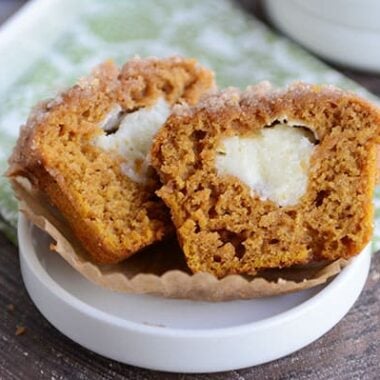 Pumpkin Cream Cheese Muffins
Ingredients
Muffins:
3

cups

(

426

g

)

all-purpose flour

1

teaspoon

cinnamon

½

teaspoon

nutmeg

½

teaspoon

ground cloves

1

tablespoon

pumpkin pie spice (see note)

1

teaspoon

salt

1

teaspoon

baking soda

4

large eggs

1

cup

vegetable oil

,

I often sub half applesauce/half oil

2

cups

(

425

g

)

granulated sugar

1 (15-ounce)

can

(

425

g

)

pumpkin puree
Filling:
8

ounces

(

227

g

)

cream cheese

,

softened

1

cup

(

114

g

)

powdered sugar
Streusel Topping:
½

cup

(

106

g

)

granulated sugar

¼

cup

(

36

g

)

all-purpose flour

4

tablespoons

(

57

g

)

cold butter

,

cubed

1 ½

teaspoons

cinnamon
Instructions
For the cream cheese filling,

combine the cream cheese and powdered sugar and mix with a handheld electric mixer (or in the bowl of a stand mixer) until smooth. On a piece of parchment paper or greased foil, form the soft mixture into a log making sure that the diameter is small enough to fit into the well of a muffin pan once cut into pieces. Wrap the log up tightly and freeze until slightly hardened, 1-2 hours.

ALTERNATE METHOD:

sometimes I use my

small cookie scoop

(about a tablespoon in size) and portion out 24 cream cheese dollops on a parchment-lined plate or tray and freeze that way.

Preheat the oven to 350 degrees F. Line two standard 12-cup muffin pans with paper liners (can bake in batches if you only have one pan) – see the note below for tips on muffin tins and how many to use.

For the muffins, in a medium bowl, combine the flour, spices, salt and baking soda. Whisk to combine; set aside. In a large bowl whisk together the eggs, vegetable oil (and applesauce if using), sugar and pumpkin puree until well combined. Add the dry ingredients and mix until just combined (don't overmix; a few lumps are ok!).

For the streusel topping, in a small bowl, combine all the ingredients. Mix together with a handheld electric mixer, pastry blender or two forks until crumbly.

Fill each muffin cup 1/3 of the way with batter. Remove the cream cheese log from the freezer and slice into 24 equal slices (no need to slice if you portioned the cream cheese mixture into individual dollops and froze). Place a slice or dollop of cream cheese on top of the batter in each muffin well and press lightly into the batter (no need to aggressively shove to the bottom, just a light press).

Divide the remaining muffin batter evenly among the muffin cups on top of the cream cheese (filling the muffin tins about 2/3 to 3/4 full, depending on how deep the muffin cups are). Sprinkle the streusel topping over the top of each muffin. Bake the muffins for 18-20 minutes, until a toothpick inserted into the top of the muffin (about 1/3 of the way down) comes out with moist crumbs. Let cool completely on a wire rack before serving.
Notes
Pumpkin Pie Spice: if you don't have pumpkin pie spice, use the following combination: 1/2 teaspoon cinnamon, 1/4 teaspoon ginger and 1/8 teaspoon nutmeg and 1/8 teaspoon cloves. Mix together and you have the equivalent of 1 teaspoon pumpkin pie spice (so triple it for the amount needed for this recipe).
Halving: this recipe can easily be halved.
Spices: over the years of making this recipe, I've cut down the nutmeg and cloves in the muffin batter to 1/2 teaspoon each. If you are looking for the original amount, it is 1 teaspoon of nutmeg and 1 teaspoon of cloves.
Muffin Tin: I tend to overfill my muffin tin because I have a USA muffin tin that minimizes any muffin spill over with deep cups (it's awesome); if you have a muffin tin with more shallow cups, you'll probably want to make 32 (or so) muffins instead of 24.
Sugar: I often cut the sugar down to 1 1/2 cups. Still very tasty.
Serving:
1
Muffin
,
Calories:
230
kcal
,
Carbohydrates:
41
g
,
Protein:
4
g
,
Fat:
6
g
,
Saturated Fat:
3
g
,
Cholesterol:
43
mg
,
Sodium:
202
mg
,
Fiber:
1
g
,
Sugar:
27
g
Follow @MelsKitchenCafe on Instagram and show me the recipes you are making from my blog using the hashtag #melskitchencafe. I love seeing all the goodness you are whipping up in your kitchens!
Recipe Source: adapted from Annie's Eats
Recipe originally posted November 18, 2009; updated with new pictures, commentary and recipe notes.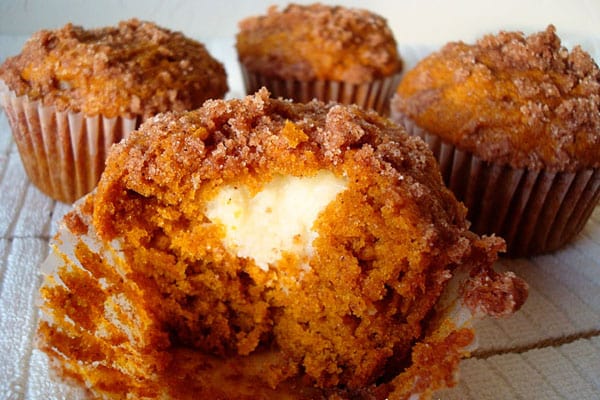 Let's just have a moment of silence for how far my pictures have come since 2009.
Disclaimer: I am a participant in the Amazon Services LLC Associates Program, an affiliate advertising program designed to provide a means for me to earn fees by linking to Amazon.com and affiliated sites. As an Amazon Associate I earn from qualifying purchases.