Quick and Easy Cheesy Black Bean Quinoa Bake
Healthy and delicious, this cheesy black bean quinoa bake is quick and easy, making a perfect weeknight meal! Serve it on its own or with tortilla chips (it would also make a delicious filling for burritos, too!).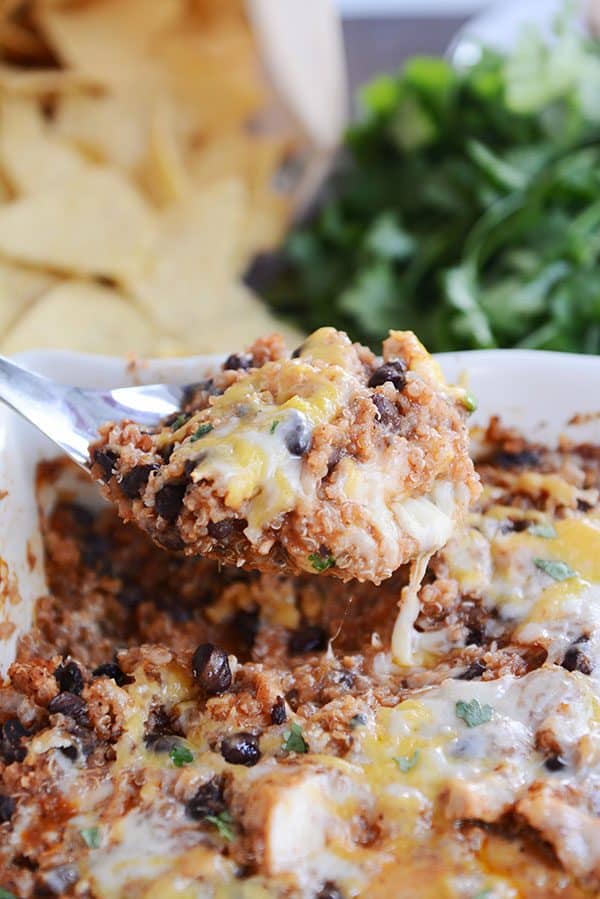 Oh boy, if Monday's hitting you like Monday's hitting me, I think you'll be very pleased with today's recipe offering.
The last couple weeks, I've been obsessed with easy, quick meals for dinner.
It's the only way we are surviving right now.
I can honestly say in my 15-year career being a mom, we haven't had a fall season this insane.
I'm trying not to complain. I mean, after all, I willingly brought these children into the world and prayed they would one day want to play soccer and fulfill their childhood existence.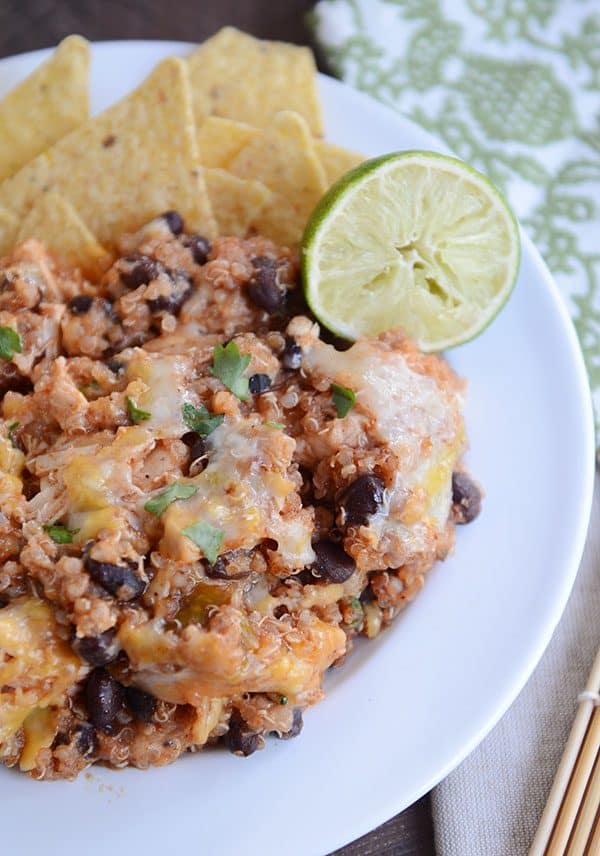 I can only blame myself right now for dreaming of that day.
With three kids in soccer, each practicing multiple times a week, one in gymnastics and the other in after school Orchestra and a KidFit class (not to mention Cub Scouts, Boy Scouts, homework and church activities thrown in there), I don't think my family realizes how lucky they are to actually have ANY food offered to them at dinner time.
Or how lucky they are to have a mother who is semi-functional and alert this time of year (notice, I only said semi).
I know I'm not alone in feeling the Fall Crazies.
So in honor of general life chaos, this recipe is for you.
And me.
And the children.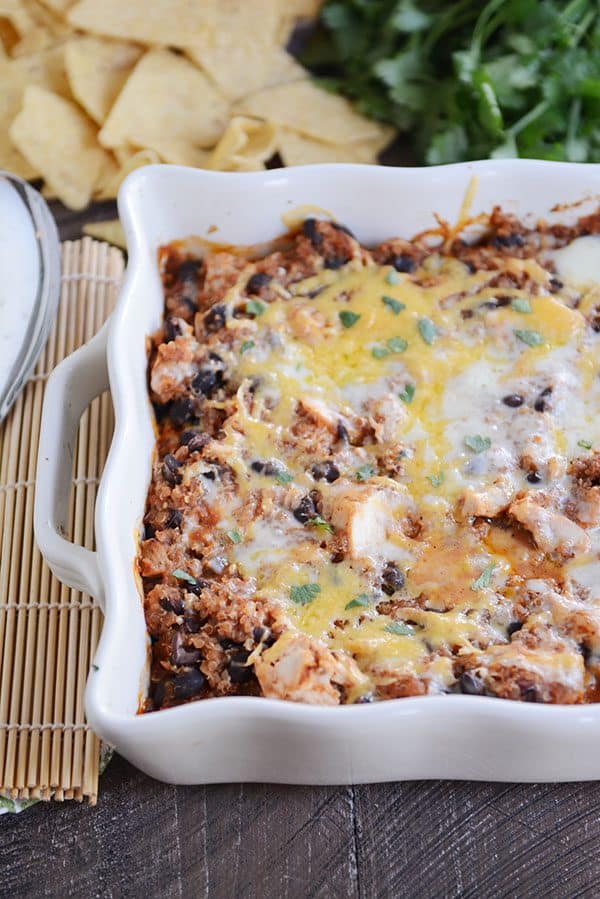 Granted, this cheesy black bean quinoa bake (so incredibly tasty!) doesn't fall strictly into the 30-minute/quick meal category, but it's not far outside that boundary.
Even better, it can easily be assembled ahead of time and baked when you need it.
Let's give a hurrah for make-ahead meals saving dinnertime one 9X13-inch pan at a time.
It also makes a great take-in meal – this hot, bubbling casserole and a bag of tortilla chips, and you are golden (so is that family you are taking it to!).
And the flavorful cheesy black bean quinoa mixture is super versatile! Our favorite application is to use it as a dip of sorts for tortilla chips.
But it would also make a fabulous quesadilla or crispy wrap filling (it actually reminds me a lot of those popular crispy southwest chicken wraps) or burrito filling, too.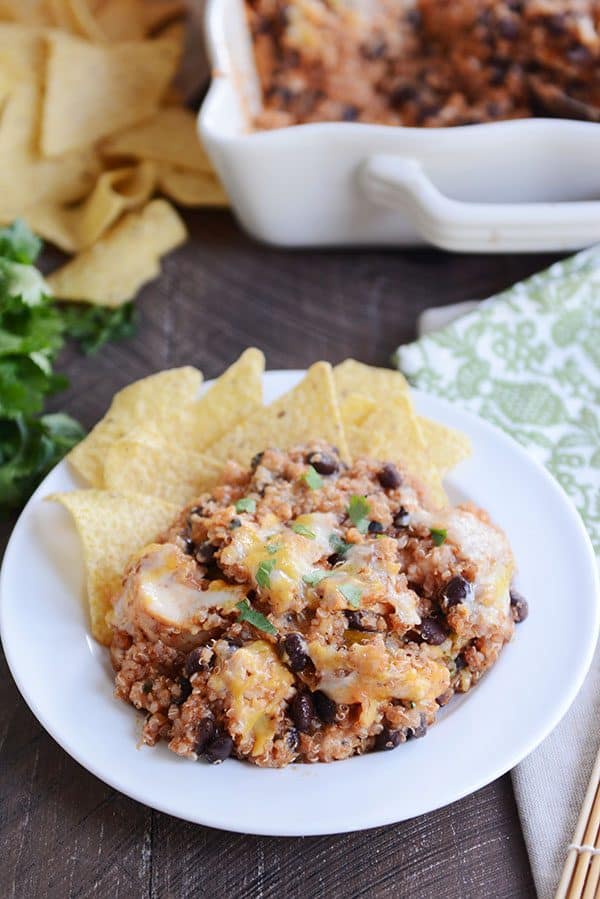 Let's talk about quinoa for a quick second. This recipe is inspired from a favorite slow cooker meal of ours: Tex-Mex Slow Cooker Quinoa Dippers.
I wanted a less creamy version with an enchilada vibe. And I wanted to bake it.
You could definitely pack this mixture into a slow cooker, though, and heat it up that way. That just came to me while I was typing this. Kind of a brilliant idea, really.
Anyway, back to quinoa.
This cheesy black bean quinoa bake calls for cooked quinoa.
Mostly, because I almost always have leftover, cooked quinoa in my refrigerator (we eat it a lot, a lot under stir-fry dishes and stroganoffs and the like).
And unless I'm repurposing it into bread or simple quinoa patties, I want some delicious ways to use it!
This casserole is a great way to do just that.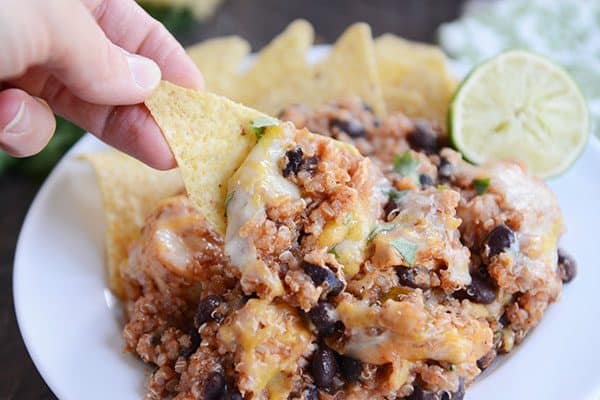 If you don't have cooked quinoa, I've included some notes below the recipe to quickly cook up some quinoa.
Don't want to scroll? (can't blame you, life is hard sometimes) Here's what I say down there:
My go-to method for cooking quinoa these days is to combine equal parts quinoa and water in the Instant Pot and cook on high pressure for 3 minutes, quick release. Otherwise, on the stovetop, combine 1 1/2 cups water or broth for every 1 cup of quinoa plus a pinch of salt. Bring to a simmer, cover, and cook on low for 14-15 minutes. Let stand 5-10 minutes off the heat.
And I think that's about all the words I have inside me to say about this cheesy black bean quinoa bake.
It's delicious! Easy! Healthy! Amazing. (Ok, so clearly I had a few more words; I'm done now.)

Roasted vegetable or skillet green beans
Tortilla chips for dipping and/or taco toppings (sour cream, chopped tomatoes, olives, etc)
One Year Ago: Amazing Pumpkin Chocolate Chip Cookies
Two Years Ago: Sesame Chicken Pasta with Thai-Style Peanut Sauce
Three Years Ago: Caramel Pear Crisp
Four Years Ago: Slow Cooker White Bean Chicken Chili
Five Years Ago: Hearty Chicken Gnocchi Soup
Cheesy Black Bean Quinoa Bake
Yield: 8 servings

Prep Time: 15 minutes

Cook Time: 30 minutes

Total Time: 45 minutes
Ingredients
3 cups cooked quinoa, about 24 ounces (see note)
2 cans (15 ounces each) black beans, rinsed and drained
16 ounces tomato sauce
12 ounces salsa verde (can sub your favorite tomato salsa, if desired)
Juice of 1 lime (about a tablespoon)
1 tablespoon chili powder
1 1/2 teaspoons  cumin
1 teaspoon dried oregano
1 teaspoon onion powder
1/2 teaspoon garlic powder or 2 cloves garlic, finely minced
1/2 teaspoon salt
1/4 teaspoon black pepper
3 cups cooked, chopped chicken (rotisserie chicken works great here - you can easily leave the chicken out for a meatless dish as well)
2-3 cups shredded Monterey jack and cheddar cheeses
Chopped, fresh cilantro for garnish
Instructions
Preheat the oven to 375 degrees. Lightly grease a 9X13-inch baking dish. Set aside.
In a large bowl, stir together the quinoa, black beans, tomato sauce, salsa verde, lime juice, chili powder, cumin, oregano, onion powder, garlic powder, salt, pepper, and chicken (if using). Taste and add additional salt and pepper to taste, if needed.
Spread half of the mixture in the prepared baking dish. Sprinkle with half of the cheese. Layer with the rest of the quinoa mixture followed by the remaining cheese.
Bake, uncovered, for 20-30 minutes until hot and bubbling. Sprinkle with fresh cilantro (optional) and serve with tortilla chips, if desired.
Notes
This recipe can easily be halved for a 9X9-inch baking dish.

My go-to method for cooking quinoa these days is to combine equal parts quinoa and water in the Instant Pot and cook on high pressure for 3 minutes, quick release. Otherwise, on the stovetop, combine 1 1/2 cups water or broth for every 1 cup of quinoa plus a pinch of salt. Bring to a simmer, cover, and cook on low for 14-15 minutes. Let stand 5-10 minutes off the heat.

One cup dry quinoa will yield about 2 1/2 to 3 cups cooked quinoa.

Recipe Source: from Mel's Kitchen Cafe