Pumpkin-Maple Hazelnut Bread
This moist, lightly spiced pumpkin-maple hazelnut bread has a hint of maple and is dotted with crunchy, nutty hazelnuts. Perfect for the fall!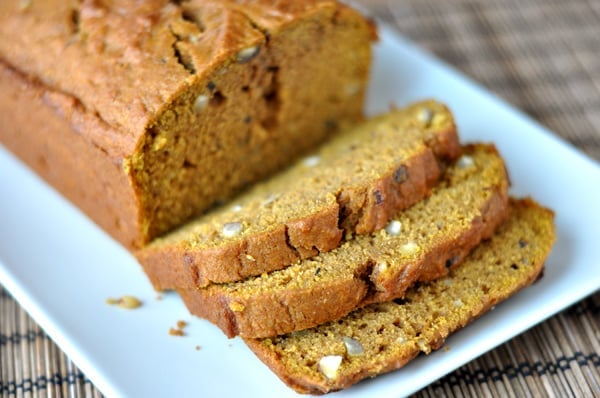 I've mentioned before how dreamy it is to have someone in my kitchen cooking for me! Yes, I am lazy. Yes, I admit it.
My sister-in-law, Kylie, told me about this pumpkin-maple hazelnut bread she had spied on Pinterest and asked if she could make it while she was staying here for a bit before moving into their new house. I thought about it for like, half a second, then heaved a big sigh and said, "I guess. If you want."
I think the real story was I begged her to make it for us until she couldn't say no any longer, but whatever the case, this bread was gone in a flash. And I'm not going to lie – most of the pieces were slathered in a healthy amount of nutella. You know, because we wanted to be true foodies and pair the hazelnuts in the bread with the decadent chocolatey hazelnut flavor of the nutella.
The moist, lightly spiced pumpkin bread has a faint hint of maple and is dotted with crunchy, nutty filberts (I say filbert, you say hazelnut…it's all the same!). The flavor is deliciously homey and perfect for the incoming fall.
And if I can implore you to try just one thing…spread a little Nutella on a piece in my honor. I promise, you'll be in heaven. That is, unless you don't like Nutella, which probably means we need to end our friendship immediately. Or rather, I'll just eat double the Nutella to make up for the lack thereof.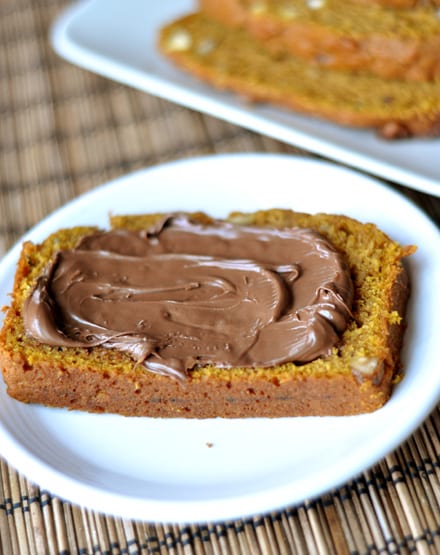 One Year Ago: Peanut Butter Chocolate Chip Cookies
Two Years Ago: My Favorite Boston Clam Chowder
Three Years Ago: Cookie Dough Truffles
Pumpkin-Maple Hazelnut Bread
Ingredients
1 cup whole wheat flour
1 cup all-purpose flour
1 tablespoon ground cinnamon
1 1/2 teaspoon baking powder
1/2 teaspoon baking soda
1/2 teaspoon salt
1 cup pure maple syrup (or honey, agave, or mild molasses)
1 cup solid pack unsweetened pumpkin puree
1/2 cup vegetable or canola oil
2 large eggs
1 teaspoon vanilla extract
1/2 cup chopped hazelnuts, toasted
Instructions
Preheat oven to 350 degrees F. Lightly grease and flour a 9X5-inch loaf pan. Set aside.
In a large bowl, whisk the flours, cinnamon, baking powder, baking soda, and salt together.
Add the maple syrup, pumpkin, oil, eggs, and vanilla, stirring until just blended. Do not overmix. Gently fold in the hazelnuts.
Spread into prepared loaf pan. Bake 40 to 45 minutes or until toothpick inserted in center of loaf comes out clean. Cool in the pan for five minutes, then turn out the bread onto a wire rack and let cool completely.
Recommended Products
As an Amazon Associate and member of other affiliate programs, I earn from qualifying purchases.
Recipe Source: from Enlightened Cooking via Pinterest
Disclaimer: I am a participant in the Amazon Services LLC Associates Program, an affiliate advertising program designed to provide a means for me to earn fees by linking to Amazon.com and affiliated sites. As an Amazon Associate I earn from qualifying purchases.