Pumpkin Pie Sheet Cake
This pumpkin pie sheet cake has a pumpkin pie filling top and a cakey crust. If you don't want the hassle of making a pie crust, try this!
I've professed my un-love for pumpkin pie before. I just…I just don't love it. I wouldn't necessarily consider myself a hater. It's just not something I crave.
But I was determined to give you a pumpkin pie something this holiday season. And I think you'll enjoy this. I did. And from a pumpkin pie un-lover, that speaks highly of this dessert.
Actually, if you were paying attention, you already had a sneak preview of this pumpkin pie sheet cake.
I included it in my step-by-step Thanksgiving plan last week and a few of you picked up on that and deserve Mel's Kitchen Reader of the Year for actually reading the fine details of what I blab about on here instead of just skimming.
You are awesome. All two of you that noticed.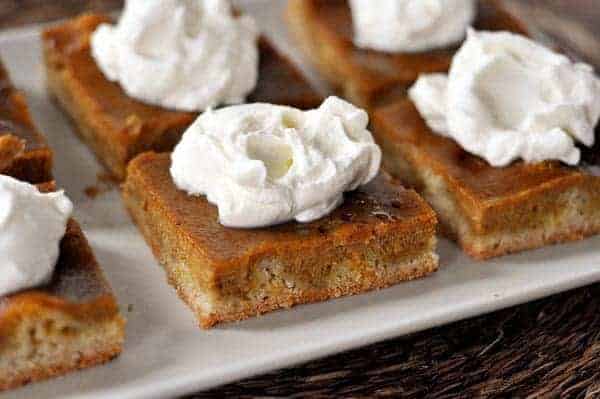 There really aren't any secrets or shockers with this recipe. In fact, I think the smooth, creamy pumpkin topping is almost exactly like traditional pumpkin pie filling from the back of that famous Libby's can.
The difference is that the crust on this sheet cake is a thicker layer than traditional pie crust and is buttery and cakey and totally delicious. And of course because it is a sheet cake, it's made in a 9X13-inch pan instead of a pie plate.
Anyway, these little pumpkin pie bars are awesome. Love, love, love them.
I think it has a lot to do with the crust to filling ratio matching up a little better than the wimpy, thin pie crust in the original pumpkin pie.
If you just can't break away from classic pumpkin pie, that's ok. While you are eating your slice, I'll be devouring my bar(s).
One Year Ago: Brownie Batter Truffles
Two Years Ago: Vegetable Sauté with Simple Cream Sauce
Three Years Ago: Mississippi Mud Cake
Yield: 12 servings

Prep Time: 15 minutes

Cook Time: 45 minutes

Total Time: 1 hour
Ingredients
Crust:
2/3 cup granulated sugar
1 1/2 cups all-purpose flour
1 teaspoon baking powder
1/2 teaspoon salt
8 tablespoons butter (1 stick), melted
1 teaspoon vanilla extract
1 large egg
Filling:
2 large eggs
3/4 cup sugar
1/2 teaspoon salt
1 teaspoon cinnamon
1/4 teaspoon ginger
1/4 teaspoon nutmeg
1/8 teaspoon cloves
1 (15-ounce) can pumpkin
1 (12-ounce) can evaporated milk (or 1 cup cream)
Sweetened whipped cream for serving
Instructions
Preheat the oven to 350 degrees F. Place an oven rack in the middle of the oven (too low and the crust will burn).
For the crust, whisk together the sugar, flour, baking powder and salt. Pour in the melted butter, vanilla and egg. Stir to combine (I use my hands at the end to combine the dough into a cohesive ball).
Press the dough into the bottom of a lightly greased 9X13-inch pan.
For the filling, you can use the same bowl that was used for the crust as long as there aren't any large clumps of dough remaining in it. Whisk the eggs until light and creamy. Stir in the sugar, salt, cinnamon, ginger, nutmeg, cloves and pumpkin. Whisk to combine. Stir in the evaporated milk or cream.
Pour the filling over the crust.
Bake for 35-45 minutes or until a knife inserted into the middle comes out clean. Don't overbake or the crust will be too tough.
Cool completely. Cut into squares and serve with sweetened whipped cream.
Recommended Products
As an Amazon Associate and member of other affiliate programs, I earn from qualifying purchases.

Recipe Source: adapted from Jamie Cooks It Up (sized it down from an enormous sheet cake to a 9X13-inch pan, used a homemade crust instead of a cake mix, etc.)
Disclaimer: I am a participant in the Amazon Services LLC Associates Program, an affiliate advertising program designed to provide a means for me to earn fees by linking to Amazon.com and affiliated sites. As an Amazon Associate I earn from qualifying purchases.