It's delicious uniqueness and utter whimsical quality make this root beef float fudge a one-in-a-million treat for any occasion!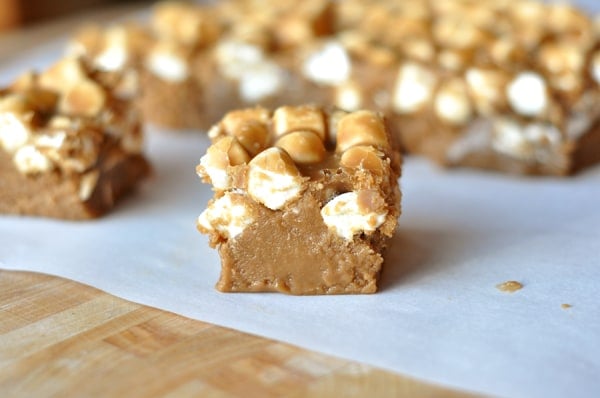 Root Beer Float Fudge. Seriously….why not?
Although this may be the most tooth-achingly sweet treat I have ever encountered, it's delicious uniqueness and utter whimsical quality make it a one-in-a-million treat for any occasion.
I was astounded at how truly root-beer-floatish this confection tasted! I'll admit, fudge doesn't rank that high up on my favorites list (I know, the shame!), but I quite enjoyed this terrific variation.
And my husband and kids? Well, let's just say that root beer float fudge has never seen such devoted fans.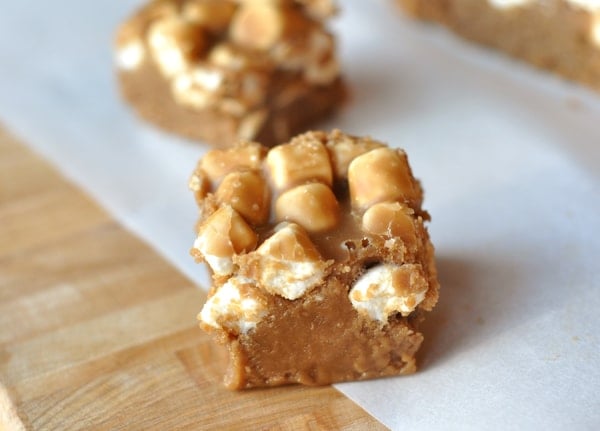 One Year Ago: Chocolate Chip Gingerbread Cake
Two Years Ago: Thick and Chewy Double Chocolate Cookies
Yield:
9-inch square slab o' fudge
Total Time:
1 hour
30 minutes
Ingredients
4 cups (2 pounds) sugar
1/2 cup (6 ounces) light corn syrup
1/2 cup (4 ounces) heavy cream
1 cup (8 ounces) milk
1 teaspoon salt
1 tablespoon pure vanilla extract
2 teaspoons root beer extract/flavoring
2 1/2 cups (4 ounces) mini marshmallows
Instructions
In a 4-quart saucepan, combine the sugar, corn syrup, cream, milk and salt. Clip a candy thermometer to the side of the pot and cook the mixture over medium heat, stirring constantly with a heatproof rubber spatula, until the mixture reaches 236 degree F on the thermometer. Remove the pot from the heat and stir in the vanilla and root beer extracts.
Pour the mixture into a 9X13-inch baking pan (you'll be mixing it again later). Leave the pan undisturbed to cool at room temperature for about an hour. (Do not stir during this step or the fudge can turn to sugar.)
When cool enough, pour the mixture into a large mixing bowl and mix on medium speed or by hand using a wooden spoon. If using a mixer, it will require approximately 3 minutes of mixing. Mixing by hand will take about 6 minutes. When the fudge begins to lighten in color, lose a bit of it's shine and thicken slightly, stir in the mini marshmallows and stop mixing.
Butter a 9-inch square baking pan, pour in the mixture, and spread evenly with an offset spatula. Allow the fudge to set and crystallize for 1 hour or longer at room temperature. It will lighten in color as it cools. Cut into desired pieces and serve. The fudge should be stored tightly covered at room temperature or refrigerated tightly sealed for longer storage.
Recommended Products
As an Amazon Associate and member of other affiliate programs, I earn from qualifying purchases.
Recipe Source: adapted slightly from Chocolates and Confections from the Culinary Institute of America
Step-by-Step Photos:
Stir together the ingredients, except the extracts, in a saucepan. Two pounds of sugar takes a while to dissolve. Don't stress.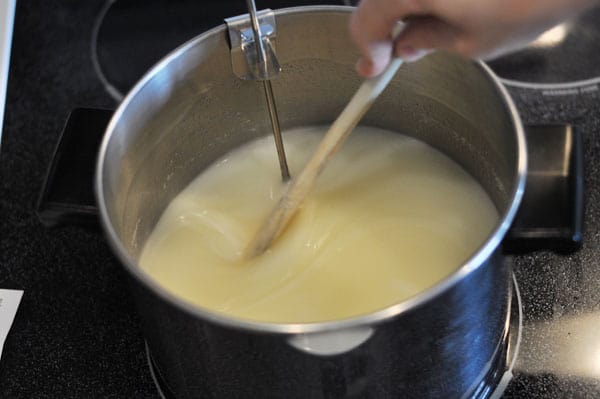 It will start looking smooth and combined.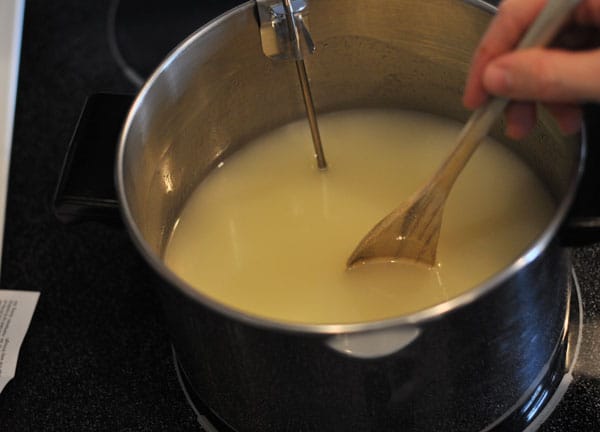 Start cooking the fudge, stirring constantly.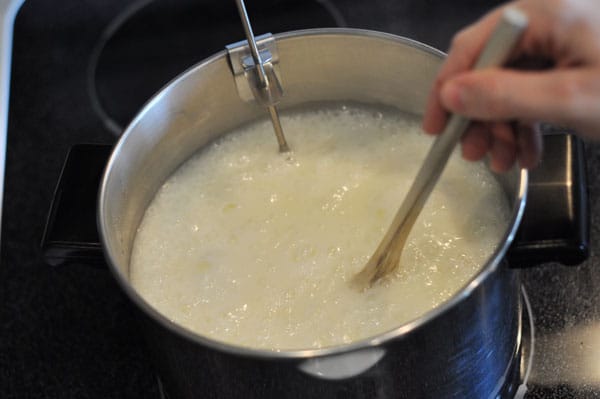 Keep going. It will bubble and foam so make sure you are using a large enough pot to accommodate the bubblage.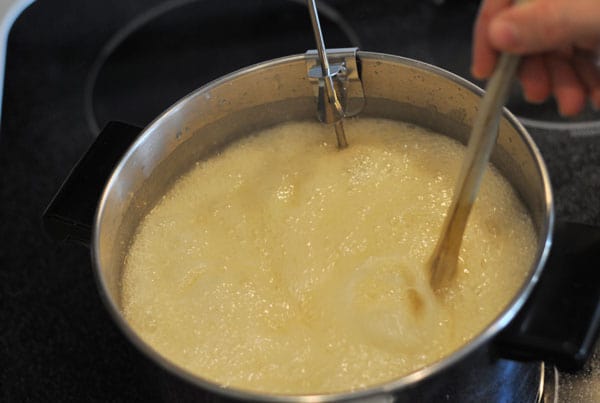 Take it off the heat when your candy thermometer registers 236 degrees F.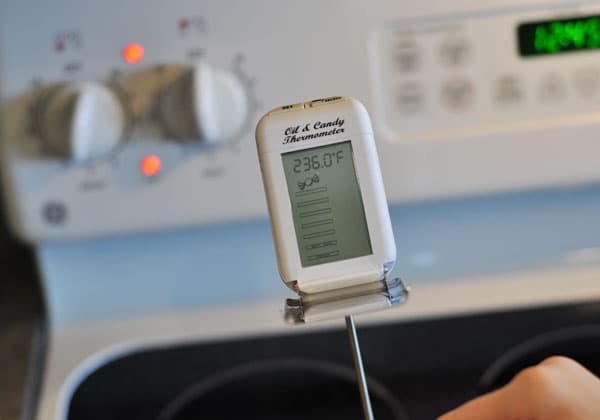 Pour in the root beer and vanilla extracts.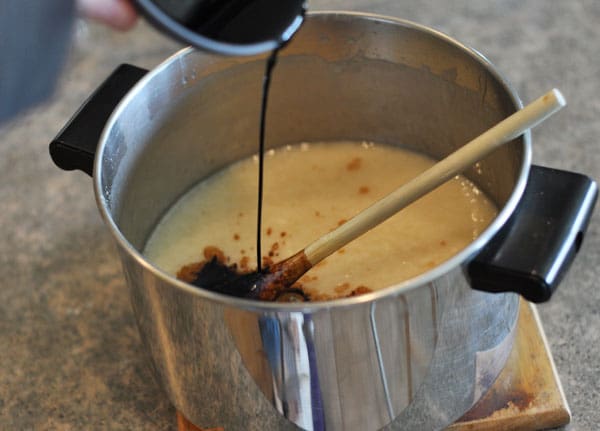 Stir 'em up.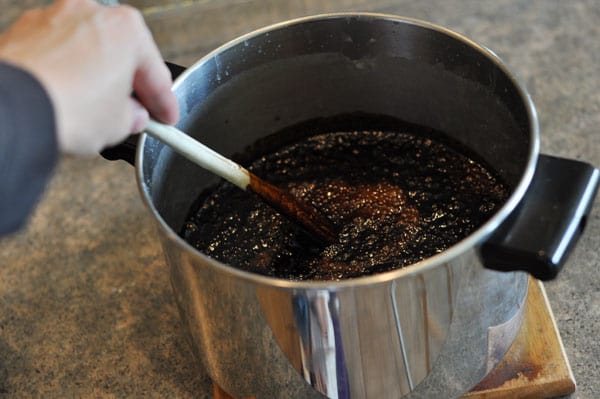 Pour the mixture into a 9X13-inch pan and let it cool undisturbed. Don't touch it, in other words.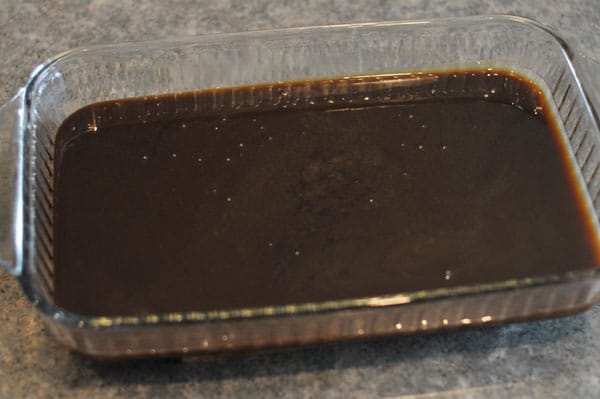 Scrape the mixture into a bowl and stir it with a wooden spoon or beat it with a mixer.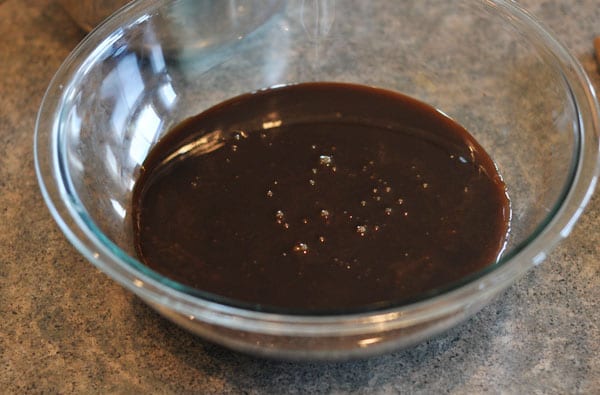 Keep going until the mixture is lighter in color and has thickened slightly and lost some of it's shine.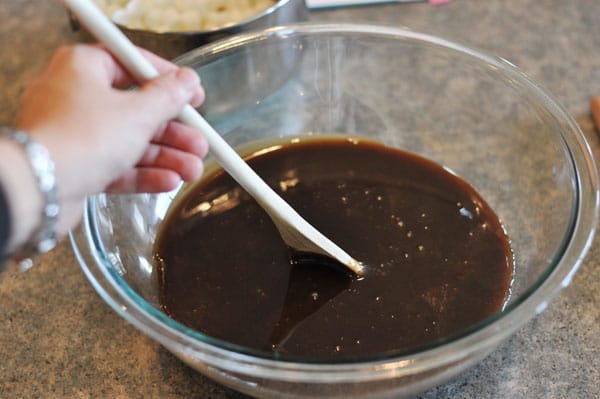 The mixture is ready for the marshmallows.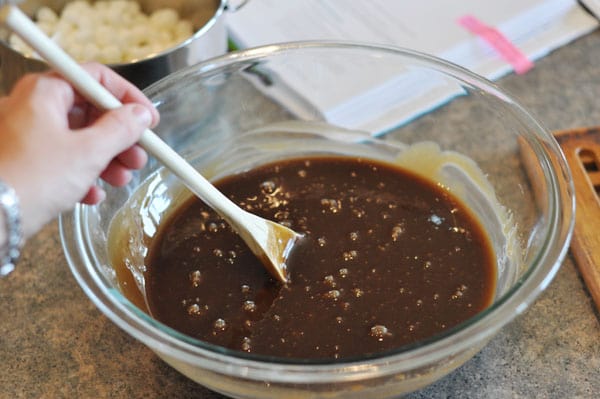 Pour them in.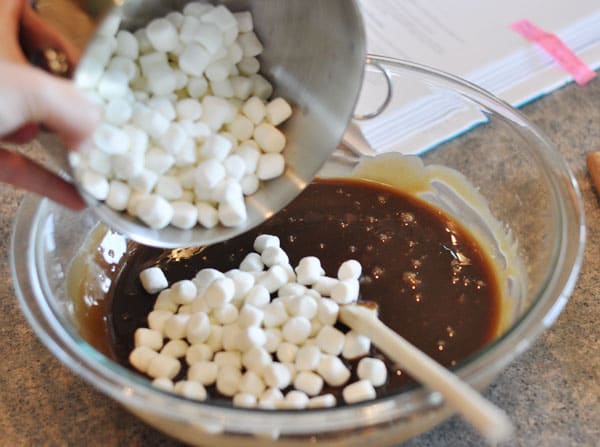 Stir them up.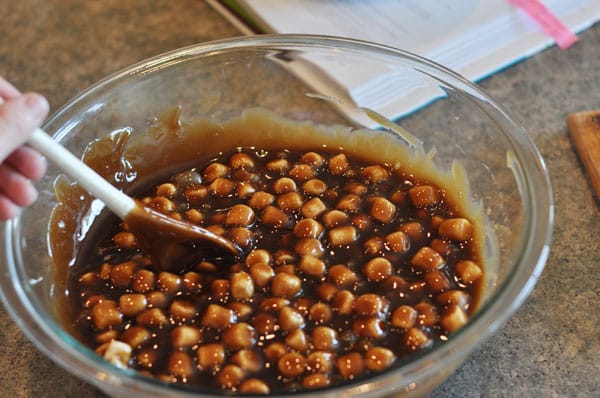 Prepare your buttered pan if you haven't already…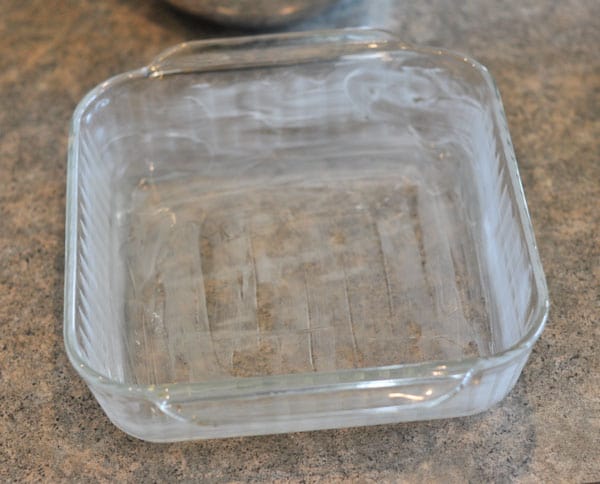 …and pour in the fudge.
Let it cool to room temperature. It will lighten in color. Cut into pieces and serve!