Rosemary Chicken and Wild Rice
If you want a down-home, filling, hearty and healthy meal that is packed with delicious flavor, then this rosemary chicken and wild rice is for you.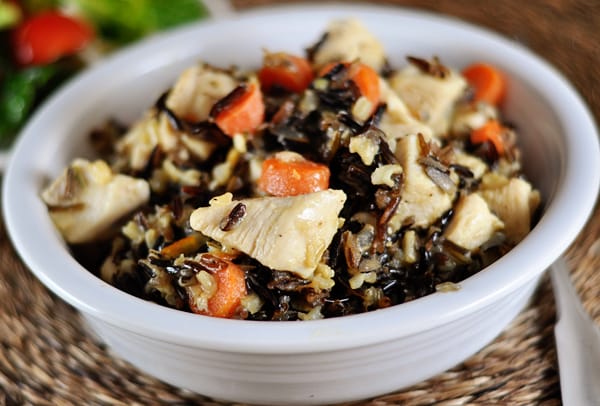 Let's be serious here. This meal is not going to win any awards for looks. And it isn't gourmet. In fact, you should just pass this by if you are looking for an elegant dinner for company.
But if you want a down-home, filling, hearty and healthy meal that is packed with delicious flavor and is a snap (read: quick and easy) to prepare, then this rosemary chicken and wild rice fits the bill nicely.
A unique pairing of flavors, sauteed chicken gets a boost from a smidgeon of orange marmalade and a bit of Dijon mustard.
Rosemary adds the fragrant taste to the dish and the nutty wild rice compliments the other components beautifully.
If you've never used orange marmalade, don't be afraid! I hadn't either before this dish and when I went to look for it in the grocery store (no, I wasn't up to making my own – although I hear it's pretty easy!), I was surprised at the selection. I chose an all-natural brand that had very few ingredients: oranges, lemon, water and sugar, and was pleasantly surprised at the fresh, bright taste it added to this chicken dish.

Simple and no-fuss, this meal is perfect for a busy weeknight! I served this with a simple green salad and slices of buttered whole wheat bread.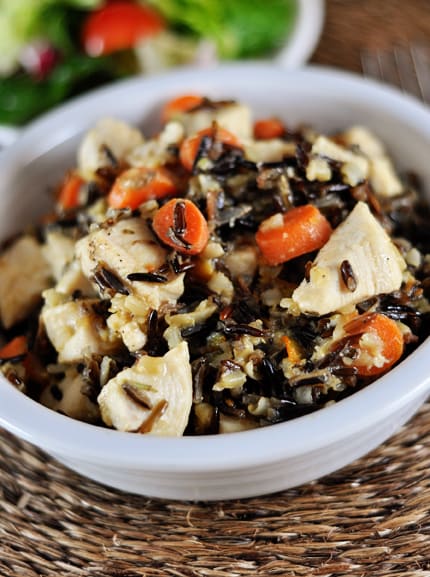 One Year Ago: Magical Layered Brownies
Two Years Ago: Delmonico Potato Bake
Three Years Ago: Tri Color Pasta Salad
Rosemary Chicken and Wild Rice
Ingredients
1 cup wild rice or a wild rice/brown rice mix
1 tablespoon olive oil
2 garlic cloves, minced
1 1/2 pounds boneless, skinless chicken breasts, cubed (about 2 large chicken breasts)
2 carrots, diced or 14-16 baby carrots, diced
1 tablespoon dried rosemary or 2 tablespoons finely chopped fresh rosemary
1/3 cup orange marmalade
2 tablespoons Dijon mustard
1/4 teaspoon ground black pepper
Instructions
In a medium pot, cook the wild rice according to package directions. If desired, sub the water for chicken broth and 1/2 teaspoon salt to give the rice a boost in flavor.
While the rice is cooking, heat the oil in a large 12-inch nonstick skillet over medium heat. Add the garlic and saute, stirring constantly, until the garlic is golden and fragrant, 1-2 minutes. Add the chicken and carrots and saute, stirring frequently, 3-4 minutes. Stir in the rosemary and cook until the chicken is cooked through, 3-4 minutes longer.
Stir in the marmalade, mustard and pepper. Cook, stirring frequently until heated through, about 3 minutes. Stir in the hot rice. Toss to combine. Serve immediately.
Notes
Orange Marmalade: marmalade can usually be found near the jams/jellies. Look for a brand that is all-natural or low in sugar to let the real taste of the orange shine through in this dish.
Rice: also, plain wild rice can be a bit expensive or hard to find but I have easily found a wild rice/brown rice mix (I've found it at Walmart and several other large grocery chains) and that is what I used in this dish.
Recommended Products
As an Amazon Associate and member of other affiliate programs, I earn from qualifying purchases.
Recipe Source: adapted from Weight Watchers New Complete Cookbook