Savory Spiral Stuffed Rolls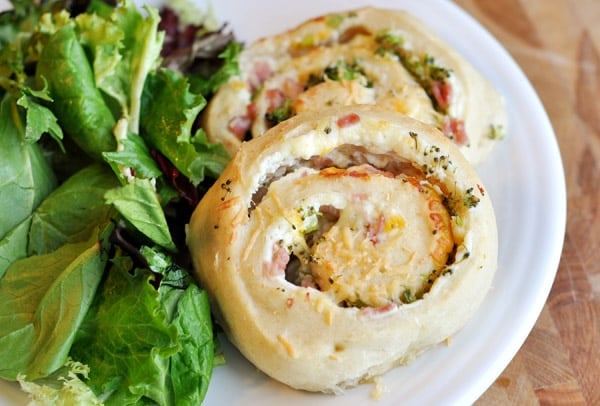 Let's pretend I haven't made these three times in the last month.
Let's pretend I didn't eat at least five each time I made them.
Let's pretend I don't have issues with carbohydrate-cream-cheese-self-control.
Let's pretend these little savory spiral rolls stuffed with a creamy, ham and broccoli filling won't change your life. Because they will.

Let's pretend these little beauties don't make an absolutely perfect dinner served with a green salad and fruit.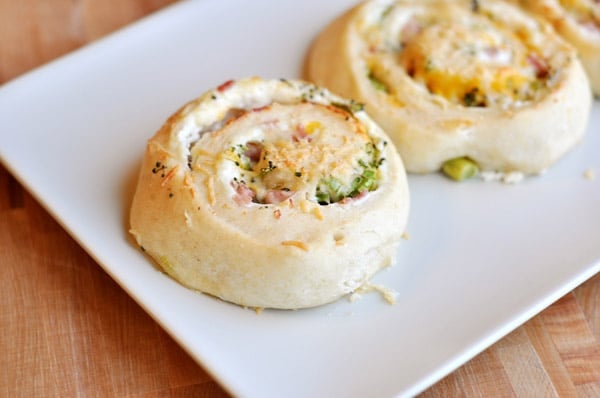 One Year Ago: Sausage and Spinach Penne Skillet Supper
Two Years Ago: Cinnamon Rolls
Savory Spiral Stuffed Rolls
Yield: 12-16 rolls

Prep Time: 20 minutes

Cook Time: 20 minutes

Additional Time: 40 minutes

Total Time: 1 hour 20 minutes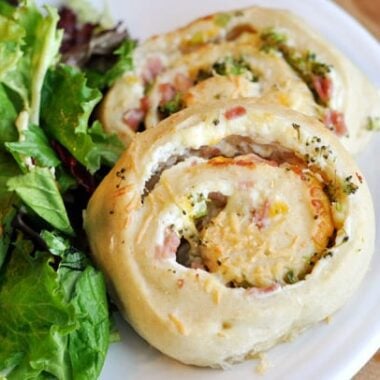 Ingredients
1 recipe roll dough (that yields about 12 rolls), I used this recipe using half wheat flour
12 ounces cream cheese, softened
1/4 cup (1/2 stick) butter, softened
2 cups chopped ham (leftover ham or deli ham works great here)
1 1/2 cups finely chopped broccoli
2 cups shredded cheese (Swiss, Cheddar..options are limitless)
1 cup freshly grated Parmesan cheese
1 cup finely chopped green onions
Instructions
Follow the recipe for your roll dough until the dough has risen. Punch down the dough and roll the dough out into a large rectangle about 1/2-inch thick (using the french bread roll recipe, I rolled my dough to about 13 inches by 17 inches).
In a small bowl, cream together the butter and cream cheese. Spread the rolled out dough with the butter/cream cheese mixture. Top with the ham, broccoli, cheese, Parmesan cheese, and green onions (see the pictures below). Roll the dough up, pinching the seam to seal. Slice the roll into about 1-inch segments. Place the rolls on a lightly greased baking sheet and cover with plastic wrap. Let the rolls rise until nearly doubled and bake at 350 degrees for about 20 minutes, until lightly browned and bubbly.
Notes
Flour Amount: as with all yeast doughs, I never use the flour amount called for in the recipe as a hard fast rule (unless a weight measure is given and then I pull out my kitchen scale). Because humidity, temperature, altitude and a multitude of other factors can impact how much flour you need in your yeast doughs, I always judge when to quit adding flour by the texture and look and feel of the dough rather than how much flour I've added compared to the recipe.

Tutorial: this tutorial on yeast may help identify how a perfectly floured dough should be.
Recommended Products
As an Amazon Associate and member of other affiliate programs, I earn from qualifying purchases.

Recipe Source: expanded upon from Marisa at What's For Dinner
I used my handy-dandy roul'pat for these spiral rolls. My rectangle, all rolled out, was about 17 inches by 13 inches.

Spread the dough with the butter/cream cheese mixture.

Layer all the toppings on the dough. It might look a little overloaded but it works, I promise.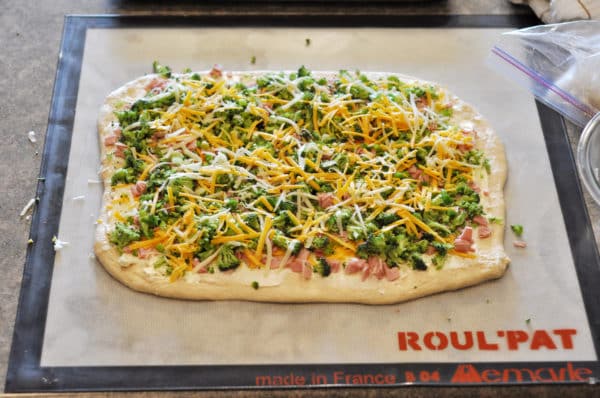 Start rolling by bringing the lower edge up and start (as tight as you can) rolling the dough, just like you would with cinnamon rolls.

Keep rolling.

When the dough is rolled up, pinch the seam to seal.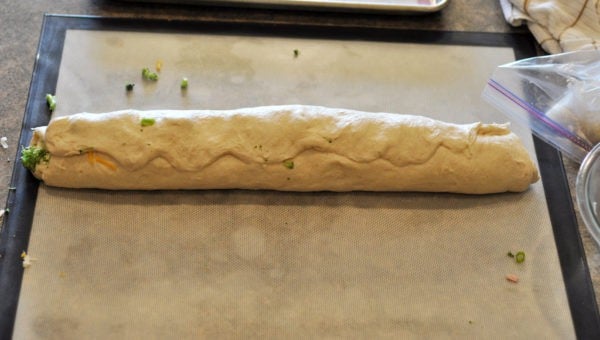 I start by cutting the roll in half and then slicing outward into about 1 to 1 1/2-inch slices.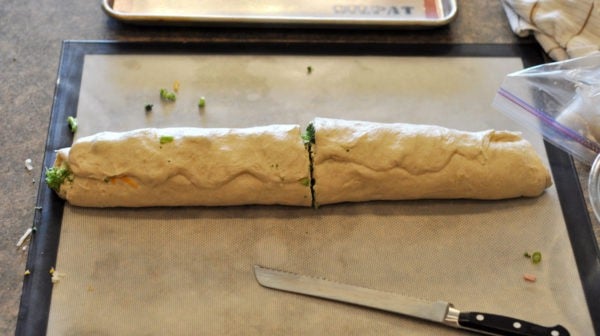 Place the rolls on a lightly greased (or lined baking sheet) and let them rise.