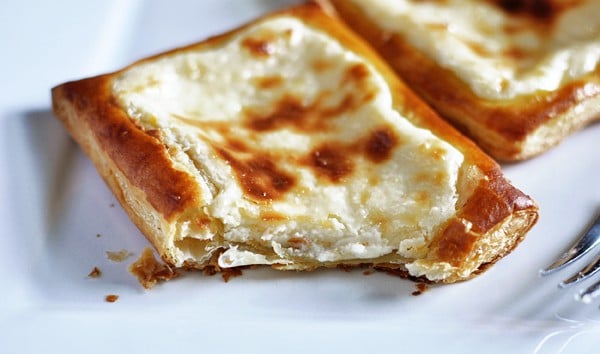 I feel like I've been harping on quick, simple recipes and meals lately. Sorry if that offends your gourmet spirit.
I promise that fast food (I'm talking fast food like homecooked fast food, not fast food like dollar menu fast food) can taste delicious even if it is simple and quick to prepare.
Because of my latest fetish with easy recipes, I was thrilled beyond thrilled when out of the blue, America's Test Kitchen sent me their newest cookbook, The Quick Family Cookbook, because the food in here is seriously talking my language.
No-fail is the word that comes to mind with ATK's tested, tested, tested recipes and the wonder of this cookbook is that you get classically delicious America's Test Kitchen recipes with minimal fuss, time and ingredients. Oh, I am in love with this book.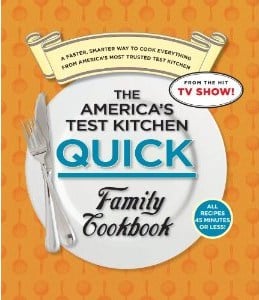 And I'm giving away TWO today! Just leave one comment on this post telling me your most used, most loved cookbook. I have a feeling this is going to be the one haunting the counters of my kitchen (uh, when we get a house) for a long time.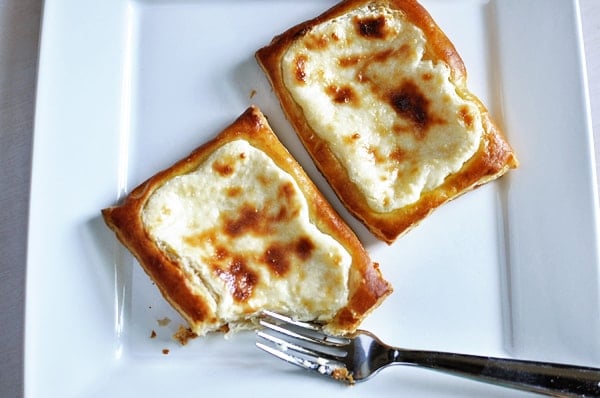 In honor of the giveaway, I chose a recipe from the book to make and share with you.
I should have made some stellar main course fare that will save your bacon on any given Tuesday night; however, I couldn't resist these delicious cheese Danish pastries.
They are so easy, so elegant and so delicious, if you close your eyes while eating one, you might just believe you are smack dab on the bustling streets of Paris – oh wait, think of some city in Denmark! – eating an authentic pastry.
Not that I ever have had that experience, but take my word for it – these babies get the job done for a no-fuss pastry. Make them and love them. And in the meantime, keep an eye out for a truly sanity-saving recipe coming Friday and don't forget to enter the giveaway!
Note: One copy of the cookbook sponsored by America's Test Kitchen, the other giveaway copy provided by me. If you've been around this here blog long enough you'll know that I don't do product/cookbook giveaways hardly ever and trust me, I get a lot of snarky emails from companies and readers upset because I won't accept their free food products and other "stuff" for shameless promotion on my blog. The only exception I really ever make is for America's Test Kitchen cookbooks because I swear by their recipes and I have bought many of their cookbooks myself. I figure if I would go out of my way to buy it or own it on my own dollar then it is worth sharing with all of you!

Yield: 6 servings

Prep Time: 15 minutes

Cook Time: 14 minutes

Total Time: 29 minutes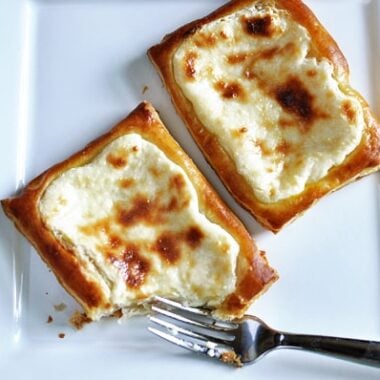 Ingredients
8 ounces cream cheese, light or regular, softened to room temperature
4 tablespoons granulated sugar
1 teaspoons grated lemon zest
1/2 teaspoon vanilla extract
1 sheet frozen puff pastry, thawed (9 1/2 by 9-inch)
1 large egg, lightly beaten with 2 tablespoons water
Instructions
Adjust an oven rack to upper-middle position and preheat the oven to 425 degrees F. Line a rimmed baking sheet with parchment paper. In a small bowl, stir together the cream cheese, sugar, lemon zest and vanilla. Set aside.
Roll the pastry into a 12 by 9-inch rectangle on a lightly floured counter, making sure it doesn't stick to the counter while rolling. Cut the rectangle into six 4 1/2 by 4-inch rectangles (cut it in half the long way and then cut each strip into thirds). Transfer the pastry rectangles to the baking sheet, spacing about 1 inch apart. Using the tip of a paring knife, score a 1/2-inch border around the edge of each pastry, then brush the borders with the egg wash (no fear - if you don't have a pastry brush, using your fingers works just as well!). Prick the pastry with a fork every 1 inch or so within the border (see the picture below for a visual). Place a generous 2-3 tablespoons of filling in the center of each pastry and spread it into an even layer leaving the border uncovered.
Bake the pastries until fully puffed and golden about 12-14 minutes (watching carefully so they don't overbrown). Serve the pastries warm or at room temperature.
Recommended Products
As an Amazon Associate and member of other affiliate programs, I earn from qualifying purchases.
Recipe Source: adapted slightly from America's Test Kitchen Quick Family Cookbook