Slow Cooker Sweet and Spicy BBQ Pot Roast
This slow cooker sweet and spicy BBQ pot roast is one of the most delicious and tender roasts, and the drippings from it make a tasty gravy.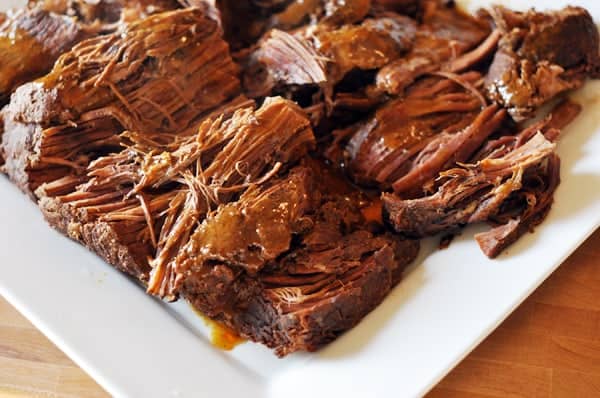 Pot roast comes in many forms, I am learning. Take this recipe for instance. Billed as "pot roast," it differs in flavor and ingredients from the classic pot roast I grew up eating but still manages to be mighty tasty. And the bonus is that it has a secret ingredient you can quiz your dinner guests about.
Any guesses? Don't cheat and look at the recipe below…
Ok, I'll tell you. Root beer.
The carbonated, sweet root beer combined with the mildly spicy enchilada sauce and kicky hot sauce pairs into one of the most delicious and tender roasts I've had in a long time.
Even though the end result has flavors a bit different than a traditional pot roast, we still served this up with potatoes since the drippings from the roast made a tasty, flavorful gravy.
Fantastic recipe and oh, so needed for those days that just scream "PULL OUT THE CROCKPOT, MAN!" Thanks, Emily!

The sky is the limit for sides with this dish: You could serve it with salt-crusted rosemary potatoes or our favorite cheesy potatoes. Throw in a steamed vegetable, dinner roll if you are so inclined, and/or a fruit or green salad and wow, that's one delectable meal.
One Year Ago: Hoisin Chicken Rice Bowls
Two Years Ago: Sticky Coconut Chicken
Slow Cooker Sweet and Spicy BBQ Pot Roast
Yield: 8-10 servings

Prep Time: 10 minutes

Cook Time: 10 hours

Total Time: 10 hours 10 minutes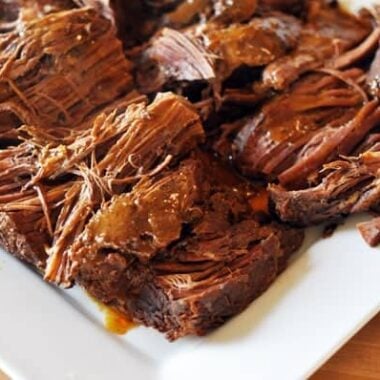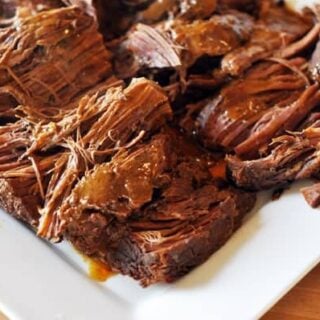 Ingredients
4-7 pounds boneless chuck roast, trimmed of large areas of fat
1-2 tablespoons saute spice (equal parts garlic powder, salt and black pepper)
2 tablespoons vegetable oil
1 can root beer (if you use a brand other than A&W, please don't tell my husband)
1 can (around 9-ish ounces, the size of a soup can) red chile enchilada sauce
2 tablespoons Worcestershire sauce
1 tablespoon hot sauce (I like the Tapatio brand)
3 tablespoons cornstarch
¼ cup of water or milk
Instructions
Pat the roast(s) dry with a paper towel; then rub the saute spice all over the roast. Heat the oil over medium-high heat in a large skillet or pot until it is shimmering. Brown the roast on all sides in the hot oil, for about 1 minute on each side. The oil should be hot enough to get the roast nicely browned without burning it.
Transfer the roast to a 4-8 quart slow cooker. In a bowl, combine the root beer, enchilada sauce, Worcestershire sauce and hot sauce and pour over the roast. Cover and cook on low for 8-10 hours or high for 5-6 hours.
Remove the roast, reserving juices in the slow cooker. Tent the roast with foil to keep warm. In a small bowl, combine the cornstarch and water/milk, stirring well until the cornstarch is completely dissolved. Stir the cornstarch mixture into the juices in the slow cooker. Cook, uncovered, on high for 15 minutes or until thickened, stirring occasionally. Serve sauce over roast with mashed potatoes or any other sides that float your boat.
Notes
Browning the Meat: I used to avoid recipes that called for browning the meat before adding it to the crockpot. Unnecessary, I thought! But I've since changed my ways, realizing that a quick sear in a hot pan can add a delicious dimension of flavor that is well worth the extra few minutes.

Leftovers: also, the leftovers of this roast, combined with some BBQ sauce make phenomenal BBQ beef sandwiches.
Recommended Products
As an Amazon Associate and member of other affiliate programs, I earn from qualifying purchases.

Recipe Source: adapted from Emily, a reader, originally from Southern Living Easy Weeknight Favorites