Smoked Mozzarella and Penne Spinach Salad
This simple smoked mozzarella and penne spinach salad makes for a quick and tasty meatless weeknight dinner!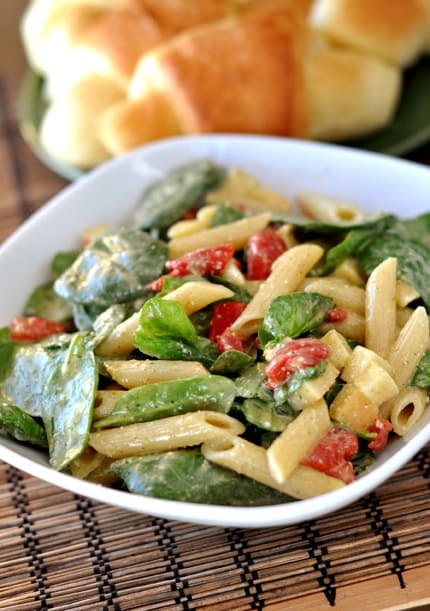 This simple spinach and pasta salad makes for a quick and tasty weeknight dinner.
I served this as a meatless meal with these buttery crescent rolls alongside, but you could easily add grilled chicken to the salad to make a more complete, hearty meal.
A tangy, fresh, light dressing compliments the tender spinach and pasta and the addition of sweet roasted red bell peppers and smoked mozzarella cheese transitions this from an ordinary salad to a unique and delicious salad.
Perfect for the warmer temps we've been having (albeit temporarily before snow fell again), this healthful and quick meal really hit the spot.
If you can't find the smoked mozz (this is where I count my blessings I live in the cheese capital of the universe), my personal feeling is you easily could sub in another kind of cheese…I'm thinking feta, regular mozz, fontina…whatever floats your cheese-lovin' boat!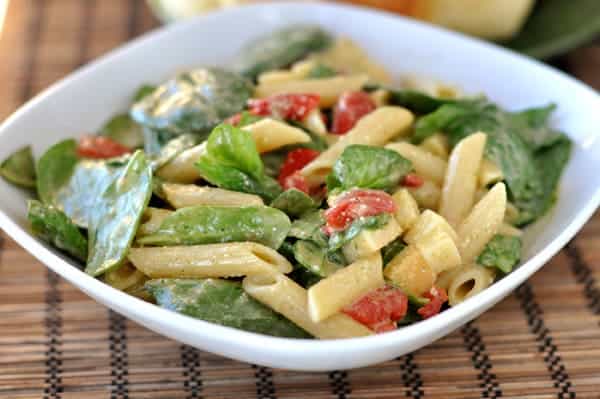 Smoked Mozzarella and Penne Spinach Salad
Yield: 6-8 servings

Prep Time: 10 minutes

Cook Time: 12 minutes

Total Time: 22 minutes
Ingredients
Parmesan Dressing:
1/4 cup grated Parmesan cheese
1/2 cup chopped fresh flat-leaf parsley
1/2 cup low-fat mayonnaise
1/4 cup white wine vinegar
3 cloves garlic, finely minced
Pinch of cayenne pepper
Salt and pepper to taste
Salad:
12 ounces penne pasta
3 cups packed baby spinach
12 ounce jar roasted red peppers, drained and diced
4-6 ounces smoked mozzarella cheese, diced
Instructions
For the dressing, combine the Parmesan cheese, parsley, mayo, vinegar, garlic, cayenne and salt and pepper in a blender and process until the dressing is smooth. Store in the refrigerator until ready to serve. The dressing can be made up to two days ahead of time.
To prepare the salad, cook the pasta in a large pot of salted water until just tender, al dente. Drain the pasta into a colander and run cold water over it and drain well. In a large mixing bowl, combine the cooked pasta, spinach, roasted red peppers and smoked mozzarella. At this point, the salad and dressing can be refrigerated for a couple of hours separately before serving.
Toss the salad with the dressing right before serving.
Notes
Grilled Chicken: this salad would be delicious with grilled chicken pieces tossed in or served alongside.

Make Ahead: also, the salad can be made up to two days in advance.

Dressing: store the dressing in a container, the pasta base in a container and add the spinach and dressing to the pasta right before serving.

Cheese: if you can't find smoked mozzarella, many other cheeses could be subbed – regular mozz, fontina, feta – the options could be endless with this salad!
Recommended Products
As an Amazon Associate and member of other affiliate programs, I earn from qualifying purchases.

Recipe Source: adapted from The Whole Foods Market Cookbook
Disclaimer: I am a participant in the Amazon Services LLC Associates Program, an affiliate advertising program designed to provide a means for me to earn fees by linking to Amazon.com and affiliated sites. As an Amazon Associate I earn from qualifying purchases.