This tri-color pasta salad is my favorite pasta salad in the history of ever. The creamy, simple dressing is perfect for the tender pasta. I've been making it for years; it's a keeper!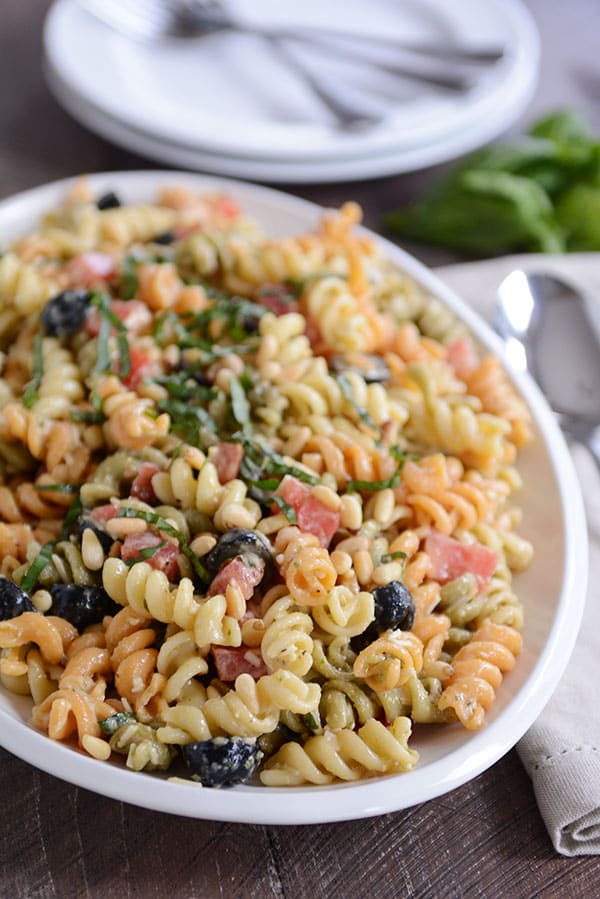 Of all the pasta salads I've loved in my life (hint: I've loved a lot), this tri-color pasta salad is at the tippy tippy top of the ones I can't live without. I've been making it for years, after my Aunt Marilyn passed it on to me over seven years ago, and it is still a huge family favorite.
In fact, I can easily say this pasta salad has appeared at more potlucks, BBQ's, easy Friday night dinners, and family gatherings than I can even count. It is a little bit classic, a little bit unique, and a lot yummy.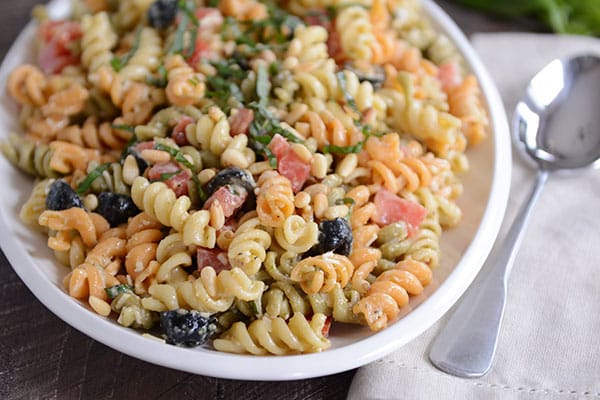 If you've made it, you know the fresh basil and little kick of pesto take it from average to extraordinary. And don't even get me started on the pine nuts. They are everything. (But don't worry, I've offered a substitution in the notes of the recipe if you are allergic or opposed to paying an arm or a leg for them.)
I am also a little proud of myself for not spending the entirety of the post just on the looks of this pasta salad (I didn't want to appear shallow). It is pretty, no doubt about it, and we all know looks definitely get you part of the way there in terms of rock star points.
But the real clincher is how wonderfully delicious it is. And the fact that it comes together quickly and painlessly is simply just another pasta salad bonus. I don't know about you but I kind of like pasta salad bonuses.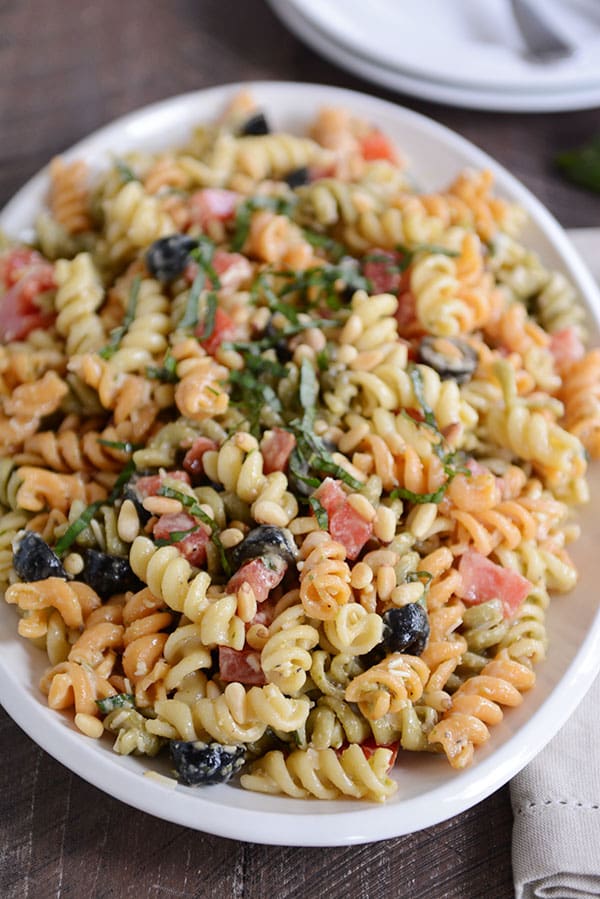 If you're looking for the perfect pasta salad for your Labor Day shenanigans, this is the one. I guarantee this tried-and-true tri-color pasta salad recipe will be the hit wherever you take it (even if you just stick around home and dig right into the bowl with a fork).
Have you perused my list of Best Recipes yet? A recipe has to be pretty darn amazing to make the cut. Think of the Best Recipes section as a a one-stop guide to the best of the best recipes so you don't have to spend hours searching for the perfect "insert recipe you want here."
This salad easily makes it onto the Best Side Dishes list. Easily.
I've subbed unsalted sunflower seeds for the pine nuts before with good results (although pine nuts are my preference; love them!).
You can use regular tomatoes in place of the Roma; I like to give them a light squeeze over the sink after slicing in half to get rid of a bit of water before adding them to the salad.
The original recipe called for 2 teaspoons sauté spice (equal parts black pepper, salt and garlic powder). I've scaled that amount down over the years and broken it out into separate ingredients in the recipe.
Ingredients
12-ounce package tri-color rotini pasta, cooked and drained
2/3 cup creamy Caesar dressing
1/2 teaspoon coarse, kosher salt
1/4 teaspoon black pepper
1/4 teaspoon garlic powder
3 roma tomatoes, diced
1 (6-ounce) can black olives, drained and chopped
1/4 cup finely diced red onion (or green onions)
3/4 cup shredded parmesan cheese
6-10 fresh basil leaves, cut into strips or torn into pieces, plus more for garnish, if desired
1/4 cup basil pesto
1/2 to 1 cup toasted pine nuts (optional - see note above for substitutions)
Directions
Cook the pasta in a large pot of boiling, salted water according to package directions. Drain and coat with the Caesar dressing while still warm.
Add the rest of the ingredients, except for the pine nuts and extra basil. Toss well to combine. Add additional salt and pepper to taste, if needed.
Refrigerate until ready to serve (4-8 hours). If the pasta salad seems dry after refrigerating, add a little more Caesar dressing and stir to combine. Before serving, top with pine nuts and fresh basil, if desired.
https://www.melskitchencafe.com/tri-color-pasta-salad/
Printed from Mel\'s Kitchen Cafe (www.melskitchencafe.com)
Recipe Source: from my Aunt Marilyn

Recipe originally posted February 17, 2009; updated today with new pictures and fine-tuned details.