Snapshot Saturday
Here's little Cam in her first pigtail. I nearly cried with joy. I've been waiting a l.o.n.g. time to try out pigtails in a little girl's hair. Granted, it's a bit of a stretch, considering there might be ten or twelve hairs stuck in that pigtail…but adorable nonetheless.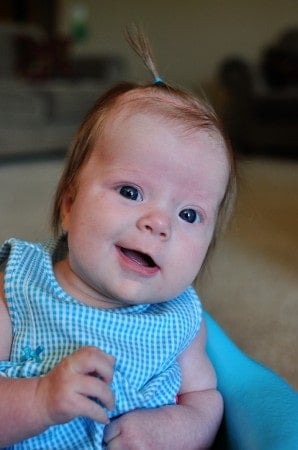 I need a little help, though. This little baby girl + lots of hair thing has me stumped. I'm trying to wrap my mind around all the cute stuff made just for a little girl's head. If you are in the know with girlie hair stuff – where do you get hair accessories (headbands, bows, ties, etc) for little girls? Do you buy them? Where? Do you have a pinterest board? Uh, link, please! Do you make them? I really, really need some technical assistance so my daughter-among-sons looks cute. I'm kind of ethically against the hairbows that are larger than the child's head, but I'm willing to give anything a shot if it will help out Cam's plethora of hair. Help me out! Sincerely, Hairbow Challenged. (And if you could care less about girlie hair stuff…and I can't blame you…head on outta here and check back Monday for my favorite dinner of the summer.)
Disclaimer: I am a participant in the Amazon Services LLC Associates Program, an affiliate advertising program designed to provide a means for me to earn fees by linking to Amazon.com and affiliated sites. As an Amazon Associate I earn from qualifying purchases.