Snapshot Saturday
The subtitle of this post is really "How to Survive Hotel Life with 5 Kids and a Slow Cooker."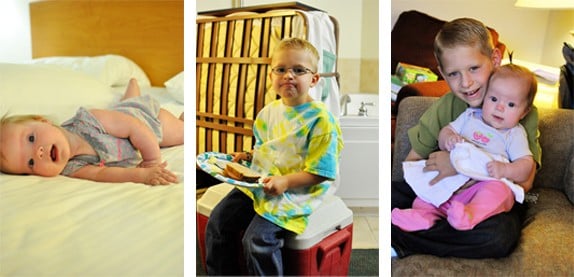 Baby Cam is finally rolling from her tummy to her back. And actually, I'm surprised it's happening at all since she has hardly been laid down to play on her back or tummy since we've been living in the hotel. Sorry, I'm a germ freak. My little engineer eats his lunch everyday perched on the cooler while his brother's enjoy the benefits of eating lunch at school and a real table. And my oldest son, Jackson, works really hard to get dressed, get downstairs to the continental breakfast (he's loving the Cocoa Puffs – gag! – since his mean mother never buys them for him), and back up to give his baby sis some snuggles before the school day starts.
I've mentioned several times here and on Facebook that armed with my slow cooker, panini press, and rice cooker, I've been rockin' the home cooked meals during our hotel stay. Well, maybe I shouldn't say "rockin'" but it sure beats eating at the Dairy Queen every meal. I am living proof that hotel stay doesn't necessarily mean the loss of a decent dinner. Although if I said I'm fine living without a real kitchen forevermore, I'd be a major liar.
Here's what we've made so far:
Ultimate Beef Stroganoff (with steamed rice)
Crockpot Lasagna from Christy's blog (made mine meatless since I didn't have a way to brown hamburger)
BBQ Pulled Pork Sandwiches (and if you think I made homemade buns, you are crazy!)
A version of this popular Italian chicken made without the cream of chicken soup (I'll share my variations in a future post)
Grilled English muffins with ham and swiss (on the panini press)
I also have yet to try this macaroni and cheese in the rice cooker (seriously, get out!) and a few others that many of you recommended on Facebook. The advantage we have is that in our hotel, we have a mini fridge which has been a lifesaver. We don't have a home yet but we have a few options that may mean our hotel stay might be nearing it's end. Until then, at least I know dinner can be a no-brainer (now, entertaining a 3-year old and his three brothers for hours after schoool…that's a different matter!).
Disclaimer: I am a participant in the Amazon Services LLC Associates Program, an affiliate advertising program designed to provide a means for me to earn fees by linking to Amazon.com and affiliated sites. As an Amazon Associate I earn from qualifying purchases.