Snapshot Saturday: Cam's Kitchen Cafe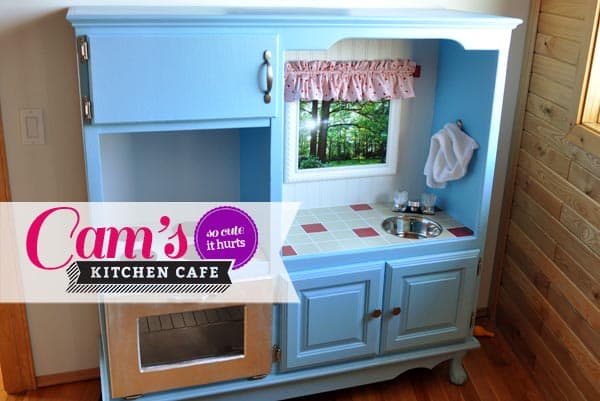 About a month or so before Christmas, I had this great idea to build Cam a play kitchen. Or in other words, I told Brian to break out his power tools because Cam was going to be getting a play kitchen for Christmas. Inspired by my old high school friends creations (hey Rocky and Jolyn!), I shared their photos with Brian. And then after a bit of searching online realized there are entire Pinterest worlds dedicated to making play kitchens out of entertainment centers.
Brian, the loveable procrastinator that he is, started this project about five days before Christmas. He sweetly talked an owner out of their entertainment center for $25 and got to work. Here it is in all its beauty. Just ignore the garagey atmosphere; it's a garage for Pete's sake. We put the piano bench as a blockade in front of the house door to the garage so the project could be worked on without little prying eyes (and covered it up with a tarp during the day).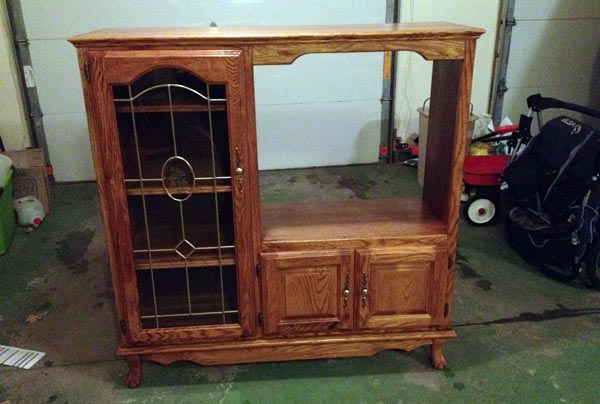 To say that the next five days involved nearly all-nighters and feverish woodworking and painting skills to get this baby done before Christmas morning is an understatement. I was put in charge of painting which morphed into a new assignment: the countertop (when Brian realized I wasn't quite the perfectionist he needed in a painter – if you know my husband, you know one thing: that he is a perfectionist of epic proportions).
Ah, the countertop. The bane of my existence. The reason my eyes were bloodshot for three days. My plans to paint this baby with detailing tape (dude, I saw the idea on Pinterest!) didn't exactly work. So I painstakingly had to touch up bled through paint and then use my Silhouette to finally cut out thin vinyl strips for the grout. Not that you really care. I don't blame you. In the end, it looked kind of like a counter and that's all that matters.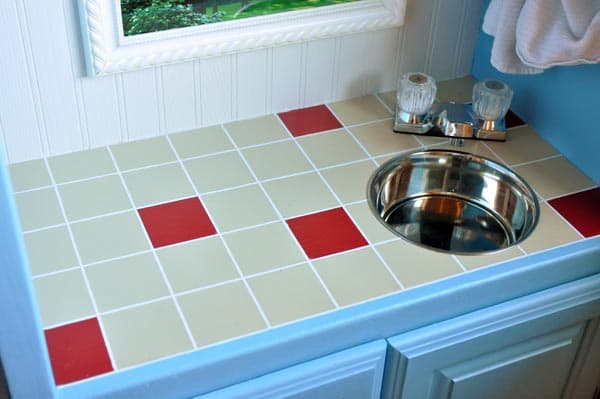 Meanwhile as I was shedding tears over ill-painted countertops and wasted time, Brian was doing 300X the work I was – including feverishly building new cabinet doors, installing a sink with handles that actually turn, figuring out hinges, priming and painting and painting and painting, and reconfiguring the oven space complete with a metallic-painted oven door (that stuff reeks, by the way) with a plexiglass front.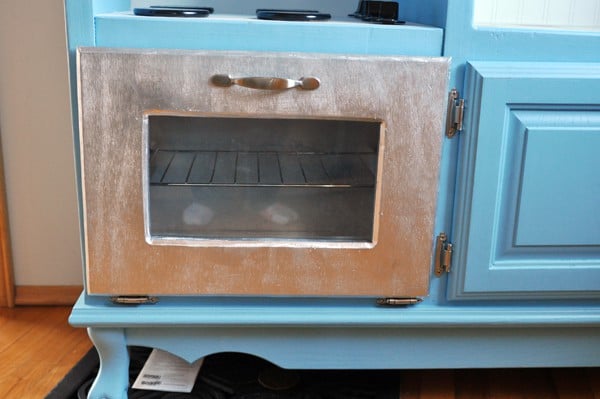 We repurposed an old shelf-rack-thingy from our microwave, since we never used it, as the oven rack. And I can safely say that Cam is clearly too young to understand what an oven does, even a play one, because if you peer inside on any given day, you'll usually find her dollies nestled in there. Hello yellow spoon and toy pot lid.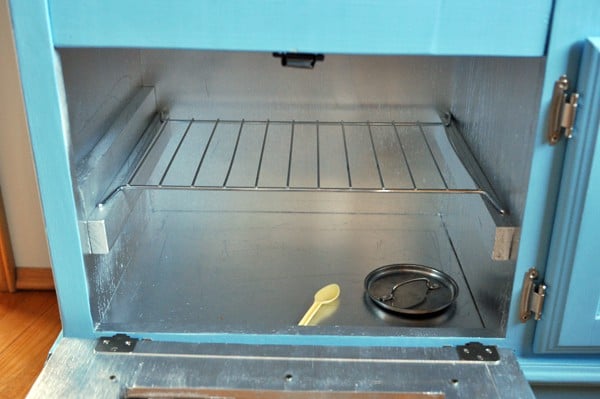 The only other piece I really played a part in was sewing the little curtains for the "window." That picture, incidentally, was taken months ago when we first moved in here and I was so happy to have a real picture from our real yard to hang in Cam's not-real kitchen. The curtains should have been a simple project but I'm seriously the worst seamstress ever so it took about four alterations, 129 stitches torn out, and finally measuring the stinking diameter of the dowel, before they were sewn correctly. I'm such a quick learner.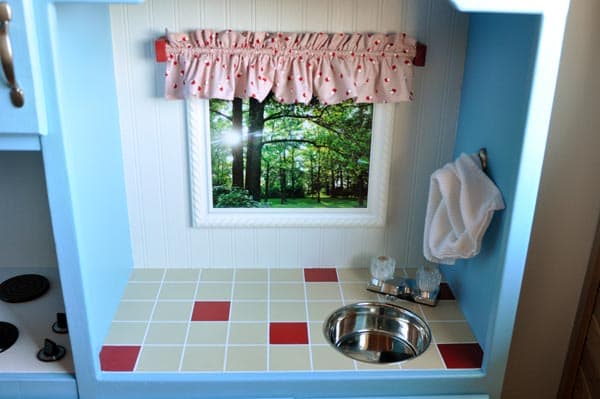 The stovetop is simply painted coasters and super cheap knobs that turn on a little screw. I found out today that some play kitchens sold by IKEA actually have burners that glow red when turned on. For clarification purposes, yes, Cam got cheated, and no, Brian and I are definitely not at IKEA toy production level. You know, just in case you were confused.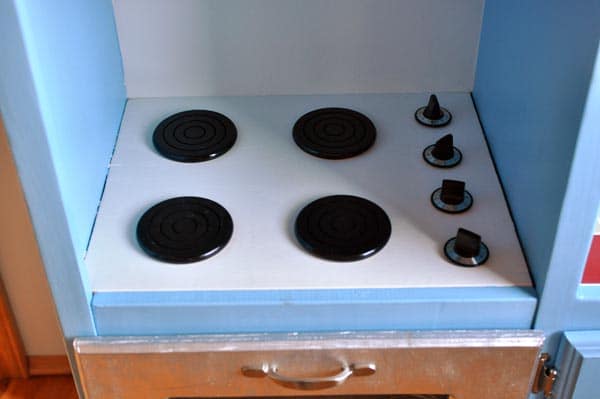 Ultimately, the true test is whether this darned thing gets played with. And thankfully, oh thankfully, I can say that already it has hours and hours of use/play. It sits in the nook right next to our big kitchen. Cam is still in the mode of filling up her plastic mugs with her toy bead necklaces and shoving her stuffed animals in the sink. But the boys have made endless variations of plastic meals. Yum.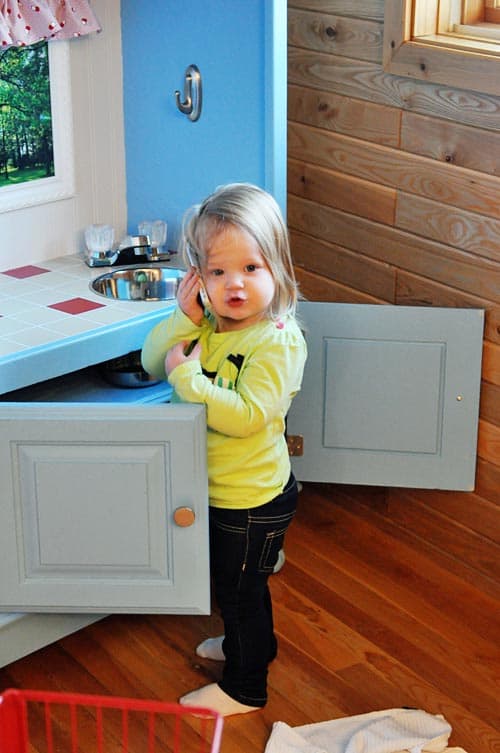 Overall, I'm glad we (ahem, Brian) took this on even though those days before Christmas are a blur. For the record, Brian would like to state that since December did not even see high temperatures above zero, he is everlastingly grateful for a heated garage. And I'll give a big amen to that. I'm grateful he was a willing party to my crazy idea and that he was talented enough to make it happen. You wouldn't have been seeing a post about this had I been the one doing the real work. Love you, babe. Love you, ragamuffin-Cam, and love you, little kitchen.
Disclaimer: I am a participant in the Amazon Services LLC Associates Program, an affiliate advertising program designed to provide a means for me to earn fees by linking to Amazon.com and affiliated sites. As an Amazon Associate I earn from qualifying purchases.