Soft Wrap Bread
These no-oven-required soft wrap breads are soft, tender, chewy and flavorful, and the perfect side to countless main dishes.
I blindly made this bread for a dinner that I had been looking forward to for a long time.
To be honest, I made this wrap-style bread myself (instead of buying it) because there wasn't a good bakery close to me and I didn't want to eat cardboardy, stale pitas for dinner. My hopes weren't very high for this bread – it was more like a means to an end.
But all of that changed. When I tasted it.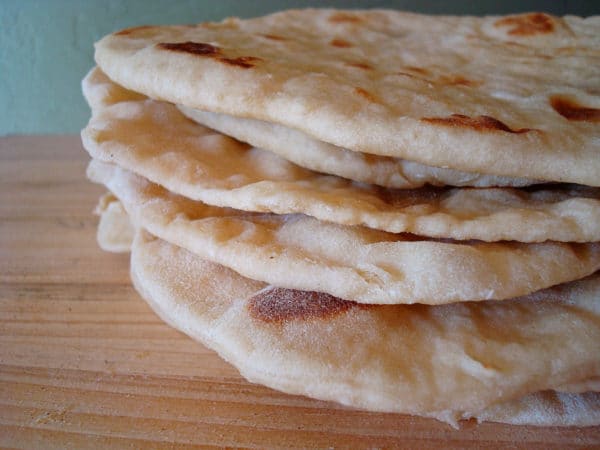 Amazing. That's all I have to say. I don't have adequate wordage to describe how delectable this wrap bread truly is. It is soft. It is tender. It is chewy and flavorful.
It pairs perfectly with savory foods and conversely, it is fantastic drizzled with honey and eaten warm (which is the way my husband devoured at least four of the lovely discs).
Talk about a versatile bread. I am dreaming about when I can make it next. The wrap is pliable so it can easily be rolled up around a delicious filling or cut into wedges and served with a topping of sorts (hummus?), or even used for mini pizzas- the options are endless.
Oh, and one more thing – the bread is dry-fried over a griddle or frying pan so you don't have to fire up the oven and heat up your whole house to make it.
After making this bread too many times to count, I've also found that I now almost always make it with whole wheat flour (usually white wheat flour because that is what I have on hand to grind). The results are still extremely delicious and even healthier.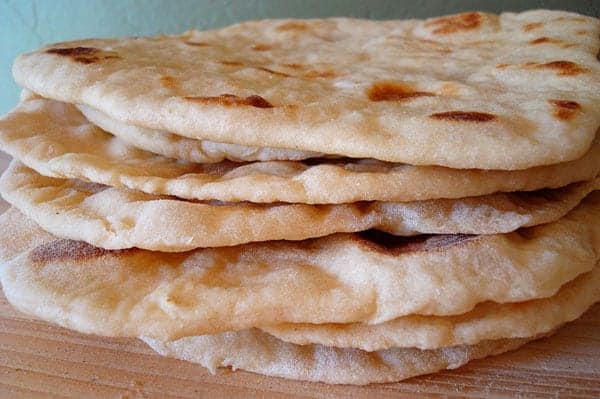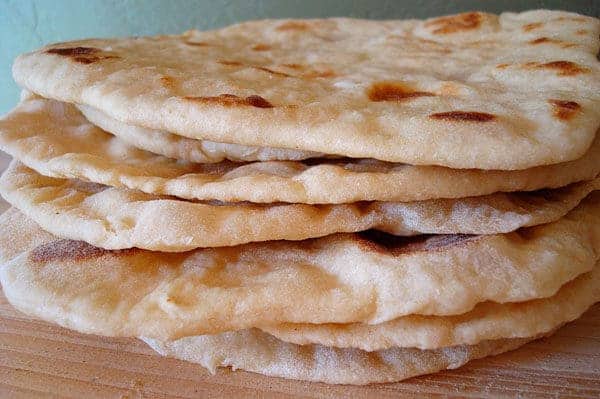 FAQs about Soft Wrap Bread
Can I use my kitchenaid mixer for this recipe?
Depends on your mixer's power/speed- you may need to cut down the batch if it's too big for the mixer.
Can I used potato starch instead of potato flour?
Yes, potato starch will work!
Can I make the dough ahead of time and refrigerate?
Yes, just make sure to grease the parchment or whatever is lining each unbaked wrap bread so they don't stick. Alternatively, you can cook them, then freeze them in a ziploc bag; they reheat really well in the microwave (or on low heat in the oven) and taste really fresh, too.
What can I use these for?
Lots of things! Makeshift tortillas, mini pizzas, sandwich rollups, basically anything that I'd use a tortilla for, or in sandwiches.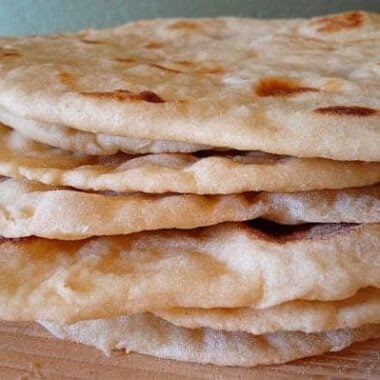 Soft Wrap Bread
Ingredients
3 to 3 ¼

cups

unbleached all-purpose flour (see note)

1 ½

cups

12 ounces boiling water

¼

cup

potato flour OR 1/2 cup potato buds or flakes (I used potato flakes)

1 ¼

teaspoons

salt

2

tablespoons

vegetable oil

1

teaspoon

instant yeast (see note)
Instructions
Place 2 cups of the flour into a bowl or the bucket of a bread machine. Pour the boiling water over the flour, and stir until smooth. Lightly cover the bowl or bucket and set the mixture aside for 30 minutes.

In a separate bowl, whisk together the potato flour (or flakes or buds) and 1 cup of the remaining flour with the salt, oil and yeast. Add this to the slightly cooled flour/water mixture, stir, then knead for several minutes (by hand, mixer or bread machine) to form a soft dough. It may look like the flour/salt/oil/yeast mixture will never absorb into the boiling water/flour mixture. It will, I promise, but you may need to take it out of your electric mixer, if using one, and knead the flour in by hand or add it very gradually into your electric mixer.

Note: You can allow the dough to go through the entire kneading cycle(s) in the bread machine, but it's not necessary; about a 5-minute knead in the machine, once it gets up to full kneading speed, is fine. The dough should form a ball, but will remain somewhat sticky (the dough is fairly stiff, so don't be worried – just be careful not to overflour the dough). Add additional flour only if necessary; if kneading by hand, keep your hands and work surface lightly oiled.

Let the dough rise, covered, for 1 hour (I let mine rise up to 2 hours).

Divide the dough into 8 pieces (each about the size of a handball, around 3 ounces), cover, and let rest for 15 to 30 minutes.

Roll each piece into a 7- to 8-inch circle, and dry-fry them (fry without oil) on a griddle or frying pan over medium heat for about 1 minute per side (I cooked mine about 2-3 minutes per side and they didn't dry out), until they're puffed and flecked with brown spots.

Adjust the heat if they seem to be cooking either too quickly, or too slowly; cooking too quickly means they may be raw in the center, while too slowly will dry them out.

Transfer the cooked breads to a wire rack, stacking them to keep them soft. Serve immediately, or cool slightly before storing in a plastic bag.
Notes
Yeast: this recipe works best with instant yeast because it dissolves during the kneading process, so you don't have to knead liquid into the dough. If you really prefer to use active dry yeast, use only 1 cup boiling water for the initial dough, dissolve the yeast in 1/4 cup warm water, and add this mixture to the dough along with the potato flour mixture. It'll be somewhat "slippery" at first, but will knead in and eventually become smooth. Flour: also, I often use half to 3/4 finely ground white whole wheat flour with good results – and sometimes I get crazy and use 100% whole wheat flour (always finely ground white wheat).
Serving:
1
Bread
,
Calories:
238
kcal
,
Carbohydrates:
44
g
,
Protein:
6
g
,
Fat:
4
g
,
Saturated Fat:
1
g
,
Sodium:
368
mg
,
Fiber:
2
g
,
Sugar:
1
g
Recommended Products
Follow @MelsKitchenCafe on Instagram and show me the recipes you are making from my blog using the hashtag #melskitchencafe. I love seeing all the goodness you are whipping up in your kitchens!
Recipe Source: adapted from King Arthur Flour
Disclaimer: I am a participant in the Amazon Services LLC Associates Program, an affiliate advertising program designed to provide a means for me to earn fees by linking to Amazon.com and affiliated sites. As an Amazon Associate I earn from qualifying purchases.