Swirled Peanut Butter and Nutella Stuffed Chocolate Chip Cookies
This recipe for swirled peanut butter and nutella stuffed chocolate chip cookies will make you look like a rock star.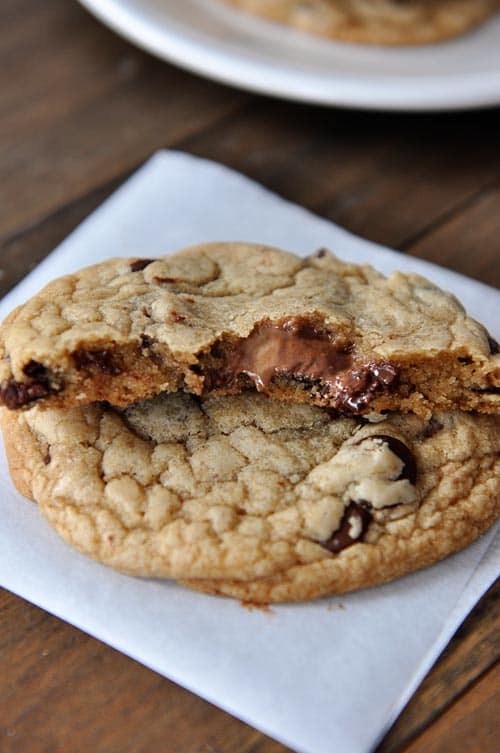 It weighs on one's soul when one has to keep something as wonderful and indulgent as these cookies from those whom they care about and whose lives might be forever changed because of them.
Um, that sentence was long and weird. Basically, I'm sorry I haven't shared this recipe yet.
Moving on.
I know that I claim to love all cookies (except for raisin-filled, sorry to my dad and all my aunts who ever lived), but these, these Swirled Peanut Butter and Nutella Stuffed Chocolate Chip Cookies are winning a spot in my heart as current favorites right now.
Maybe it's because you basically get two cookies in one.
Or because after indulging in a bite of chocolate chip cookie overload, you are hit with a decadent center of creamy peanut butter and nutella.
Or perhaps it's due to the fact that these cookies will make you look like a complete rock star (even though they aren't hard to make at all – see the simple step-by-step pictures below the recipe).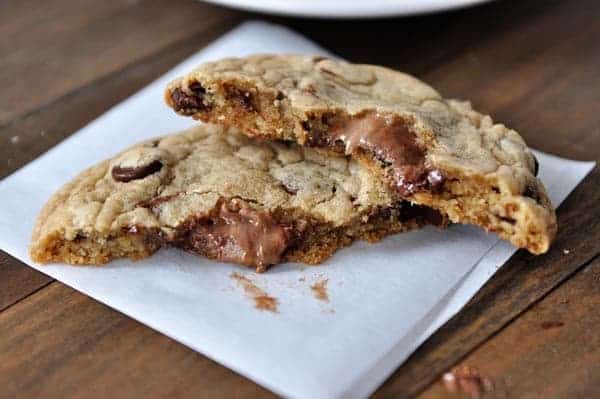 Either way, I love them.
Because we live a few miles outside of town and our neighbors are acres away from us, it takes effort to unload baked goods on unsuspecting folks, but knowing I was at risk to literally eat every single cookie in this batch, besides the tiny smidgeous I shared with my kids, I took one for the team and walked uphill both ways in knee deep snow drifts and -30 degree weather to get these out of my house.
And then I cried all the way home. They are that good.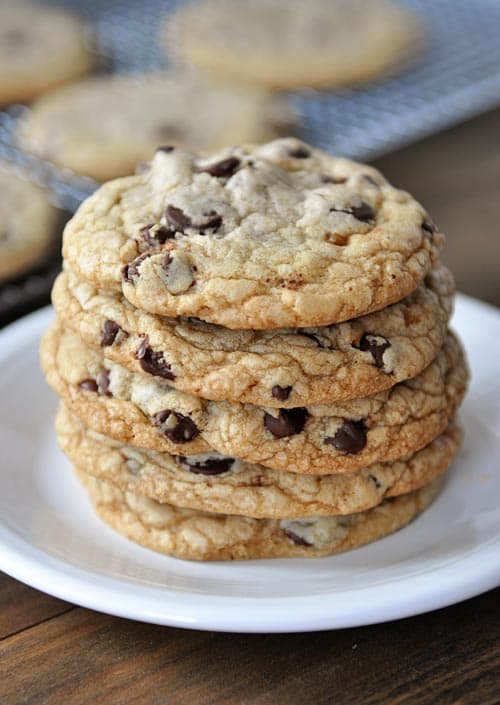 One Year Ago: Cinnamon Swirl Bread
Two Years Ago: Rosemary Chicken and Wild Rice
Three Years Ago: Magical Layered Brownies
Swirled Peanut Butter and Nutella Stuffed Chocolate Chip Cookies
Yield: 2 dozen large cookies

Prep Time: 20 minutes

Cook Time: 16 minutes

Additional Time: 1 hour 59 minutes

Total Time: 2 hours 35 minutes
Ingredients
Cookie Dough:
4 1/4 cups all-purpose flour (about 21 ounces)
3/4 teaspoon salt
1 teaspoon baking soda
3 sticks (24 tablespoons) butter, melted and cooled slightly
2 cups packed light brown sugar (14 ounces)
1 cup granulated sugar (7 ounces)
2 large eggs
2 large egg yolks
2 teaspoons vanilla
3 cups (18 ounces) semisweet or milk chocolate chips
Peanut Butter/Nutella Swirl:
1/3 cup creamy peanut butter
1/3 cup Nutella
Instructions
For the cookie dough, in a medium bowl, combine the flour, salt, and baking soda. Set aside.
Either by hand or with an electric mixer, cream the butter and sugars together until well mixed. Add the eggs, yolks, and vanilla. Mix well until the batter has lightened slightly in color, about 2 minutes. Add the dry ingredients and chocolate chips at the same time. Mix until all the dry ingredients are incorporated. Cover and chill the dough for 2-3 hours (this will make it easier to mold the dough around the peanut butter/nutella swirl and also help the cookies hold their shape).
In a small bowl, combine the peanut butter and nutella and gently swirl a few times so that it starts to combine but you can still see ribbons of each. Cover and refrigerate while the cookie dough chills.
After the dough has chilled, preheat the oven to 325 degrees F. Take about 1 1/2 tablespoons of dough and form into a ball and then flatten slightly. Scoop a scant teaspoon of peanut butter/nutella and dollop it in the center of the flattened cookie dough. Take another 1 1/2 tablespoons or so of dough and form a ball and then flatten to the same diameter as the bottom round. Place it on top of the peanut butter/nutella and gently press all the edges to seal well. The cookie will be round but quite thick. Don't press to flatten.
Repeat with the remaining dough and peanut butter/nutella swirl. Place the cookies 1-2 inches apart on silpat- or parchment-lined baking sheets; they will spread quite a bit. I put about 8 cookies on each 12X18-rimmed baking sheet. Refrigerate the filled, unbaked cookies that aren't ready to be baked (the longer they sit at room temperature, the more they will spread in the oven).
Bake for 14-16 minutes.
Notes
Cookie Size: I made really big cookies with this recipe (basically two regular size cookie dough balls pressed around the peanut butter/nutella swirl). If you'd like to exercise some self-control, you could definitely make smaller cookies, just adjust the size of the cookie dough and the scoop of peanut butter/nutella.

Peanut Butter/Nutella: I liked the little melty nibble of peanut butter/nutella right in the center of the cookie, however, if you'd like that goodness to be spread out more, simply smooth the dollop into an even layer, but don't spread it all the way to the edge, before sandwiching with the top half of the cookie. The choice is yours.
Recommended Products
As an Amazon Associate and member of other affiliate programs, I earn from qualifying purchases.

Recipe Source: from Mel's Kitchen Cafe (cookie dough adapted from my favorite chocolate chip cookie recipe)

A simple how-to-stuff in pictures: