Ruby Jewel Cookies
Pretty in presentation, and impossible to stop eating, these ruby jewel cookies will be the crown jewel cookie at any Christmas party!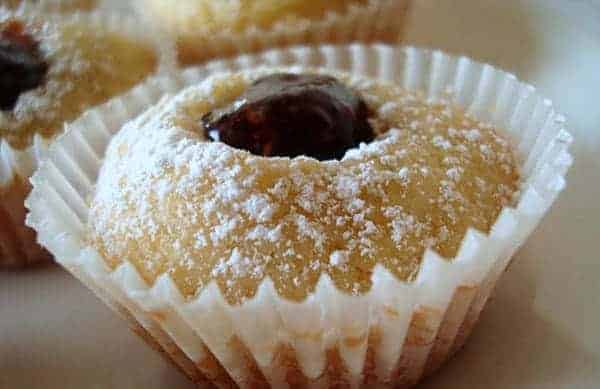 These cookies may look unassuming, but trust me, they are anything but.
Rich, buttery cookie dough is pressed into mini-muffin liners (or baked on baking sheets) and the tiny indentations are filled with raspberry jam.
Finished off with a dusting of powdered sugar, these little beauties are impossible to stop eating.
The dough itself is amazingly delicious and bakes up to be incredibly tender with the perfect amount of crumbly crumb, while still holding together into a beautifully textured butter cookie.
The sweet and slightly tart raspberry jam compliments the butter cookie wonderfully and the mini shape is adorable.
I can see this mini butter cookie being the perfect avenue for other fillings, such as chocolate (of course!) and other fruit jams.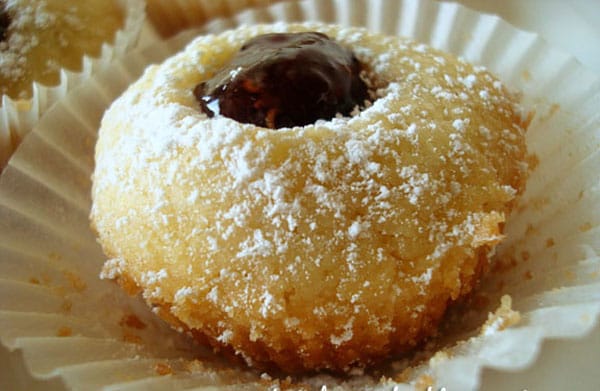 Additional Time:
55 minutes
Total Time:
1 hour
30 minutes
Ingredients
2 large egg yolks
1 teaspoon vanilla extract
2 ¼ cups all purpose flour
2/3 cup sugar
1 cup cold butter, cut into small pieces
About 1/3 cup seedless raspberry jam or other thick jam
Confectioner's sugar for dusting
Instructions
Preheat the oven to 350 degrees. Have ready two ungreased baking sheets or mini muffin pans and liners.
In a small bowl, whisk the egg yolks and vanilla together; set aside. Combine the flour and sugar in a large bowl and whisk to combine. Scatter the butter pieces over the top of the flour and sugar and with a pastry blender or two forks, work in the butter until the mixture resembles coarse crumbs. Add the egg yolk mixture and carefully mix to combine until the dough starts to come together (this worked best using my hands).
Turn the dough out onto a sheet of plastic wrap and shape it into a flat disk. Wrap and refrigerate until chilled, about 1 hour.
With lightly floured hands, pinch off pieces of dough and shape the dough into ¾-inch balls. Place each ball in a mini muffin paper liner, if using. If not using a mini muffin pan, place the cookies 1 inch apart on the baking sheets.
Using the end of a wooden spoon handle dipped in flour, make an indentation in the center of each cookie, but do not press all the way through the dough. Using a spoon or a pastry bag fitted with a plain tip, fill each indentation with about ¼ teaspoon jam.
Bake the cookies until the edges are golden, 15-20 minutes. Let the cookies cool completely on the pans on wire racks. Transfer cooled cookies to wire racks and dust with confectioner's sugar.
Recommended Products
As an Amazon Associate and member of other affiliate programs, I earn from qualifying purchases.
Recipe Source: adapted from Williams-Sonoma Cookies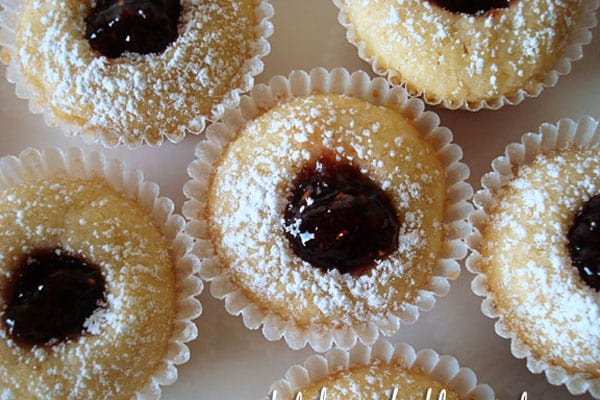 Disclaimer: I am a participant in the Amazon Services LLC Associates Program, an affiliate advertising program designed to provide a means for me to earn fees by linking to Amazon.com and affiliated sites. As an Amazon Associate I earn from qualifying purchases.