Super Moist Fudge Bundt Cake
This recipe for super moist fudge bundt cake is easy to make and is incredibly over-the-top chocolatey and delicious!
Super moist is a serious understatement.
This cake is so deliciously fabulous, I am already looking forward to eating another piece (or three) after the kids go to bed.
The recipe comes straight from my sister-in-law, Erin, and her fabulous cook of a sister, Melanie.
My husband asked me what kind of cake I wanted for my birthday and I requested this one because it's over-the-top chocolatey goodness satisfies my every birthday cake need.
If it weren't for getting older and my metabolism severely slowing down (that's my excuse, at least), I would wish for a birthday every day of the year just to eat this cake.
You absolutely cannot go wrong with this cake. If you don't like it, I'll come over and eat the leftovers for you.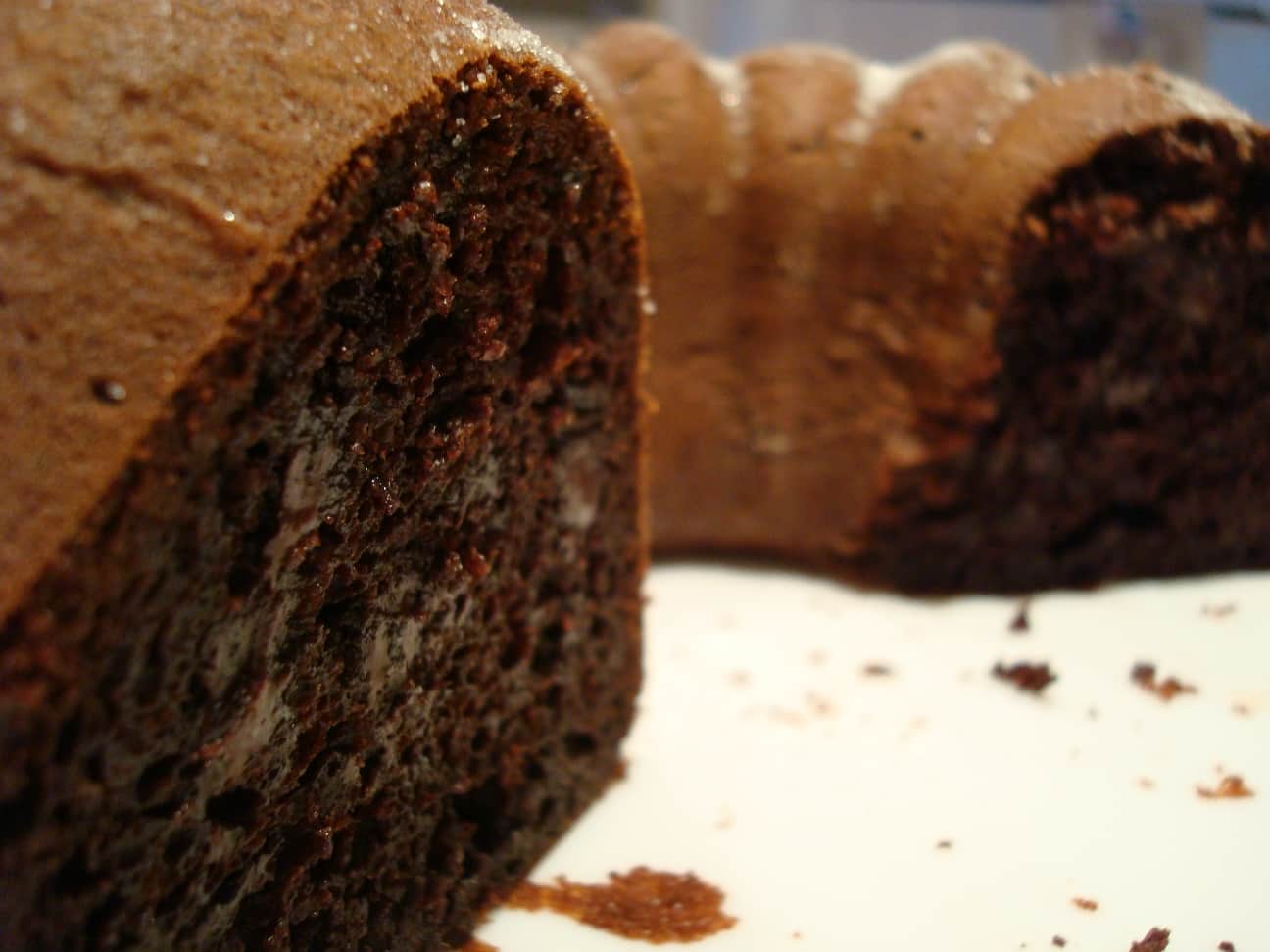 Super Moist Fudge Bundt Cake
Ingredients
1 devils food cake mix
1 4-serving instant chocolate pudding mix
4 large eggs
1 cup sour cream (not low-fat or fat-free)
1/2 cup warm water
1/2 cup vegetable oil (I use canola)
1 1/2 cups semi-sweet chocolate chips
Instructions
Place all ingredients except chocolate chips in a large mixing bowl. Blend with an electric mixer for 1 minute. Stir down sides. Continue to mix on medium speed for 2-3 minutes. Stir in chocolate chips. Pour batter into prepared (i.e. greased and floured) bundt pan.
Bake 45-50 minutes at 350 degrees. Cool 20 minutes. Invert onto serving platter.
Notes
Powdered Sugar: I usually dust mine with powdered sugar for an elegant look before digging in. Today there was no powdered sugar to be found in the pantry so I used a little granulated sugar just for texture.
Recommended Products
As an Amazon Associate and member of other affiliate programs, I earn from qualifying purchases.
Recipe Source: from Erin W. and Melanie C.
Disclaimer: I am a participant in the Amazon Services LLC Associates Program, an affiliate advertising program designed to provide a means for me to earn fees by linking to Amazon.com and affiliated sites. As an Amazon Associate I earn from qualifying purchases.