Sweet and Sour Meatballs
Looking for the perfect meatball recipe? Look no further! These sweet and sour meatballs are tender, perfectly seasoned, and amazingly delicious!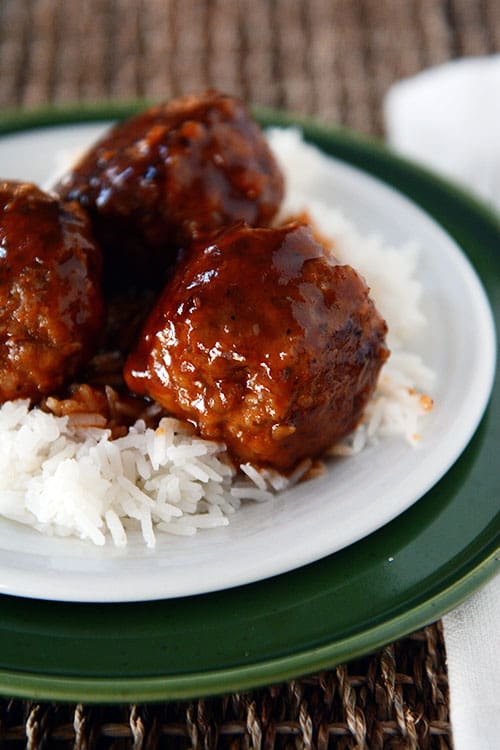 This is a favorite meal of ours that I have been making for years.
On Sunday evenings when I am planning our weekly menu, I'll ask Brian to give me at least one meal suggestion.
No fail, he either comes up with this dish or his other fave, Sweet and Sour Chicken.
By the way, I usually veto his suggestions, though, because I have so many recipes to try that I don't like eating the same thing week after week.
Rude, I know, but how will I ever try all these recipes before I die if I am making Sweet and Sour Meatballs or Chicken every week?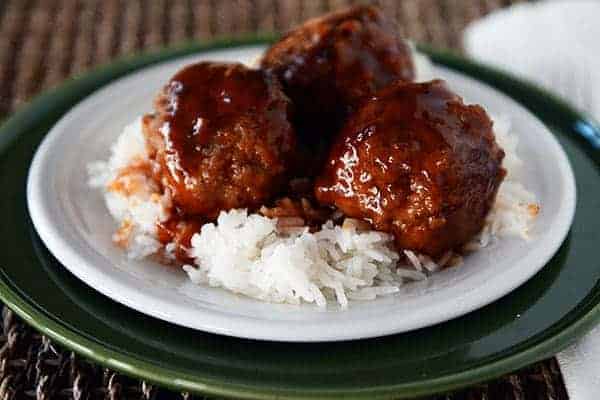 These meatballs are also a huge winner with my kidlets.
The meatballs are tender and perfectly seasoned, especially after baking in the simple sweet and sour sauce.
For me, this is definitely a perfect weeknight meal – and we enjoy it often (but clearly not as often as Brian would like)!
Update Nov. 2014: After five or so years living on the blog, this recipe needed an update (mostly the photos). I also gave a few additional tips and instructions in the recipe.
I cut the milk down to 1/4 cup to make the meatballs sturdier (the original was 1/2 cup if you want to stick with that) and I usually scale back the sugar to 1/4 cup as well (1/2 cup in the original).
And of course, I always double the sauce since we like it on the saucy side.
Read the notes below the recipe title for another cooking variation that is speedy and oven-free.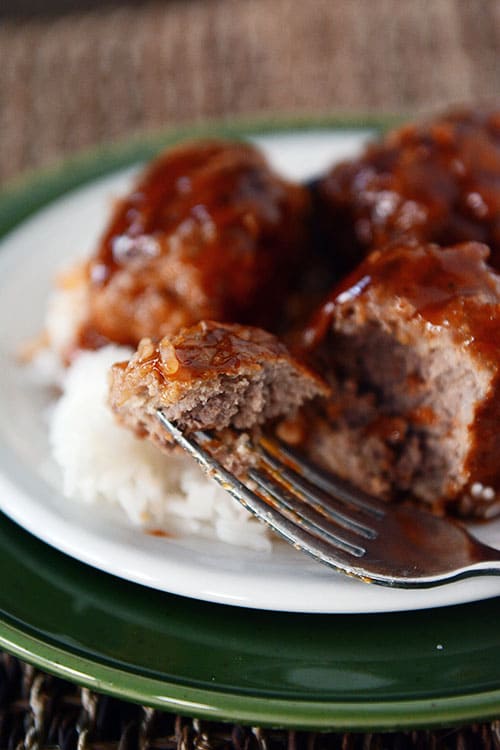 Baked Brown Rice
Fresh, seasonal fruit
Spinach Strawberry Salad with Homemade Creamy Poppyseed Dressing
Yield: 6 servings

Prep Time: 10 minutes

Cook Time: 30 minutes

Total Time: 40 minutes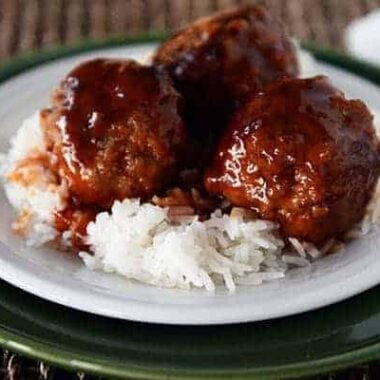 Ingredients
Meatballs:
1 1/2 pounds lean ground meat (see note)
3/4 cup quick oats or old-fashioned oats that have been lightly pulsed in a blender
2 eggs, slightly beaten
1/2 cup finely chopped onion
1/4 cup milk
1 teaspoon salt
1/2 teaspoon pepper
1 teaspoon Worcestershire sauce
Sauce:
1/4 - 1/2 cup brown sugar (depending on how sweet you want the sauce)
1/4 cup apple cider vinegar
1 teaspoon yellow mustard
1/4 cup barbecue sauce (my favorite homemade version here)
1 teaspoon Worcestershire sauce
Hot, cooked rice for serving
Instructions
Preheat the oven to 350 degrees F.
For the meatballs, combine all of the ingredients and mix well. Form into about 12 meatballs (right around 2-inches each). Place in a lightly greased 9X13-inch pan.
For the sauce, whisk together the ingredients until well-combined.
Pour the sauce over the meatballs and bake for 30 minutes or until the meatballs are cooked through and the sauce is slightly thickened.
Serve over hot, cooked rice, if desired.
Notes
Meat: I usually use a combination of lean ground beef and lean ground turkey but really any ground meat would work well - just keep in mind that if you don't want the grease to pool in the bottom of the baking dish (ew), use a pretty lean meat.

Sauce: also, I highly recommend doubling the sauce if you like dishes like this a bit saucier. Very often, I forego the baking and instead brown the meatballs in a skillet (or if doubling, I use my large electric skillet) on all sides and then drain any grease (most often there isn't any if using lean meat). Pour the sauce into the skillet, cover and let the meatballs simmer for 10-15 minutes until cooked through, turning once or twice.

Freezable Meal: after covering the meatballs with sauce, cover the pan with two layers of aluminum foil and freeze. To bake, preheat the oven to 350 degrees and bake covered without thawing for 1 hour. Uncover and bake 20-30 minutes more, until meatballs are cooked through.
Recommended Products
As an Amazon Associate and member of other affiliate programs, I earn from qualifying purchases.

Recipe Source: adapted from Lion House Recipes
Disclaimer: I am a participant in the Amazon Services LLC Associates Program, an affiliate advertising program designed to provide a means for me to earn fees by linking to Amazon.com and affiliated sites. As an Amazon Associate I earn from qualifying purchases.