Skillet Chicken Pasta with Broccoli and Sun-Dried Tomatoes
This skillet chicken pasta with broccoli and sun-dried tomatoes is fantastic. It is lightly creamy with a deliciously slight zip of flavor.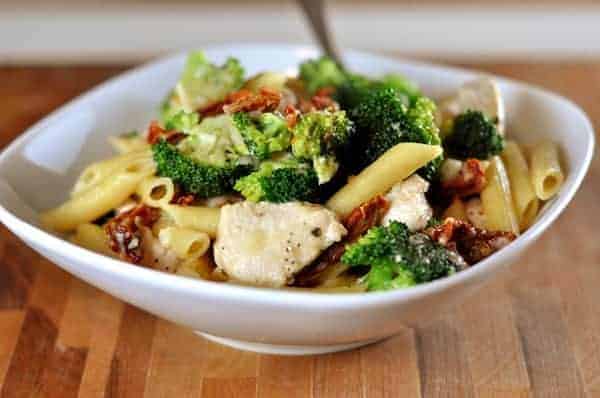 This meal is fantastic. It is lightly creamy with a deliciously slight zip of flavor from the lemon juice and sun-dried tomatoes.
Because the pasta simmers in a flavorful broth, it plumps up with extra tastiness and the bites of tender chicken and hearty broccoli are like icing on the cake.
A glorious dish, this one!
FAQs for Skillet Chicken Pasta with Broccoli and Sun-dried Tomatoes
Can I substitute the milk for the cream?
Yes, but just know that it will be less creamy or thick!

Broccoli Salad
Buttery Peas with Thyme
Fresh fruit
Skillet Chicken Pasta with Broccoli and Sun-Dried Tomatoes
Ingredients
2-3 boneless, skinless chicken breasts, cut into 1-inch squares
2 tablespoons olive oil
1 medium onion, minced
4 medium cloves garlic, minced
1/2 teaspoon dried oregano
1/4 teaspoon red pepper flakes
12 ounces ziti or penne pasta
3 cups water
2 1/2 cups low-sodium chicken broth
4-5 cups broccoli florets
1/2 cup oil-packed sun-dried tomatoes, rinsed, drained and chopped coarse
3/4 cup heavy cream
1 teaspoon cornstarch
3/4 cup freshly grated Parmesan cheese
1 1/2 tablespoons fresh lemon juice
Instructions
Season the chicken with salt and pepper. Heat 1 tablespoon of the oil in a 12-inch nonstick skillet over medium heat until it is rippling and very hot. Add the chicken pieces to the skillet and cook for 3-4 minutes until the chicken is cooked through. Transfer the chicken to a clean plate and set aside.
Add the remaining tablespoon of oil, onion, and 1/2 teaspoon salt to the skillet. Cook over medium heat, stirring often, until the onion is softened, 2 to 5 minutes. Stir in the garlic, oregano, and pepper flakes, and cook until fragrant, about 30 seconds.
Add the pasta, water and broth. Bring to a boil over high heat and cook, stirring occasionally, until the liquid is very thick and syrupy and almost completely absorbed, 12 to 15 minutes. There should still be a little bit of liquid in the bottom of the skillet but the pasta should be tender.
Add the broccoli and sun-dried tomatoes. Stir lightly to incorporate them into the pasta mixture. Cover the skillet, reduce the heat to medium, and cook until the broccoli turns bright green and is almost tender, 2-3 minutes. While the broccoli is cooking, whisk the cream and cornstarch together.
Uncover the skillet and stir in the cream, Parmesan, and reserved chicken with any accumulated juices and continue to simmer, uncovered, until the sauce is thickened and the chicken is heated through, 1 to 2 minutes. Off the heat, stir in the lemon juice and season with salt and pepper to taste. Serve, topped with extra Parmesan, if desired.
Recommended Products
As an Amazon Associate and member of other affiliate programs, I earn from qualifying purchases.
Recipe Source: adapted from The Best Skillet Recipes