Sweet Baked Ham
Hands down, this is the best ham I've ever had in my life, and I can almost guarantee it will be the same for you. With a completely out-of-the-box cooking method, ham has never been this tender or this delicious!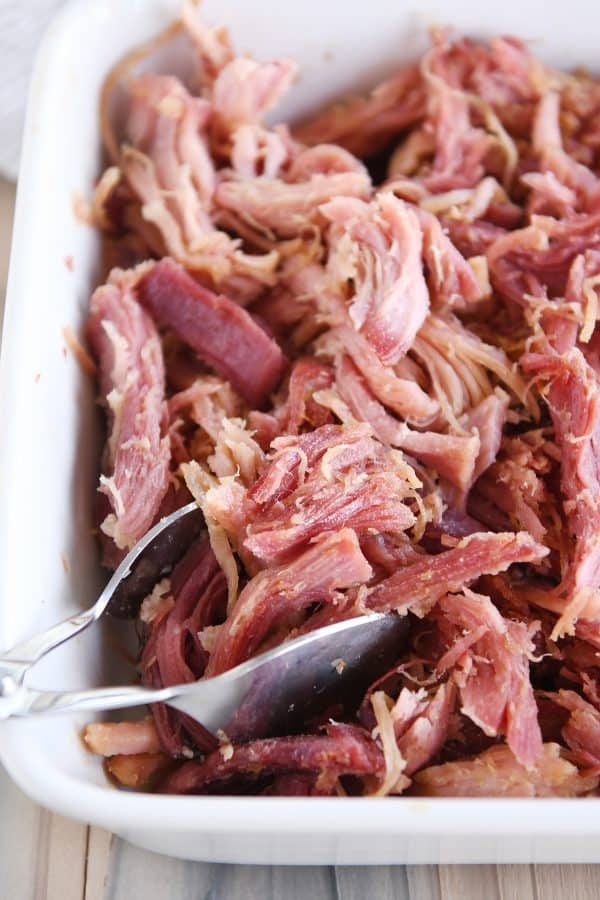 *Instant Pot Version of this Sweet Baked Ham HERE!*
Does the world really need another recipe for ham? Ham is ham. Right?
How many ways can you really recreate Easter ham, especially when you have a fabulous slow cooker version and an equally fabulous classic version. I mean really.
Well, when your awesome friend, Mel, who has some of the best food judgment ever, sends you a recipe for sweet baked ham, stating it is the best ham ever, you decide you definitely have room in your heart for another ham recipe.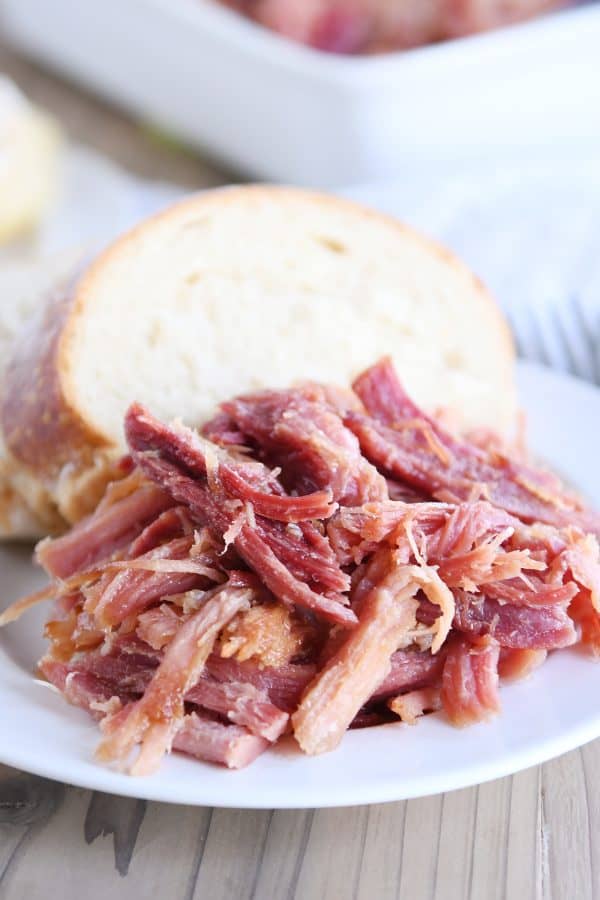 You guys. I have never had ham like this. Ever. I don't even know how to describe it in a way that will convince you it's life-changing. It is incredible.
What makes sweet baked ham so amazing
Here's where this ham recipe differs from every other traditional baked ham recipe out there.
You take a bone-in ham (not spiral sliced!) and boil it in two parts water to one part white vinegar for a few hours. Stick with me here, because I was skeptical, too.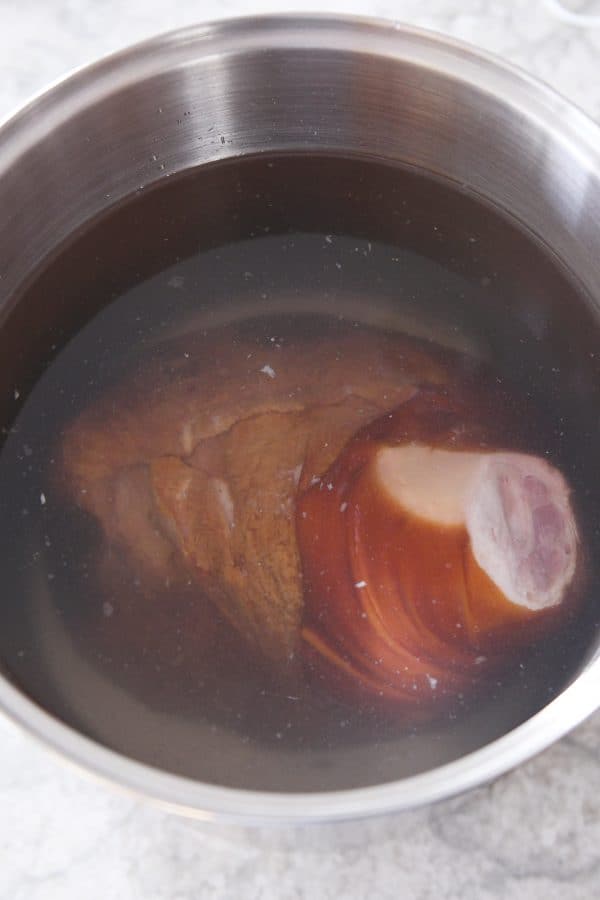 You definitely want to use a large pot that can accommodate the ham AND the liquid (you'll need vinegar and water to cover). A lot will depend on the size of ham you have.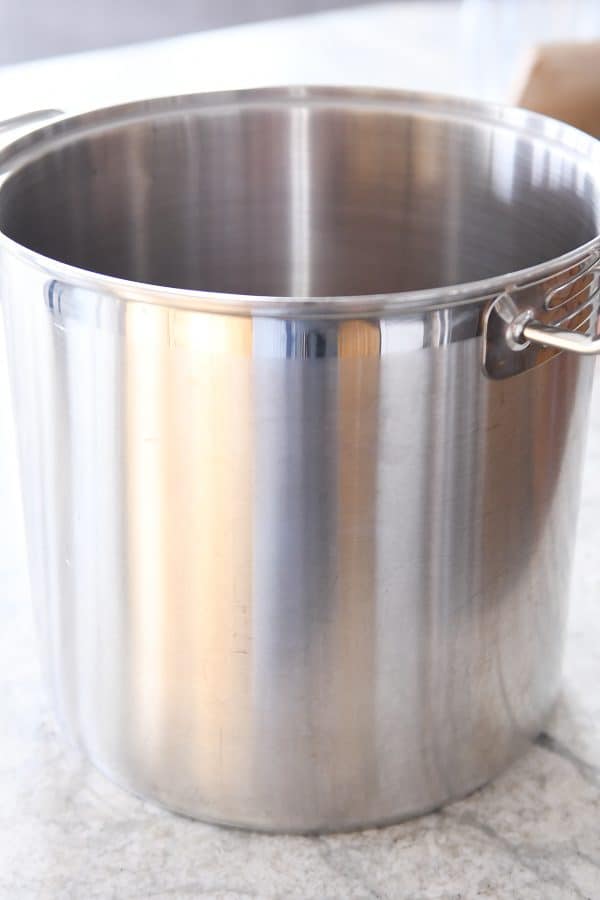 What type of ham to use
For this recipe, there are two factors that are really important:
do NOT use a spiral sliced ham. You want a ham that is not sliced or else it won't shred easily (and will be dry)
try to find a bone-in ham; it will be more tender as it cooks. However, several people in the comment thread have used unsliced boneless hams and reported back with decent results. So this criteria isn't as important as the spiral sliced advice.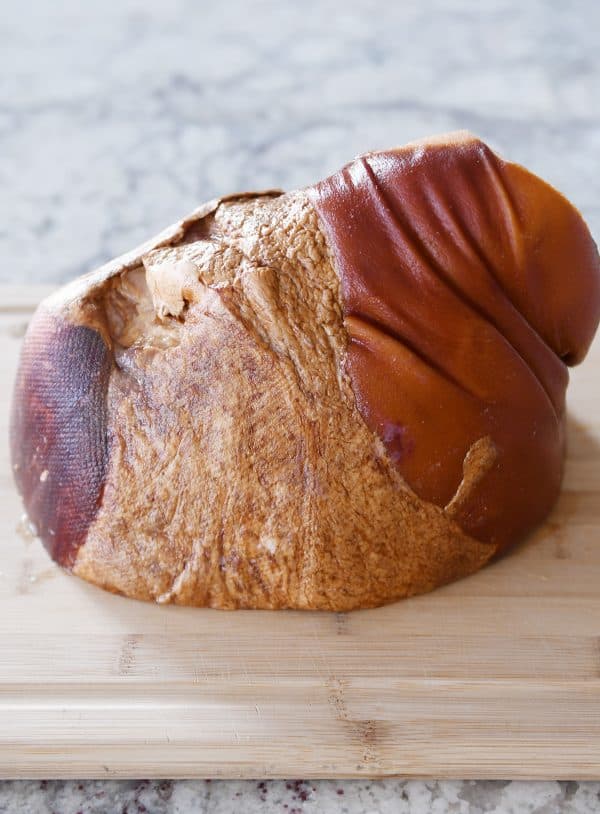 I usually look for shank hams – that's what my grocery store carries that fits this criteria. Bone-in and unsliced.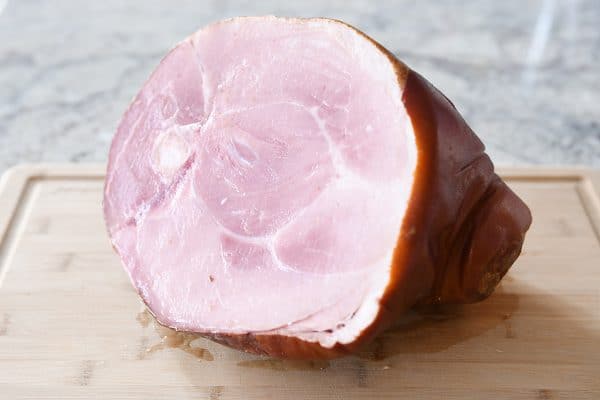 As the ham cooks in the vinegar/water mixture, the meat becomes super tender. Like, fall off the bone tender.
Yes, your house will smell like vinegar. It's not the worst thing in the world, but if it bothers you, open a window and turn on the vent above your stove, or do what my friend Mel does and use an outdoor propane stove (pretty good idea if you have one).
The exact cooking time will depend on the size of the ham and how high the heat is during cooking, but you want to cook the ham until it is so tender, it's basically shredding itself for you.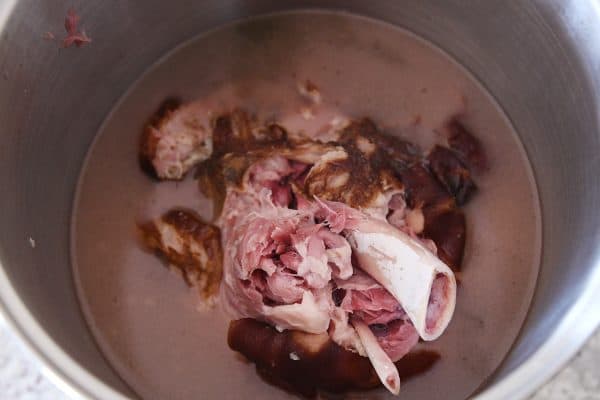 I let the ham cool until I can carefully extricate it from the pot and put it on a sheet pan or a large cutting board. (The sheet pan is nice because it contains all the juices.)
And then I pull the meat off the bone and shred into pieces.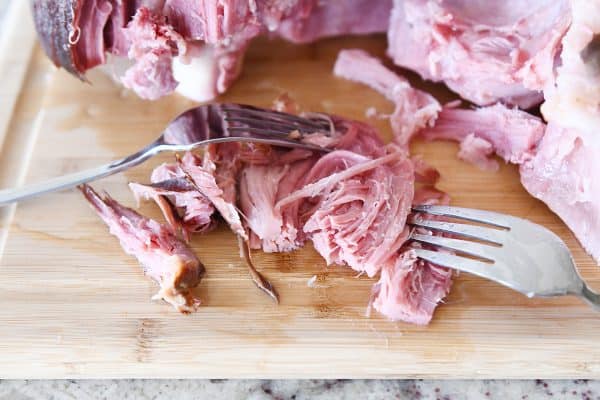 Make-Ahead Tip
This step can be done several days ahead of time! Cook the ham, shred it, and place the meat in the refrigerator until you are ready to assemble and bake.
When ready to bake, layer the ham with a mixture of brown sugar and dry mustard.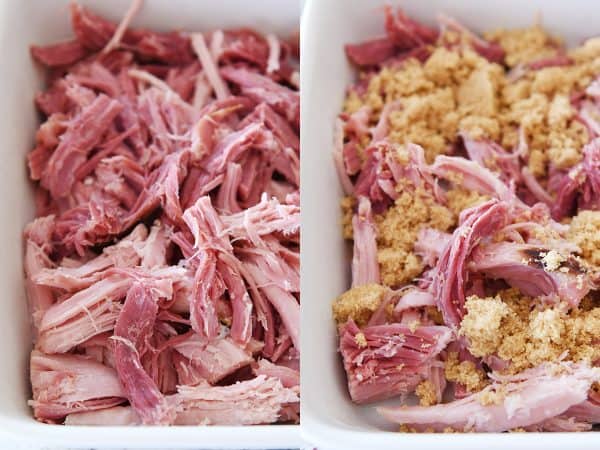 The shredded ham bakes for about an hour. It'll come out of the oven tender as can be coated in a succulent, sweet sauce that contrasts beautifully with the tangy ham.
This sweet baked ham is unbelievably delicious, it's unreal. I promise I'm not overselling this. It's amazing. I've been making ham this way for years now, and it's the only way we like our Easter ham anymore!
If you want a new ham recipe to knock the socks off you and your guests, this is the one.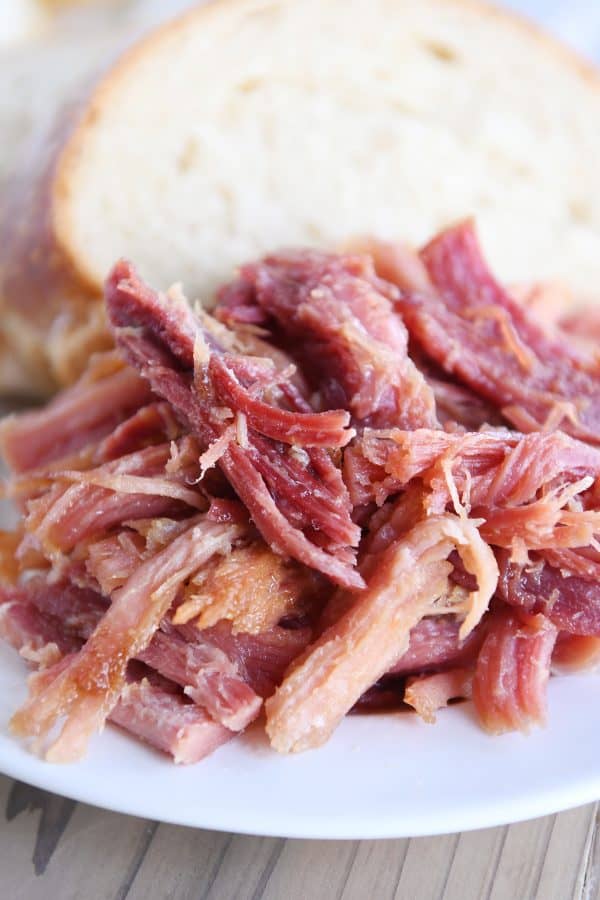 Sweet Baked Ham FAQ's:
Can I make this with a boneless ham? I prefer using a bone-in ham (I look for a shank ham usually) – it cooks up the most tender, but a boneless ham will work as long as it isn't already spiral sliced.
Can I make this in the Instant Pot? Yep! Instant Pot directions here. I use the Instant Pot for cooking the ham until it is shreddable and then cook the shredded ham with the brown sugar mixture in the oven (although you could probably throw it all back in the Instant Pot and warm it that way).
Can I cook the ham in the vinegar and water in the slow cooker? I haven't tried this, but in the comments several people have and say it works great (as long as your ham fits in the slow cooker).
Can this sweet baked ham be made ahead of time? Yes! The ham can be boiled and shredded several days in advance and refrigerated. It can also be assembled with the brown sugar/mustard mixture a day ahead of time. I think it is best baked right before serving.
Can the shredded and baked ham be frozen? Yes! We freeze the leftovers of this ham all the time.
What if my ham isn't falling apart tender after cooking? Add more time and more liquid as needed.

Tender biscuits like these Buttermilk Biscuits or Cream Biscuits
Homemade Baked Tater Tots
Classic Deviled Eggs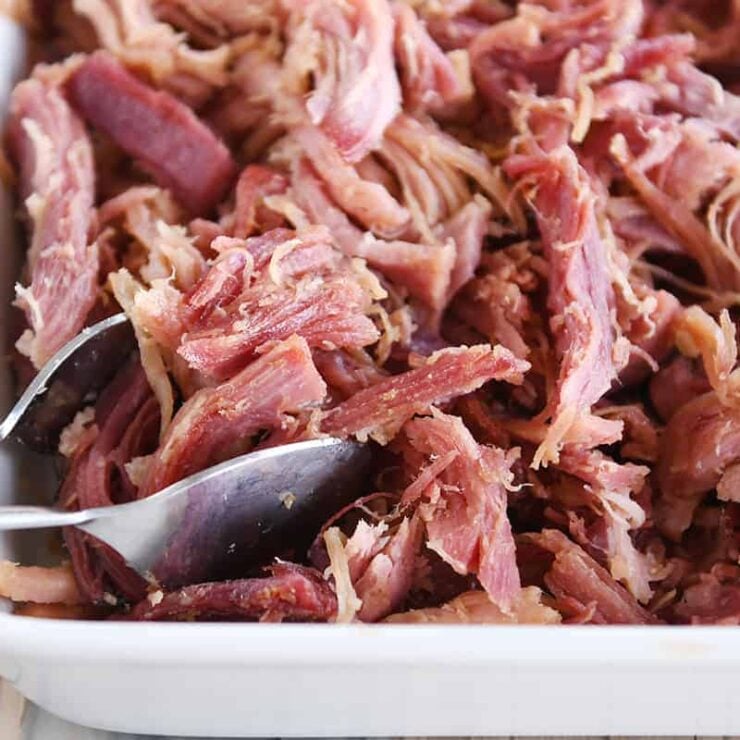 Sweet Baked Ham
Ingredients
5-7

pound

precooked bone-in ham (see note)

White distilled vinegar

Water

1

cup

brown sugar

1 ½

tablespoons

ground dry mustard
Instructions
Place the ham in a large pot (larger than you think - the liquid is splashy while cooking) and cover with 2 parts water to 1 part vinegar until the ham is covered by at least an inch or two of liquid.

Bring to a boil over high heat, reduce the heat to medium and continue to simmer vigorously for 2-3 hours, until the meat easily falls off the bone. Add more time, as needed until the meat is tender. Also if the liquid reduces, add more during cooking so the ham stays mostly covered.

When finished cooking, carefully remove the ham from the pot to a rimmed sheet pan, discarding the liquid. Let the ham cool until it is easier to remove the meat from the bones.

In a small bowl, stir together the brown sugar and mustard.

Shred the ham, discarding the fat and bones, and place half of the ham in a 9X9-inch baking dish (or a similar size). Sprinkle half of the brown sugar mixture over the ham. Layer the rest of the ham on top and sprinkle with the remaining brown sugar mixture.

Cover the dish tightly with foil and bake at 325 degrees for 1 hour. Serve warm or at room temperature.
Notes
Ham Type: do not use a pre-sliced/spiral sliced ham. It will be very, very dry. Look for a cut of ham that is not sliced and still has the bone-in. The best cut I've found is a butt or shoulder cut (might be labeled shank, also). Ham Size: you can make a larger ham than 5-7 pounds; you'll need a larger pot to accommodate the ham (and will increase the sugar/mustard mixture accordingly). My friend, Mel, that gave me the recipe, boils her ham in a huge pot outside on her propane stove (like a camp chef-type stove). I only had my classic stovetop available and used my biggest pot with the 5-7 pound ham. Make-ahead: the ham can be boiled and shredded a few days in advance of baking. It can also be assembled with the brown sugar mixture a day ahead of time. Cooking Time: take care not to boil the ham TOO long or you'll end up with ham jerky and you don't want that. If you are worried about time, err on the side of taking it out at 2 hours (even if it means you are having to cut part of the ham away from the bone instead of it falling away). It should still be very tender.
Serving:
1
Serving
,
Calories:
427
kcal
,
Carbohydrates:
22
g
,
Protein:
43
g
,
Fat:
18
g
,
Saturated Fat:
4
g
,
Cholesterol:
166
mg
,
Sodium:
2626
mg
,
Fiber:
1
g
,
Sugar:
21
g
Recommended Products
Follow @MelsKitchenCafe on Instagram and show me the recipes you are making from my blog using the hashtag #melskitchencafe. I love seeing all the goodness you are whipping up in your kitchens!
Recipe Source: from my friend with impeccable food tastes, Mel B.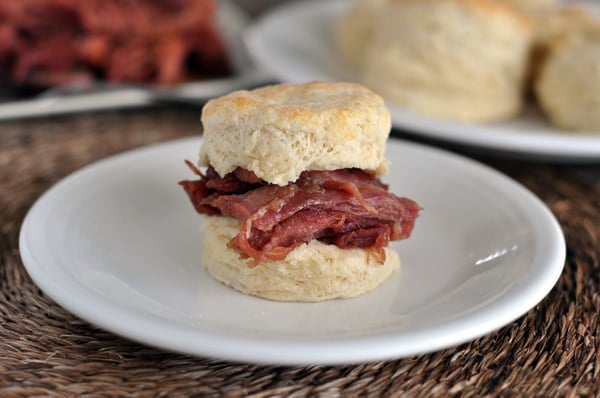 Disclaimer: I am a participant in the Amazon Services LLC Associates Program, an affiliate advertising program designed to provide a means for me to earn fees by linking to Amazon.com and affiliated sites. As an Amazon Associate I earn from qualifying purchases.