Carrot Cake Cheesecake
Carrot cake and cheesecake are swirled together and baked into layers of absolute decadence, creating one of my most favorite desserts ever!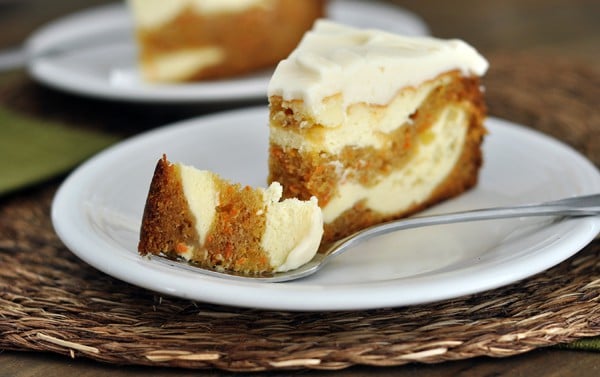 For a girl that loves chocolate more than life itself, I shouldn't be so excited-I-want-to-cry about this carrot cake cheesecake. I really shouldn't. But I am.
Carrot cake runs a very, very close second to being my most favorite cake, next to chocolate of course.
And since I also happen to adore cheesecake (chocolate cheesecake being my all-time favorite in the history of ever, I know, shocker), I knew that a carrot cake cheesecake would have to be amazing. And it is.
Since I have tried-and-true recipes for carrot cake and cheesecake and frosting on this here blog, I knew I couldn't make The Ultimate Carrot Cake Cheesecake without using variations of those beloved recipes.
With such stellar recipes as a start, this was bound to be epic.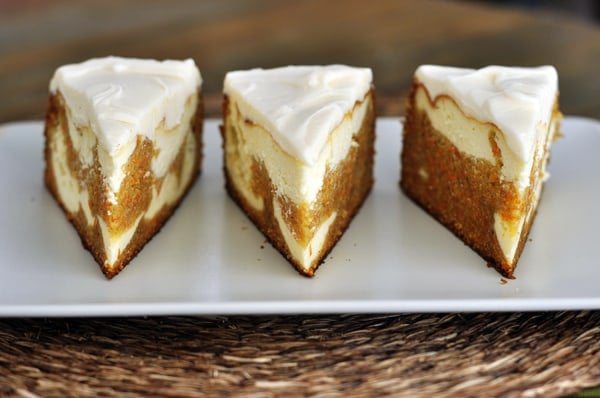 A perfectly creamy cheesecake swirled with tender, moist layers of carrot cake and topped with a sweet, tangy cream cheese frosting and you have a serious problem for my don't-eat-after-dinner resolve.
This cheesecake was calling my name all hours of the day and night and boy was I relieved when I made the selfless decision to just finish it off and spare everyone (read: me) the pain of trying to resist.
I know I'm going out on a limb here and risking my undying loyalty to everything chocolate but I have to say that I'd be hard-pressed to say no to this cheesecake in a dessert lineup, even if dark chocolate something-or-other was present. It's that good.
Talk about a stunning ending to Easter dinner; this will be perfect.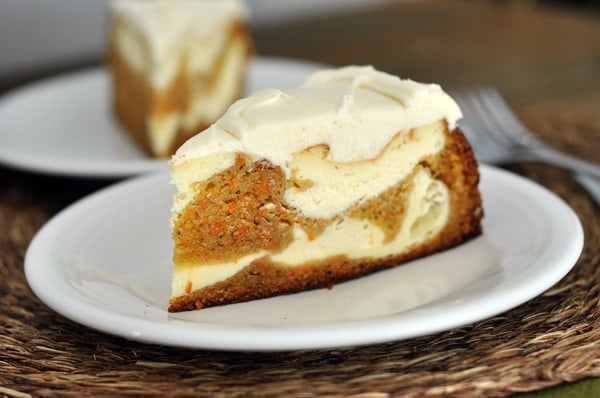 Yield: 10-12 servings

Prep Time: 25 minutes

Cook Time: 1 hour 10 minutes

Total Time: 1 hour 35 minutes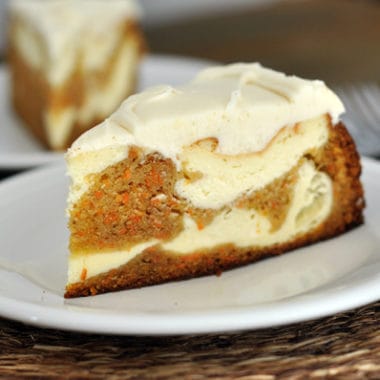 Ingredients
Cheesecake:
2 (8-ounces each) packages cream cheese, room temperature
1/2 cup granulated sugar
2 large eggs
1 teaspoon flour
1 teaspoon vanilla extract
1/2 cup sour cream
Carrot Cake:
3/4 cup vegetable or canola oil
1/4 cup packed light brown sugar
3/4 cup granulated sugar
2 large eggs
1 teaspoon vanilla extract
1 1/4 cups all-purpose flour
1/2 teaspoon baking soda
3/4 teaspoon cinnamon
1/4 teaspoon nutmeg
Pinch cloves
1/4 teaspoon salt
1/2 pound finely grated carrots (1 cup or so)
Cream Cheese Frosting:
3 ounces cream cheese, room temperature
2 tablespoons butter, softened
1 1/2 cups powdered sugar
1 teaspoon vanilla
1 tablespoon sour cream
Instructions
For the cheesecake, in a medium bowl using an electric mixer on high speed, beat the cream cheese, sugar, eggs and flour until smooth. Add the vanilla and sour cream and mix just until blended. Set aside.
For the carrot cake, in a large bowl using an electric mixer, beat together the oil, brown sugar and granulated sugar until smooth. Add the eggs and vanilla and beat until the mixture is light creamy and light. Stir in the flour, baking soda, cinnamon, nutmeg, cloves and salt until just combined. Mix in the carrots.
Preheat the oven to 350 degrees F. Lightly grease a 9- or 10-inch springform pan with cooking spray. Spread half of the carrot cake batter into the bottom of the prepared pan. Dollop half of the cheesecake batter on top of the carrot cake layer in large spoonfuls. Don't spread or swirl together. Just dollop. Dollop the rest of the carrot cake batter on and around the spoonfuls of cheesecake batter. Again, don't spread it out. If the lumpiness is stressing you out, I promise that it will all work out. Spread the last half of the cheesecake batter on top of all the layers and spread with an offset spatula into an even layer. Tap the pan on the counter a couple of times to get rid of any air bubbles.
Bake the cheesecake for 60-70 minutes (check earlier if using a 10-inch springform pan; it won't bake as long as a 9-inch pan), tenting the top of the cheesecake with foil the last 20 -30 minutes of baking if it is browning too quickly. The cheesecake will puff a great deal in the oven thanks to the leavening in the carrot cake and it might even crack. That's ok. It will settle after it cools and will be covered with frosting so the cracks won't matter. Take care not to overbake the cheesecake or the carrot cake bottom and sides will be dry. It's a fine balance between taking it out before it's overbaked but not so early that the cake batter is still raw. Keep in mind that each oven can vary in temperature so watch closely as it gets to the 60 minute mark. The top center part of the cheesecake (just about a 2- or 3-inch diameter circle) should still be slightly soft and jiggly when you take it out.
Let the cheesecake cool completely on a wire rack in the pan. While it cools, make the frosting by whipping together the cream cheese and butter until creamy and smooth. Mix in the powdered sugar a little at a time until the frosting is well-combined with no lumps. Add the vanilla and sour cream and mix well.
When the cheesecake has cooled, spread the frosting evenly over the top of the cheesecake. Cover with tin foil or plastic wrap and refrigerate until well chilled before serving. The cheesecake can be made up to two days in advance.
Notes
Make Ahead: the cheesecake can be made and frosted 1-2 days in advance and kept in the refrigerator until serving.

Baking: also, take note of the recipe details when baking so that the carrot cake layer isn't dry.
Recommended Products
As an Amazon Associate and member of other affiliate programs, I earn from qualifying purchases.

Recipe Source: from Mel's Kitchen Cafe (cheesecake layer adapted from this Chocolate Chip Cookie Dough Cheesecake; carrot cake and frosting adapted from this Unbelievable Carrot Cake recipe)
Disclaimer: I am a participant in the Amazon Services LLC Associates Program, an affiliate advertising program designed to provide a means for me to earn fees by linking to Amazon.com and affiliated sites. As an Amazon Associate I earn from qualifying purchases.