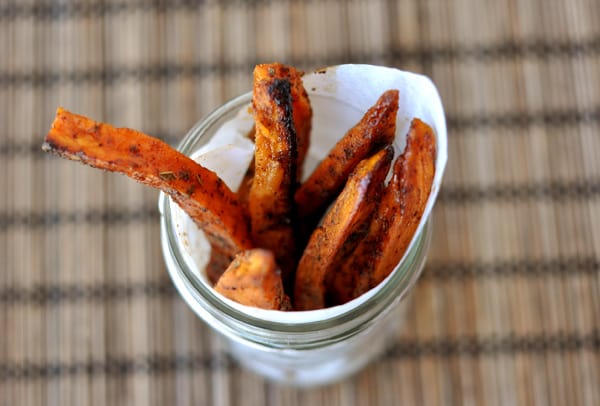 I know, I know, sweet potato fries are like, so, last summer, but hey, what can I say except it takes my little sheltered, homebody self a while to catch on to food trends.
We've been eating these babies right and left for the last month or so and I can honestly say that every living soul in my home, five boys and a girl at last count, loves 'em.
Sweet and spicy (not hot, just flavorful), these healthier, baked fries are perfect with just about anything, although we've served them lately with these wraps and some grilled pork chops to rave reviews.
Speaking of food trends, grilling outside in sub-zero temperatures and freezing winds is really "in" right now, didn't you know?
You might question the little bit of sugar called for in the recipe since sweet potatoes are already, well, sweet. Trust me, the sugar works – it helps caramelize and brown the outside edges of the potatoes and combined with the salt and other spices, you are left with a tender sweet potato fry infused with a sweet and smoky flavor.
Preheating the baking sheets helps the fries crisp up around the edges since they sizzle on first contact with the smoking hot pan.
Sure, they stay a bit softer and less crispy than a traditional fry cooked in hot oil, but if baked for just the right amount of time, they still manage to retain a delightful crunch around the edges with a sweet, velvety center. Betcha can't eat just one.
One Year Ago: Tomato Bisque Soup
Two Years Ago: Toasted Orzo with Peas and Parmesan
Three Years Ago: Buttermilk Banana Bread
Yield: 6 servings as a side dish

Prep Time: 10 minutes

Cook Time: 15 minutes

Total Time: 25 minutes
Ingredients
3 large sweet potatoes or yams
3 tablespoons olive oil
1 tablespoon granulated sugar
1 tablespoon kosher salt
1 teaspoon chili powder
1 teaspoon garlic powder
1 teaspoon cumin
1 teaspoon dried oregano
Instructions
Preheat the oven to 425 degrees F. Place two rimmed baking sheets in the oven while it preheats and while you prepare the potatoes (about 10 minutes). Peel the potatoes and slice the potatoes into about 1/4- to 1/2-inch strips or wedges. Try to keep most of the pieces the same size so they bake evenly.
Place the potato strips/wedges in a ziploc bag or bowl. Toss the potatoes with the oil. Add the seasonings and mix until the potatoes are evenly coated.
Carefully remove the hot baking sheets from the oven and divide the potatoes evenly among the two sheets, taking care the potatoes are not touching so they have plenty of room for the air circulate to circulate and bake evenly. Also, try to leave any excess oil in the bag or bowl so the potatoes don't get too soggy while they bake.
Bake the potatoes for about 12-15 minutes, flipping halfway through, if desired, until they are tender and well-browned. Serve immediately.
Notes
The purpose of the sugar is to help caramelize and brown the outside edges of the potatoes. Combined with the salt and other spices, you are left with a tender sweet potato fry infused with a sweet and smoky flavor.

Preheating the baking sheets also helps the outer edges get a nice little crunch.

Recipe Source: Mel's Kitchen Cafe