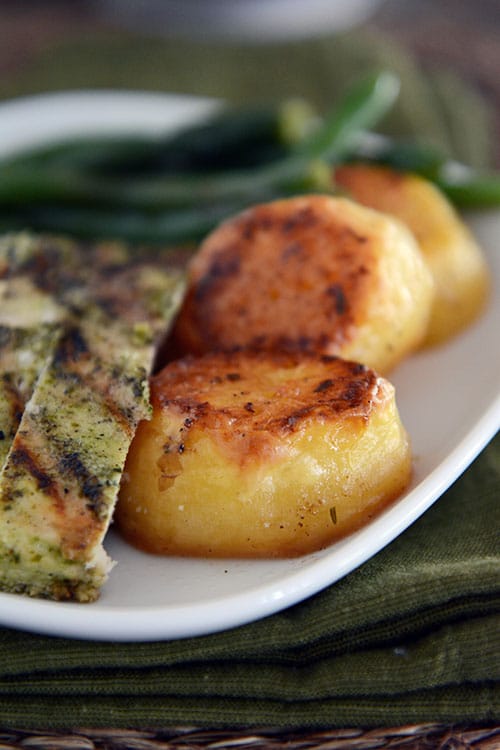 It's kind of an unusual recipe title, I'll give you that. Melting potatoes? Like, what is that? I'll tell you (you had to know I would, right?).
Melting roasted potatoes are crispy on the outside and creamy on the inside. After punching your way through the golden, buttery outsides, they nearly melt in your mouth with the delicious, soft texture.
Or in other words, they're divine. Melting. Roasted. Potatoes. Divine.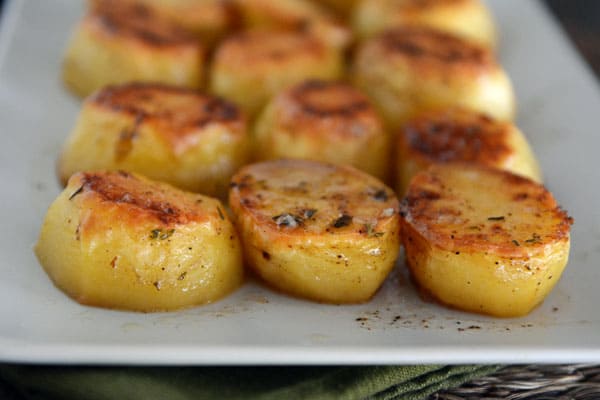 I served these a month or so ago with that grilled pesto chicken I told you about. (Yum.) But since then, we've eaten them with Sunday pot roast (perfected recipe coming up on the blog soon) and this maple glazed pork tenderloin.
So delicious.
And if you happen to have leftovers, they make the most amazing breakfast hash – just chop 'em up and sauté them the next morning with a few onions and scramble in some eggs, if you'd like, for a hearty, tasty breakfast.
Other than planning for the baking time (just under an hour), these couldn't be easier and make the most fabulous side dish for just about anything.
One Year Ago: Apple Crumb Pie
Two Years Ago: Sweet Potato Casserole
Three Years Ago: Lasagna Soup
Yield: 6-8 servings

Prep Time: 15 minutes

Cook Time: 50 minutes

Total Time: 1 hour 5 minutes
Ingredients
3 pounds Yukon Gold potatoes, peeled
4 tablespoons butter, melted
1 teaspoon dried thyme (or 1 tablespoon fresh)
3/4 teaspoon salt
1/4 teaspoon pepper
1 1/2 cups low-sodium chicken broth
2 garlic cloves, finely minced
Instructions
Preheat the oven to 450 degrees F, making sure one of the oven racks is in the upper-middle position. Square the ends off the potatoes by cutting off the rounded edges (you don't have to chop off a lot, but you want the ends flat) and then cutting the potatoes into about 1-inch thick slices.
In a large bowl, toss the potatoes with the butter, thyme, salt and pepper. Place the potatoes in a single layer in a 9X13-inch ceramic or metal baking dish (don't use glass as it can shatter when adding the chicken broth later).
Roast the potatoes for 20-22 minutes, until the bottoms are browning around the edges. Remove the baking pan from the oven and flip the potatoes with a flat spatula. Return to the oven and roast for another 15 minutes.
Remove the pan from the oven, flip the potatoes again and add the chicken broth and garlic. Roast once more (last time, promise) until the potatoes are tender and the sauce has reduced just slightly, about 15 minutes.
Serve the potatoes with the sauce drizzled over the top.
Recommended Products
As an Amazon Associate and member of other affiliate programs, I earn from qualifying purchases.

Recipe Source: slightly adapted from Cook's Country Dec/Jan 2014 (changed salt and pepper amounts, cut down the butter a bit, decreased baking temp and adjusted time)